Bad Trip's Eric Andre Got Pranked By His Friends And Ended Up Hitting On A Stranger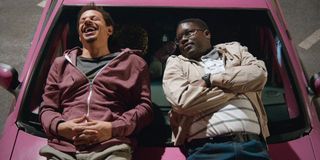 Most would agree that actor and comedian Eric Andre is a master when it comes to pulling off pranks, which comes from years of honing his skills. He's since put them to use on his eponymous TV show and in his upcoming film, Bad Trip. However, you have to wonder if Andre himself has ever been pranked by anyone and, as it turns out, he has. In fact, some friends once pulled a pretty sweet prank on him, and it even led to him hitting on a complete stranger.
Due to Eric Andre's tendency to prank people, one would imagine that anyone would be afraid to prank the comedian in fear of him seeking revenge. During my conversation with him and his Bad Trip co-star, Lil' Rel Howery, Andre explained that this was the case. Though he admitted that a couple of friends once managed to pull one over on him when he was younger:
Well, that was certainly an awkward moment, which is ultimately what you want when you've fooled someone. You really have to give it up to Eric Andre's friends for pulling off a simple but utterly sweet prank.
And Eric Andre isn't the only Bad Trip star to be on the wrong end of a prank, either. Lil' Rel Howery also revealed to me that he's been pranked more than a few times. But in this case, the pranking isn't being done by his friends:
Well, it's like they say, "Start 'em off young!" It sounds like Lil' Rel Howery's kids are already seasoned pranksters and, while he may find himself being tricked on multiple occasions, he has to be somewhat proud that they're following in his footsteps.
But Eric Andre and Lil' Howery definitely weren't the ones being pranked in Bad Trip. The hidden-camera comedy sees their two characters embark on a trip from Florida to New York and, along the way, they employed various pranks -- even some wild ones that didn't make it into the finished film.
You can check out Eric Andre and Lil' Rel Howery's tricks when Bad Trip cruises onto Netflix on March 26.
Covering superheroes, sci-fi, comedy, and almost anything else in film and TV. I eat more pizza than the Teenage Mutant Ninja Turtles.
Your Daily Blend of Entertainment News
Thank you for signing up to CinemaBlend. You will receive a verification email shortly.
There was a problem. Please refresh the page and try again.