Disneyland Resort: What You Need To Know About The Massive Expansion Plans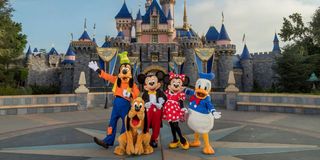 On Thursday, the Disneyland Resort dropped something of a bombshell with something it called Disneyland Forward. It's a plan for a significant redesign and expansion of many aspects of the resort, but there's so much going on that it can be difficult to wrap your head around. What exactly is being proposed, what sort of new things might we see, and where is Disneyland going to put it all?
There are a lot of moving pieces here, so here's a quick rundown of what's (probably) important to take away from this potential future of the Disneyland Resort.
Right Now, Disneyland Forward Is More Style Than Substance
The most important thing to be aware of about this entire new plan is that right now, it's barely even a plan. While the Disneyland Forward website lays out some general concepts, even Disney admits that they have few specifics to share right now. That will certainly change over time, but right now, Disneyland Forward is a concept; a general idea of what the resort wants to accomplish. It includes potential new theme park space, but what attractions could be found there are entirely up in the air. It includes space that might include a new hotel and plenty of new shopping and dining space, but there's no guarantee any of it will happen.
We could see theme park space grow or shrink or disappear entirely in the final plan. All the concept art is intentionally left vague because what Disney is looking for here is buy in from the city of Anaheim on the idea of redevelopment. Nobody's ready to promise what any of it will actually look like. Even once they get that, assuming they do, we'll likely only have an understanding of where core elements will be. What specific lands or attractions will be built will probably come later.
Disneyland Resort Won't Actually Get Any Bigger
So with an understanding that all of this is subject to change, just what is the plan? While Disneyland Forward is being called an "expansion" of the resort, that's only partially true. If things move forward as currently projected, it will mean more theme park attractions, more shopping and dining, and potentially more hotel rooms, but Disney isn't looking to actually increase its current footprint. Instead it simply wants to redevelop space it already has. A lot of this new stuff will go where parking lots currently exist.
One space in the redevelopment plan is the current Toy Story parking lot, which is currently the most open flat piece of ground Disneyland Resort has access to. Turning this into something new is far from shocking. The other space being redeveloped is the area in and around the Disneyland Hotel and the Paradise Pier Hotel.
It Includes Expansion For Both Disneyland And California Adventure
One of the most interesting elements of the plan as presented is that we could see both existing theme parks expanded. Following the construction of Star Wars: Galaxy's Edge and the soon-to-be-opened Avengers Campus at California Adventure, it seemed like both parks were pretty much out of room to expand. But it seems there is at least one way that the parks could still grow: by putting the expansion across the street.
One of the reasons that the two parks are out of room now is that both of them run up against Disneyland Drive on their west side, but based on the image above, we could see some sort of pathway created across that street that would allow additional theme park space for Disneyland on the north end and California Adventure on the south. Downtown Disney already crosses the street in this way, so it's certainly not outside the realm of plausibility that more pedestrian walkways could be built like this.
We Could See Disneyland Resort's Third Gate, Or Something Like It
Nowhere in the Disneyland Forward plan is it stated that the resort is planning a third theme park, but neither is such an idea completely written off. On the other side of the current Disneyland Resort, in the current Toy Story parking lot, will be another new addition to the resort, and it's suggested that a new theme park experience could be found there.
The legend calls this a "theme park experience," and it's absolutely tiny compared to the two main theme parks, so calling this a third theme park seems like an exaggeration. But we could still be looking at something "theme park like." Perhaps this is something like the Star Wars: Galactic Starcruiser being built at Walt Disney World that is both a hotel and an immersive entertainment experience. A few theme park attractions built to surround something like that as an inclusive experience is an interesting idea.
Disney Is Paying For Everything
Whatever ends up actually happening from all this, if all the space Disneyland Resort is looking to redevelop actually happens, the one thing that is clear is that all this won't be cheap. This makes it somewhat interesting that Disneyland states repeatedly on the Disneyland Forward web site that it's looking for no public money to complete this project. The company plans to fund it all itself. It's unclear if that means Disney isn't looking for tax incentives or other financial benefits from the deal, that might not be considered "public funding." About five years ago, Disney was planning a new hotel after tax breaks had been offered by the city of Anaheim, but when the location of the hotel shifted, the tax breaks went away and that ended up killing the entire project.
There is a downside to the idea that Disney is going to pay for all this. It wouldn't be the first time that a Disney theme park project ended up being drastically reduced, if not entirely eliminated, because of budget considerations. Development plans like this are expensive, and they seem to always end up being even more expensive than originally planned. While Disney footing the bill seems like a good thing, it could end up being a significant factor if this whole plan doesn't move forward.
It's Going To Be A Long Time Before We See Any Of It
A project like this is certainly going to take time, but this one is incredibly early. Disneyland Resort says they hope to have plans in front of the City of Anaheim by 2023, which, if that happens at the end of that year, means we're looking at nearly three years before this plan could be approved. Even if construction were to begin immediately after that, and it won't, seeing any part of this project open for business will take another couple of years at least, and likely even more than that before it's all done.
In short, we're looking at the tail end of this decade before Disneyland Forward becomes a reality, and that's if it actually happens at all and nothing is delayed. While there's a lot to be excited about here, fans are going to need to keep being excited about it for several years to come. To be sure, there's a lot that's exciting about this plan. Whatever your favorite thing about Disney theme parks is, this promises more of it, and more than likely a lot of new things that we've never seen before. But it's going to be a while before we get a really good look at what this really is.
Your Daily Blend of Entertainment News
Content Producer/Theme Park Beat
CinemaBlend's resident theme park junkie and amateur Disney historian. Armchair Imagineer. Epcot Stan. Future Club 33 Member.