Borat And 6 Other Prank Movies And How To Watch Them On April Fools' Day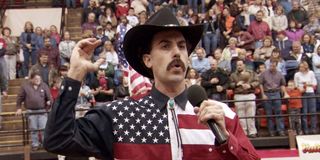 The grand holiday of April Fools' Day is definitely rooted in the idea that anything is funnier when it is not happening to you, specifically when it comes to practical jokes. While pulling off the ultimate April Fools prank certainly has its satisfying advantages, sometimes the risk can severely outweigh the reward. Fortunately, watching prank movies such as Borat allow you to shamelessly laugh at another person's expense without facing any potential consequences for causing such embarrassment.
This year on the first day of April, if you do not have the courage or time to rig your loved one's bedroom door with a bucket of water or could not come up with a hilariously vicious April Fool's joke more original than that old trick in time, we empathize with you. So, instead, we recommend that you still try to keep the celebration of April Fools' Day alive by binging movies that celebrate all that April Fools' Day is about. The following are seven movies and movie franchises (either on streaming or available for a digital rental) that take the art of the prank to the next level, starting with, arguably, the lewdest Oscar nominee of all time.
Borat Movies (2006, 2020)
A sex-crazed, bigoted Kazakhstanian journalist travels to the United States with a camera crew to discover what makes the country great and then returns 14 years later with his teenage daughter to better understand why things have gone downhill.
Why These Are Great Prank Movies: Sacha Baron Cohen first brought his sex-crazed, bigoted Da Ali G Show character to the big screen in Borat: Cultural Learnings of America For Make Benefit Glorious Nation Of Kazakhstan just to make unsuspecting average people uncomfortable, but with the even more shocking moments in Borat Subsequent Moviefilm (one of the funniest and best movies on Amazon Prime) he brings the powerful to their knees.
Stream Borat: Cultural Learnings of America For Make Benefit Glorious Nation Of Kazakhstan on Starz.
Rent Borat: Cultural Learnings of America For Make Benefit Glorious Nation Of Kazakhstan on Amazon.
Stream Borat Subsequent Moviefilm on Amazon Prime.
Jackass Movies (2002-2013)
A group of men travel the globe performing cringe-inducing stunts, either at the expense of random strangers, themselves, or a mix of both, and capture it all on camera for the world to witness in all its bold and childish glory.
Why These Are Great Prank Movies: When they are not making fools of (or severely injuring) themselves, the stars of the hit MTV reality series Jackass make fools out of anyone they come across in their big screen spin-offs Jackass: The Movie, Jackass: Number Two, Jackass 3 (originally in 3D), and the Oscar-nominated Bad Grandpa, in which Johnny Knoxville takes a more Borat style approach to thinks by putting his 86-year-old character Irving Zisman into a road trip narrative, causing havoc with his grandson, Billy (Jackson Nicoll), at every stop.
Rent Jackass: The Movie on Amazon.
Rent Jackass Number Two on Amazon.
Rent Jackass 3 on Amazon.
Rent Bad Grandpa on Amazon.
Bad Trip (2021)
A pair of best friends try to outrun their mid-life crises by hitting the road to New York City in a pink car borrowed from one's sister, who escapes from prison to find them among other various issues they run into.
Why It's a Great Prank Movie: Taking a cue from Bad Grandpa, notorious prankster comedian Eric André, along with Get Out star Lil Rel Howery and Tiffany Haddish's convict character tailing both, travel across the country to shock unsuspecting bystanders while in character in Bad Trip, one of the funniest new movies on Netflix that exclusively premiered just in time for April Fools' Day.
Stream Bad Trip on Netflix.
Impractical Jokers: The Movie (2020)
When four lifelong friends are invited to a party thrown by former American Idol judge Paula Abdul but only receive three tickets, they each compete for the privilege to attend in a challenge of high-stakes embarrassment.
Why It's a Great Prank Movie: It appears that Joe Gatto, James Murray, Brian Quinn, and Sal Vulcano also decided to go the "road trip narrative" route with Impractical Jokers: The Movie, a feature-length, theatrically released episode of their hit cable network prank show that is less about the jokes they pull on strangers and more about how bad they can make each other look in front of those strangers.
Stream Impractical Jokers: The Movie on HBO Max.
Rent Impractical Jokers on Amazon.
Big Fat Liar (2002)
In order to earn back his parents' trust, a frequently dishonest teenager (Malcolm and the Middle's Frankie Muniz) and his best friend (Amanda Bynes) set out to ruin the life of a sleazy Hollywood producer (Paul Giamatti) who stole his homework assignment and turned it into a movie.
Why It's a Great Prank Movie: Unlike the previous entries in our list, the pranks in the fun, family-friendly "Boy Who Cried Wolf" story Big Fat Liar are entirely dramatized, but are still very funny nonetheless, especially when the young protagonists give Paul Giamatti's Marty Wolf one bizarre makeover by filling his personal backyard pool with blue dye.
Stream Big Fat Liar on Peacock.
Rent Big Fat Liar on Amazon.
Paper Towns (2015)
Teenager Quentin (Nat Wolff) sets out on a quest to find Margo, the girl of his dreams (Cara Delevingne) when she suddenly goes missing after spending a life-changing night with her.
Why It's a Great Prank Movie: Said life-changing night occurs when Quentin agrees to be Margo's getaway driver in a series of vengeful pranks all across their neighborhood in Paper Towns, an amusing and inspiring coming-of-age dramedy based on the book by The Fault in Our Stars author John Green.
Rent Paper Towns on Amazon.
Carrie (1976)
A meek, lonely high school student (Academy Award winner Sissy Spacek) with an abusive, overly religious mother (Piper Laurie) discovers that she can move objects with her mind.
It may seem odd to put Brian DePalma's adaptation of the classic Stephen King novel Carrie on this list, as it's not actually a prank movie. but as much as it is a frightening allegory for approaching womanhood, it is also a cautionary tale about how easily a prank can go horribly wrong, especially if the victim is a ticking time bomb of telekinetic fury.
Stream Carrie on Showtime.
Rent Carrie on Amazon.
I bet you thought I was going to say "April Fools!" with that last movie, didn't you? No, after watching Carrie, I'm a little afraid to ever pull a fast one on anyone ever again, which is why these prank movies are my preferred method of celebration these days. Which prank movies do you prefer to watch on April Fools' Day?
This poll is no longer available.
Jason has been writing since he was able to pick up a washable marker, with which he wrote his debut illustrated children's story, later transitioning to a short-lived comic book series and (very) amateur filmmaking before finally settling on pursuing a career in writing about movies in lieu of making them. Look for his name in just about any article related to Batman.
Your Daily Blend of Entertainment News
Thank you for signing up to CinemaBlend. You will receive a verification email shortly.
There was a problem. Please refresh the page and try again.