One Cable Network Is About To Cut Its Number Of Commercials In Half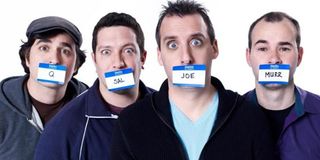 As many people from many different age demographics have started cutting the cord in earnest, both cable and network brands have begun looking at ways to remain viable. This week, truTV announced a plan to extend its original programming by cutting back on commercials. That's a plan that should work for truTV fans everywhere.
Here's what's happening. TruTV is going to start extending its programs by more than 20% during primetime hours. Given most cable stations normally deliver about 20 minutes of commercials and 40 minutes of real content per hour, that means fans can expect more than 8 minutes of additional programming per hour. In fact, it's entirely possible since they say "more than" 20% that the commercial time will actually be chopped in half from 20 minutes an hour to 10 minutes. Either way, if the company sticks to its guns and drops as many commercials as the channel is saying it will, truTV will become the cable network with the least advertising in primetime.
Which means we can watch Fake Off, Impractical Jokers and Billy on The Street with less commercial interruptions.
The network says they are making the change to attract a "highly-desirable audience that is significantly younger, richer and smarter." (The key there is "younger.") It should be noted that truTV has significantly rebranded over the past year to gain a better audience. The network is working to get away from some of the "staged" reality programming that built the brand a few years ago, including stuff like South Beach Tow, which was criticized for being an "unreal" reality show before ending its run in 2014. Replacing those types of shows are programs like the aforementioned Impractical Jokers, a hidden camera prank series featuring four guys from the comedy troupe The Tenderloins trying to trip each other up.
Impractical Jokers brings in more than 2 million viewers each week and shows of its ilk have helped to put truTV on the map. The network says that since changing up its programming in 2014, the channel has begun to deliver 45% more viewers in the coveted 18-49 advertising demographic. Young people are more important to advertisers because they buy more, and if more young people are watching, than theoretically the cabler should be making more money off of advertising than ever before. So, I guess the company should be able to cut back on a few ads without really losing all that much revenue.
TruTV's always been a channel that lends itself more to flipping through and settling on something than DVRing programs, so less commercials is especially a good fit for that channel. But it should be noted truTV isn't the only channel trying to switch up its preferences related to commercials. Viacom channels, like MTV and TV Land, are in the middle of trying to make the change, too. Hey, if there are less commercials in the future on TV, I don't think any cable subscriber will be complaining.
Amazing Race & Top Chef superfan with a pinch of Disney fairy dust thrown in. Theme park junkie. If you've created a rom-com I've probably watched it.
Your Daily Blend of Entertainment News
Thank you for signing up to CinemaBlend. You will receive a verification email shortly.
There was a problem. Please refresh the page and try again.