Daniel Bruhl: What To Stream If You Like The Falcon And The Winter Soldier Actor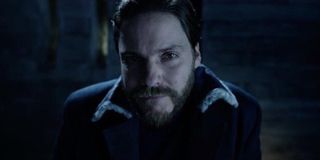 Marvel villain Helmut Zemo is back after appearing on The Falcon and the Winter Soldier recently. I don't know about you, but upon his return to the Marvel Cinematic Universe, I want to revisit (and also discover for the first time) some of the best Daniel Bruhl movies available to stream right now. I actually managed to find quite a plentiful assortment of films (and one TV show) starring the 43-year-old German actor, starting with what must have been how many younger comic fans became acquainted with him.
Captain America: Civil War (Disney+)
An accident during a routine mission puts the Avengers under heavy scrutiny and at odds with one another, which only worsens after Steve Rogers (Chris Evans) goes rogue to prove Bucky Barnes (Sebastian Stan) is wrongfully accused of murder.
Why it's worth checking out if you like Daniel Bruhl: Orchestrating (some of) the events leading to the titular conflict in Captain America: Civil War is Daniel Bruhl's vengeful Sokovian, Helmut Zemo - one of Marvel's best villains and a key reason why this movie is a must to revisit before watching The Falcon and the Winter Soldier, if you have not already.
Stream Captain America: Civil War on Disney+.
The Cloverfield Paradox (Netflix)
While testing a device intended to solve a global energy crisis, a space station crew of international scientists accidentally create a rift in the space time continuum, which splices their reality and another with grave circumstances.
Why it's worth checking out if you like Daniel Bruhl: In one of their weirder original movies on Netflix that also attempts explain the events of the found footage classic Cloverfield, Daniel Bruhl does not really play a villain, but his trustworthiness is put into questions in The Cloverfield Paradox, the third in producer J.J. Abrams' Cloverfield franchise, which attempts explain the secrets behind the original found footage classic.
Stream The Cloverfield Paradox on Netflix.
7 Days In Entebbe (Tubi)
In July 1976, Wilfried Böse (Daniel Bruhl) and Brigitte Kuhlmann (Academy Award nominee Rosamund Pike) hijack a French plane and force it to land in Uganda, where they hold the Jewish passengers with demands to release terrorists being held in Israeli prisons.
Why it's worth checking out if you like Daniel Bruhl: You will have no trouble deciphering whether or not Daniel Bruhl's character from 2018's 7 Days in Entebbe is worth trusting in RoboCop remake director José Padilha's gripping retelling of the historical hostage situation.
Stream 7 Days in Entebbe on Tubi.
2 Days In Paris (Hulu, Amazon Prime, Tubi, Pluto TV, IMDb TV)
An American interior designer (Adam Goldberg) accompanies his photographer girlfriend (Julie Delpy) on a trip to France to improve their romance, if not for the intervention of her family and many ex-lovers.
Why it's worth checking out if you like Daniel Bruhl: In a more lighthearted travel movie by comparison, Daniel Bruhl plays a stranger who helps Adam Goldberg's Jack understand his overreaction to discovering the romantic history of Marion (Julie Delpy) in 2 Days in Paris, a clever romantic comedy which Delpy also wrote and directed in 2007.
Stream 2 Days In Paris on Hulu, on Amazon Prime, on Tubi, on Pluto TV, or on IMDb TV.
2 Days In New York (Hoopla)
Marion (Julie Delpy) and her new boyfriend Mingus (Chris Rock) have their relationship put to the test when her family visits their home in Manhattan.
Why it's worth checking out if you like Daniel Bruhl: Five years after 2 Days in Paris, Julie Delpy returned to write, direct, and star in the sequel 2 Days in New York, in which Daniel Bruhl also reprises his role.
Stream 2 Days In New York on Hoopla.
Intruders (Tubi, Peacock, Crackle, Pluto TV, IMDb TV, Vudu)
A boy from Spain and a girl from the United Kingdom each find themselves haunted by a mysterious evil entity that has no face.
Why it's worth checking out if you like Daniel Bruhl: A year before 2 Days in New York, in 2012, Daniel Bruhl played a man of faith from Madrid whose beliefs are tested by reports of this malevolent presence in Intruders, a positively creepy thriller also starring Clive Owen, from the director of 28 Weeks Later, Juan Carlos Fresnadillo.
Stream Intruders on Tubi, on Peacock, on Crackle, on Pluto TV, on IMDb TV, or on Vudu.
The Alienist (HBO Max)
In the late 1800s, a German psychologist (Daniel Bruhl), his American newspaper illustrator friend (Luke Evans), and the first woman employed by the New York City police department (Dakota Fanning) attempt to use new, experimental tactics that begin to spark controversy among their peers and from the public as they attempt to catch a killer with some shocking methods of his own.
Why it's worth checking out if you like Daniel Bruhl: From playing a man of faith to a man of science, but forced to be very protective of his methods either way, Daniel Bruhl earned a Golden Globe nomination in 2019 for his strong lead performance in the title role of The Alienist - an engrossing period drama which later inspired an 8-episode follow-up on TNT in 2020.
Stream The Alienist on HBO Max.
Burnt (Tubi, Pluto TV, IMDb TV)
Hoping to clean-up his act after succumbing to his selfish behavior and destructive addictions, American celebrity chef Adam Jones (Bradley Cooper) becomes the head of a low-rated London restaurant and tries to help boost its public appeal.
Why it's worth checking out if you like Daniel Bruhl: As the manager of Adam Jones' London restaurant in Burnt - a 2015 drama that makes the art of preparing high class food look like trench warfare - this marks one of the earlier times Daniel Bruhl shared the screen with a fellow actor in the Marvel Cinematic Universe before he joined the franchise himself.
Stream Burnt on Tubi, on Pluto TV, or on IMDb TV).
Woman In Gold (Tubi, Pluto TV, IMDb TV)
A Jewish woman (Oscar winner Helen Mirren) who successfully escaped persecution during World War II enlists the help of a young American attorney (Ryan Reynolds) to help reclaim a stolen family heirloom from the Nazis: a priceless portrait of her aunt painted in gold.
Why it's worth checking out if you like Daniel Bruhl: In another early instance of him sharing the screen with a fellow Marvel movie actor (before Ryan Reynolds portrayal of Deadpool would become part of the MCU, of course), in the 2015 biopic Woman in Gold, Daniel Bruhl plays an ally against the Nazis, unlike the role which brought him closer than ever before to mainstream movie star status in the United States.
Stream Woman in Gold on Tubi, on Pluto TV, or on IMDb TV.
Inglourious Basterds (Amazon Rental)
A Southern-accented lieutenant of the U.S. Army (Brad Pitt) puts together a special team of Jewish-American soldiers with the intent to wipe out as much of the Third Reich as possible, not knowing that their plans will soon converge with that of a secretly Jewish refugee (Melanie Laurent) whose French movie theater has been commissioned to host the premiere of a Nazi propaganda film.
Why it's worth checking out if you like Daniel Bruhl: The star and focus of said Nazi propaganda film, Nation's Pride - directed by co-star Eli Roth - is German soldier Fredrick Zoller, the role that solidified Daniel Bruhl as one of the most exciting talents to emerge from the cast of Inglourious Basterds - the bold, bloody, and beautiful War World II fantasy that only Quentin Tarantino could have made.
Rent Inglourious Basterds on Amazon.
Rush (Amazon Rental)
English playboy James Hunt (Chris Hemsworth) endures a mercilessly bitter rivalry with the ambitious Austrian Niki Lauda (Daniel Bruhl) while competing against each other off and on the Formula One racing track throughout the 1970s.
Why it's worth checking out if you like Daniel Bruhl: While Inglourious Basterds notably marks another early pairing of Daniel Bruhl with a future Marvel actor (namely X-Men's Michael Fassbender), it was years later when he shared the screen with Thor actor Chris Hemsworth in Rush, director Ron Howard's 2013 racing biopic for which he earned his first Golden Globe nomination in the role of Niki Lauda.
The Bourne Ultimatum (Amazon Rental)
Long after uncovering the secrets of his days as a government assassin, amnesiac Jason Bourne (Matt Damon) discovers that he has even more to learn about his past as the CIA continues to come after him.
Why it's worth checking out if you like Daniel Bruhl: You know, I guess if we really want to get technical here, the first movie in which Daniel Bruhl co-starred with an MCU actor, and a Thor movie actor more specifically, is The Bourne Ultimatum - the third, and arguably best, installment of Matt Damon's Jason Bourne movie franchise from 2007.
Rent The Bourne Ultimatum on Amazon.
Daniel Bruhl is steadily approaching the role of the ultimate wild card in any game of Six Degrees of Separation with the entire MCU cast at this point. I mean, he already starred alongside most of them in Captain America: Civil War anyway. Now, with his return in The Falcon and the Winter Soldier, who knows where he will take Zemo to next?
Jason has been writing since he was able to pick up a washable marker, with which he wrote his debut illustrated children's story, later transitioning to a short-lived comic book series and (very) amateur filmmaking before finally settling on pursuing a career in writing about movies in lieu of making them. Look for his name in just about any article related to Batman.