Emily VanCamp: What To Watch On Streaming If You Like The Falcon And The Winter Soldier Star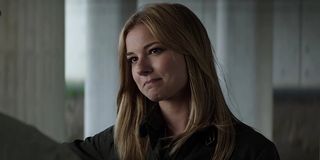 As I was still anticipating the debut of The Falcon and the Winter Soldier, one of the biggest questions I had about the Marvel TV show was what Sharon Carter had been up to since we last saw her. During that time, I was also genuinely at a loss for where the actress who plays the former S.H.I.E.L.D. operative, also known as Agent 13, was outside of the MCU. That being said, I soon saw I had plenty of Emily VanCamp movies and TV shows to check out.
Some may have recognized the 34-year-old Canadian actress when she first appeared in the Marvel movies from her lead role on the hit ABC drama Revenge, or even from her brief appearance at the beginning of the horror sequel The Ring Two in 2005. Well, one of those titles is currently available to stream, as well as many others that helped propel Emily VanCamp to where she is today. Maybe when you are not watching The Falcon and the Winter Soldier or waiting for the next upcoming Marvel TV show to premiere, you can catch up on some of her career highlights, starting with her first starring role on a hit series.
Everwood (HBO Max)
After the death of his wife, successful brain surgeon Dr. Andrew "Andy" Brown (Treat Williams) attempts to start things over with his angsty teenage son, Ephram (Gregory Smith), and younger daughter, Delia (Vivien Cardone), by moving from Manhattan to a small, idyllic mountain town in Colorado.
Why It's Worth Checking Out If You Like Emily VanCamp: Created by future Arrowverse mastermind Greg Berlanti, Everwood is a richly investing family drama which ran for four seasons on The CW, when it was still called The WB, from 2002 to 2006, and proved to be a real breakout hit for Emily VanCamp as Ephram's friend turned potential love interest, Amy Abbott, as well as fellow MCU hero Chris Pratt as her older brother, Bright.
Lost And Delirious (HBO Max)
Meek adolescent student Mary (Mischa Barton from the The O.C. cast) has a revealing first year experience at a high class, all-girls boarding school after discovering that her roommates Paulie (Looper and Covert Affairs actress Piper Perabo) and Tori (former SEAL Team series regular Jessica Paré) are sharing a secret romance that eventually falls prey to the pressures of disapproving friends and family.
Why It's Worth Checking Out If You Like Emily VanCamp: Emily VanCamp made her acting debut in this theatrically released feature film as Tori's sister, Allison Moller, whom Tori struggles to convince that she is not a lesbian after being caught in the act with Paulie. Lost and Delirious is an adaptation of Susan Swan's acclaimed 2001 coming-of-age novel directed by Swiss filmmaker Léa Pool.
Stream Lost And Delirious on HBO Max.
Redeemer (Amazon Prime, Tubi)
Inspired by the story of a former member of the Black Panther Party (Obba Babatundé) who was given a life sentence 20 years earlier for a crime he seems to have not committed, a writer (Stranger Things' Dr. Brenner actor Matthew Modine) assigned to teach inmates his craft attempts to help the man achieve his freedom, but must lead the convict's sister down her own path toward redemption first.
Why It's Worth Checking Out If You Like Emily VanCamp: Right before Everwood boosted her public persona in 2002, earlier that year Emily VanCamp appeared as Matthew Modine's distressed daughter in Redeemer, a winning TV movie about standing up for justice.
Stream Redeemer on Amazon Prime or on Tubi.
Revenge (Hulu, IMDb TV)
A woman (Emily VanCamp) is strongly driven to infiltrate the high-class society of New York's Hamptons community in order to find and punish those responsible for a destructive act committed against her family years earlier.
Why It's Worth Checking Out If You Like Emily VanCamp: We swiftly transition from Redeemer to Revenge - the deliciously scandalous, Golden Globe-nominated primetime soap opera that propelled Emily VanCamp to female lead status in 2011 in the role of one rightfully angry and uncompromisingly ruthless socialite for four seasons on ABC. On the set of the series is where she also met co-star Josh Bowman, who would later become her real-life husband.
Stream Revenge on Hulu or on IMDb TV.
Brothers And Sisters (Hulu)
The siblings of a large, dysfunctional family struggle to endure the trials and tribulations of adulthood either together or in defiance of each other.
Why It's Worth Checking Out If You Like Emily VanCamp: Before landing the lead part on Revenge, Emily VanCamp's first starring role on an ABC hit was as Rebecca Harper, who would discover that she was the result of a devastating affair and have a discordant relationship with Justin Walker (Dave Annable) on Brothers and Sisters, which, until it was officially canceled after five seasons, was one of the defining and most groundbreaking family dramas of the mid-to-late 2000s.
Stream Brothers And Sisters on Hulu.
Black Irish (Amazon Prime, IMDb TV, Vudu)
Sixteen-year-old Cole McKay (Michael Angarano) strives to overcome the influence of his derelict older brother, Terry (Tom Guiry), and focus on achieving success on his high school baseball team in hopes of earning the attention of his emotionally distant father (Brendan Gleeson, or Harry Potter's Mad-Eye Moody, as he is often better known) in South Boston.
Why It's Worth Checking Out If You Like Emily VanCamp: As pregnant teenager Kathleen McKay, Emily VanCamp once again plays another troubled member from a dysfunctional family in the gripping 2007 drama Black Irish.
Stream Black Irish on Amazon Prime or on IMDb TV or on Vudu.
Beyond The Blackboard (Hallmark Movies Now)
A 24-year-old first-time teacher (Emily VanCamp) learns to overcome her own societal prejudices in order to give a group of homeless children the education and inspiration they need.
Why It's Worth Checking Out If You Like Emily VanCamp: Emily VanCamp reunited with her Everwood co-star Treat Williams while portraying real-life teacher Stacey Betts in Beyond the Blackboard, an endearing made-for-TV film which originally aired in 2011 as part of CBS' Hallmark Hall of Fame specials.
Stream Beyond The Blackboard on Hallmark Movies Now.
The Girl In The Book (Tubi)
A 29-year-old editor for a New York City book publishing company (Emily VanCamp) must contend with a dark moment from her childhood when she is assigned to manage the eBook transcription of a best-selling novel by her former writing mentor (late John Wick star Michael Nyqvist).
Why It's Worth Checking Out If You Like Emily VanCamp: This time, Emily VanCamp plays the grown-up version of a student in desperate need of inspiration from her teacher, only to have experienced the soul-crushing affect of his selfish indulgences and predatory manipulation in 2015's The Girl in the Book.
Stream The Girl In The Book on Tubi.
Carriers (Amazon Prime, Pluto TV)
A young man named Danny, his older brother, Brian, Brian's girlfriend, Bobby, and their mutual friend, Kate, are forced to wear masks, use high potency sanitizing substances, and let go of any moral obligations for the sake of preserving their health while en route to a beach vacation spot in a world almost completely ravaged by a deadly plague.
Why It's Worth Checking Out If You Like Emily VanCamp: Speaking of desperation, Emily VanCamp, her Lost and Delirious co-star Piper Perabo, Lou Taylor Pucci from the 2013 Evil Dead remake, and fellow superhero movie star Chris Pine are desperate to avoid infection in Carriers, a much overlooked, post-apocalyptic thriller that is more relevant and frightening now than when it when it was first released in 2009.
Stream Carriers on Amazon Prime or on Pluto TV.
The Resident (Hulu)
Third-year, senior doctor in training Conrad Hawkins (Matt Czuchry) shows a bright, young, newly appointed physician (Manish Dayal) the ropes at the Chastain Memorial Hospital in Atlanta, Georgia, through his signature stern and unapologetically brash, yet refreshingly empathetic methods of saving lives, defying the corruption that goes on behind the curtain in the process.
Why It's Worth Checking Out If You Like Emily VanCamp: The whole cast of Carriers certainly could have used the medical expertise of Nicolette "Nic" Nevin - Emily VanCamp's nurse practitioner role on The Resident, one of the most entertaining, boldly honest, and exciting medical dramas in recent memory.
Emily VanCamp's Marvel Movies (Disney+)
Captain America (Chris Evans) is shocked when his attractive neighbor (Emily VanCamp), who calls herself Kate, turns out to be an agent of S.H.I.E.L.D. assigned to keep a close eye on him as the organization's secrets begin to come to light, but is even more bewildered later, when he learns she is the great niece of his former lover, Peggy Carter.
Why They Are Worth Checking Out If You Like Emily VanCamp: If you can withstand the awkward realization in Avengers: Endgame that Steve Rogers was actually in a flirting stand-off with his former love's great niece, it is especially thrilling to rewatch Captain America: The Winter Soldier and Captain America: Civil War to relive Emily VanCamp's MCU journey as Sharon Carter up to The Falcon and the Winter Soldier.
Stream Captain America: The Winter Soldier on Disney+.
Stream Captain America: Civil War on Disney+.
With Evangeline Lilly sharing top-billing of the Ant-Man and the Wasp franchise now and Scarlett Johansson finally getting her own Black Widow movie, who is to say that Emily VanCamp could not be Marvel's next leading lady with Sharon Carter getting her own solo outing?
Jason has been writing since he was able to pick up a washable marker, with which he wrote his debut illustrated children's story, later transitioning to a short-lived comic book series and (very) amateur filmmaking before finally settling on pursuing a career in writing about movies in lieu of making them. Look for his name in just about any article related to Batman.
Your Daily Blend of Entertainment News
Thank you for signing up to CinemaBlend. You will receive a verification email shortly.
There was a problem. Please refresh the page and try again.