Godzilla Vs. Kong Almost Included A Key King Of The Monsters Deleted Scene, And We Want It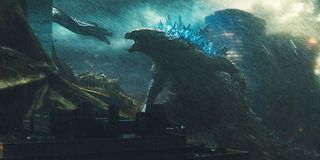 CinemaBlend participates in affiliate programs with various companies. We may earn a commission when you click on or make purchases via links.
2019's Godzilla: King of the Monsters really put its eponymous protagonist in a tough spot, as he had to face off against both Rodan and King Ghidorah. However, he wasn't without allies, as Mothra emerged during the course of the story to lend some much-needed assistance. Sadly, Mothra died during King of the Monsters, but at the end of that movie, it was revealed that a second Mothra egg had been discovered. There was also a deleted scene written further teasing Mothra's future, and that same scene nearly made it into Godzilla vs. Kong too. Can we just see it already?!
Although Godzilla vs. Kong costume designer Ann Foley mentioned the Mothra twins during my visit to the set in March 2019, there was nothing Mothra-related in the final cut of the fourth MonsterVerse movie. So during my interview with Godzilla vs. Kong co-writer Max Borenstein, I brought up both that interesting tidbit of information and the excised Godzilla: King of the Monsters post-credits tag director Michael Dougherty first talked about back in October 2019, and then asked if any Mothra-related material had ever been included in Godzilla vs. Kong. Borenstein answered:
Although the Godzilla: King of the Monsters scene with the second Mothra egg was never actually shot, evidently the creative minds behind Godzilla vs. Kong felt it was important enough to consider using for this latest MonsterVerse installment. Conversely, there was a separate Mothra scene thought up, although Max Borenstein didn't elaborate on what it would have featured. Ultimately, Godzilla vs. Kong was a Mothra-less affair, but considering how tightly-paced this tale was and the main event people were tuning into, it is understandable why this particular Titan was left out.
For those who didn't know about Godzilla: King of the Monsters' cut Mothra tag, the scene would have shown Zhang Ziyi's characters, twin sisters Ilene Chen and Dr. Ling, meeting each other at a restaurant/bar in Japan that actually contains an "ancient" temple underneath. Within one of the temple's rooms is the second Mothra egg, and Chen's twin daughters are singing at the base of the egg, which the adult sisters did at that age too. This would have been the MonsterVerse's take on the Mothra twins, who, in the Toho movies, communicate to people on behalf of the giant winged beast.
Because neither this tag nor the other Mothra scene that was contemplated for Godzilla vs. Kong saw the light of day, we're still left only knowing that there's a second Mothra egg somewhere on Earth, but not knowing its precise location or having any indication of when it will hatch. As things stand now, it's unclear if the MonsterVerse will continue past Godzilla vs. Kong, although the movie certainly planted some seeds for the future. If this franchise does keep going, hopefully Mothra 2.0 is featured, because as one of Toho's most famous monsters, she deserves more than just one movie to shine.
Those of you who haven't seen Godzilla vs. Kong yet can find it in theaters or on HBO Max, and you're welcome to sign up for the latter streaming service with this link (opens in new tab). Let us know in the poll below if you would have liked for Mothra to appear in Godzilla vs. Kong.
This poll is no longer available.
Your Daily Blend of Entertainment News
Connoisseur of Marvel, DC, Star Wars, John Wick, MonsterVerse and Doctor Who lore. He's aware he looks like Harry Potter and Clark Kent.
Your Daily Blend of Entertainment News
Thank you for signing up to CinemaBlend. You will receive a verification email shortly.
There was a problem. Please refresh the page and try again.