Godzilla Vs. Kong Will Expand The Mothra Mythos In A Major Way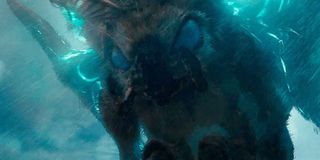 CinemaBlend participates in affiliate programs with various companies. We may earn a commission when you click on or make purchases via links.
2019's Godzilla: King of the Monsters introduced a handful of heavy-hitting Toho monsters to the MonsterVerse, including Mothra. The winged Titan proved to be a key ally to Godzilla in his fight against Rodan and King Ghidorah, and though she ultimately perished, another Mothra egg was revealed to have been discovered during King of the Monsters' credits. While it remains to be seen if Mothra 2.0 will directly factor into Godzilla vs. Kong, the fourth MonsterVerse movie is pulling in a key element from her original appearances in Japanese cinema: the Mothra twins.
During my visit to the Godzilla vs. Kong set in Gold Coast, Australia in March 2019, one of the people my fellow reporters and I spoke with was Ann Foley, the movie's costume designer. When asked if she took any inspiration from the original Toho movies in designing the costumes for Godzilla vs. Kong, Foley said she definitely did with the Mothra twins, specifically turning to the comics and making their sleeves look like wings. Foley felt this would be a fun Easter egg for hardcore fans, but she didn't provide any details on how the twins fit into Godzilla vs. Kong.
For those unfamiliar with the Mothra twins, in her original Toho appearances, Mothra was often accompanied by tiny twin fairies, who communicated on behalf of her and sang a special song to summon the monster. Interestingly enough, Godzilla: King of the Monsters already slyly nodded at the Mothra twins through Zhang Ziyi's Dr. Ilene Chen and Dr. Ling Chen, sisters who both work for Monarch and were respectively present for big Mothra moments within the movie.
There was also a storyboarded post-credits scene from Godzilla: King of the Monsters which showed the Chen sisters meeting in Tokyo to study the second Mothra egg. In the chamber where it was being held, two identical twin girls around three or four years old were singing to the egg to get it to hatch, a role that the Chen sisters fulfilled when they were children too. Director Michael Dougherty didn't reveal why the scene was never made it into King of the Monsters, only that he was "heartbroken" that it was never shot.
It's already been confirmed that Zhang Ziyi will reprise Ilene Chen in Godzilla vs. Kong, though there's no word about if Ling Chen will appear. Nevertheless, while Godzilla: King of the Monsters wasn't able to officially introduce the Mothra twins, Godzilla vs. Kong will do so, perhaps signifying that at some point during the movie, the new Mothra will enter the picture. Godzilla and King Kong certainly aren't the only Titans popping up in the next MonsterVerse movie, and should they indeed end up joining forces to fight a different threat, having Mothra by their side would certainly be welcome. On the other hand, maybe the second Mothra's emergence will be saved for a future MonsterVerse movie, and the new twins' appearance in Godzilla vs. Kong will simply remind audiences that we shouldn't forget about her.
Stay locked on CinemaBlend for more coverage about Godzilla vs. Kong, which will be released both in theaters and on HBO Max March 31 (if you're not signed up with that streaming service, feel free to rectify that with this link (opens in new tab)). As for what other movies are slated for this year, browse through our 2021 release schedule.
Connoisseur of Marvel, DC, Star Wars, John Wick, MonsterVerse and Doctor Who lore. He's aware he looks like Harry Potter and Clark Kent.
Your Daily Blend of Entertainment News
Thank you for signing up to CinemaBlend. You will receive a verification email shortly.
There was a problem. Please refresh the page and try again.