Johnny Depp's Post Promoting His New Movie Also Feels Relevant To His Issues With Amber Heard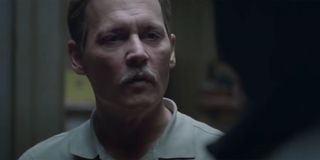 Johnny Depp has never been an avid poster on social media and only joined Instagram in 2020, in fact. The actor known for roles like Pirates of the Caribbean and Alice in Wonderland has not had any projects out in a few months either, contributing to even less from the star popping up on his Instagram. However, he does have a new movie coming out this April and recently shared a post that could also apply to his own life.
Depp's new film with Forest Whittaker City of Lies is being released on PVOD next week and to share news of the release, Depp took to Instagram where he noted the following, "Truth is a rare bird. All the more reason to search for it..."
The movie itself follows a journalist (Forest Whittaker) and a retired LAPD Detective (Johnny Depp) as they reexamine the deaths of Tupac Shakur and Notorious B.I.G. -- cases he had initially been on earlier in his career. Two decades later they reexamine the police corruption in a movie based on the real-life search of author Randall Sullivan to connect the dots in the case, largely focusing on retired LAPD detective Russell Poole. That search was published in a book LAbyrinth, which came out in 2002.
Depp's clearly alluding to the subject matter in City of Lies with his post, but his comment comes at a time when it has interesting parallels to the actor's personal life. Johnny Depp has been embroiled in multiple court cases that he filed after being alleged to be a "wife beater" during the time he was married to Aquaman actress Amber Heard. He went to court for libel over the allegations, though a judge found Heard's take on the matter to be "substantially true" and an appeal was not granted.
Through this, Depp's team has maintained that Amber Heard's claims are a "hoax" and that they will be moving forward with a defamation case against the DCEU actress. Meanwhile, a couple of projects Depp had already filmed had been paused in regards to release, including Minamata, a movie that was mistakenly called a flop by some outlets when it hadn't actually been released.
City of Lies had been another Johnny Depp vehicle that had been on hold for quite some time, even before the last Fantastic Beasts movie came out. The film had been expected to premiere on September 7, 2018 -- the anniversary of Tupac Shakur's murder. That didn't come to pass, as Depp was embroiled in another lawsuit with the location manager of the movie who had claimed assault. The two reportedly had an altercation while working on the movie, though their version of events differed wildly.
Meanwhile, the movie lived in limbo as other movies of Depp's, including Fantastic Beasts 2, came and went, though there has been a downtick in Depp projects recently. Since the Amber Heard-related lawsuits went super public, Johnny Depp has also been asked to step down from his role as Grindelwald in Warner Bros.' popular magical world, which is currently filming the third installation. His last movie Waiting for the Barbarians came out in August.
Amazing Race & Top Chef superfan with a pinch of Disney fairy dust thrown in. Theme park junkie. If you've created a rom-com I've probably watched it.
Your Daily Blend of Entertainment News
Thank you for signing up to CinemaBlend. You will receive a verification email shortly.
There was a problem. Please refresh the page and try again.