The Falcon And The Winter Soldier's John Walker Actor Has Seen Those Memes, And He Has Thoughts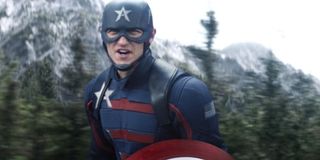 When working in a franchise as large as the MCU, memes just come with the territory. Wyatt Russell, who plays The Falcon and the Winter Soldier's John Walker, recently found out as much after making his debut on the Disney + exclusive. Since taking over as Captain America's replacement, John Walker has been the butt of quite a few jokes, memes and more.
Despite not having social media, a few of those hilarious memes still managed to reach the man himself, and he has thoughts. After being asked about the fan reaction to his MCU debut, Wyatt Russell had this to say:
In his interview with Variety, Russell pointed out one particularly hilarious example, where someone drew a connection between how his character looked in costume compared to Carl Fredricksen from 2009's Up. Check it out:
I mean, that's pretty hilarious. It's nice to see that Russell is getting a laugh out of the situation too. His character has insanely big shoes to fill, so it's no surprise that he's getting roasted from time to time. Russell also mentioned that all of the memes are quite flattering, and I think he's right. If people loathe his character that much (and it's not hard to do), then he's doing a great job in the acting department.
At this point, I have nothing but respect for the guy. It can't be easy trying to replace Chris Evans' Steve Rogers, and the show makes that pretty clear from the get-go. Heck, even Bucky Barnes and Sam Wilson can't stand John Walker.
But hey, there's still plenty of time for fans to warm up on the character. As viewers explore more of John Walker's backstory, he's slowly becoming a more relatable. While he's definitely not the Steve Rogers that fans have come to know and love over the years, John Walker looks like he may have the talent required to take on the series villains, The Flag-Smashers.
The Falcon and the Winter Soldier is currently airing on Disney + and is set to run for a total of six episodes. The series, along with the widely popular WandaVision mark the start of the MCU's Phase 4, which includes a number of upcoming films. While there's no guarantee that we will be seeing Wyatt Russell's John Walker in any of the upcoming Marvel movies, I wouldn't be surprised if we eventually saw a big screen appearance. After all, who doesn't want another Avengers-sized flick?
Your Daily Blend of Entertainment News
Into tracksuits by Paulie Walnuts, the Criterion Channel and Robert Eggers.