WandaVision Somehow Makes One Of The Worst MCU Movies Better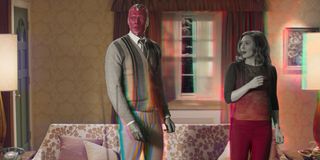 CinemaBlend participates in affiliate programs with various companies. We may earn a commission when you click on or make purchases via links.
Even though Marvel's WandaVision looked like it was going to be a lot of fun coming out of the gate, I couldn't have anticipated just how exciting this Disney+ series actually would be to watch. Despite suffering from some personal MCU burnout as we came out of the hype machine that was Avengers: Endgame, a surrealist sitcom that helps weave together the fabric of Marvel Studios' cinematic juggernaut seems to be just what the doctor ordered. Admittedly, the greatest trick that this homage drenched series has pulled is that it's not only made me anxious to see the MCU unfold yet again, it actually makes Avengers: Age of Ultron, one of the worst MCU movies in the lot, even better.
Take a moment to save the hot takes about how Avengers: Age of Ultron is "actually good," because this isn't that type of movie, friend. I'll get into why I'm not a fan of that particular chapter of The Infinity Saga soon enough. But just know that thanks to Elizabeth Olsen and Paul Bettany's slowly dissolving picture of domestic bliss, there are a lot of improvements to be had in the MCU, especially when it comes to viewing the second Avengers team up movie in a new light. Time to start digging into the past folks, as we're about to head back to 2015, viewed in beautiful WandaVision.
Why Avengers: Age Of Ultron Is One Of The Worst MCU Movies
It was an unenviable task that Joss Whedon had on his hands when given Avengers: Age of Ultron. The strife that process caused him was well documented, and as you can see, the man has yet to set foot in the Marvel Cinematic Universe again. With major plotlines bashed in the edit, some weird story choices that befell certain characters who are about to come into the limelight again and just a general lack of urgency, Avengers: Age of Ultron took what was supposed to be an end all/know all threat to the Avengers, and turned it into a cheap metal trinket.
The movie was a waste of James Spader's talents as the sinister Ultron, as it felt like he was an easier foe to defeat than he was made out to be. However, one of the bright spots to that film was the fact that it introduced the world to the age of miracles, through Pietro and Wanda Maximoff (Aaron Taylor Johnson and Elizabeth Olsen). Or, as you'd more commonly call them, Quicksilver and Scarlet Witch. Thanks to those two characters, Avengers: Age of Ultron was saved from being even worse, and now WandaVision has allowed for their story become a cornerstone to the MCU.
How WandaVision Makes Avengers: Age Of Ultron A Better Movie
Throughout her life story, Wanda has been made to suffer great losses. Avengers: Age of Ultron took her brother Pietro, and Avengers: Infinity War saw her lovely Vision ripped from her, much like the Mind Stone was ripped from his head by Thanos (Josh Brolin). While she came back from The Blip in Avengers: Endgame and totally walloped Thanos's purple ass, apparently that wasn't enough closure to give her peace. Which, most likely, has led to WandaVision's amazing tale of loss, coping and American sitcom history.
As an Avengers movie, Age of Ultron is the weakest one, without reservation. But now, with Wanda's story coming into full frame with WandaVision, that film's existence isn't as much of a negative mark on the MCU as it once was. Instead of watching that second team-up at face value, fans are now allowed to see it as Wanda's tragic origin story, as well as a crucial foundation for the idyllic world she seems to have created in Westview. Her subconscious was shaped by events in her past that Age of Ultron depicts and makes mention of, so instead of treating it as an Avengers movie, one could see it as a Wanda Maximoff origin story. Now that it's full of clues to what exactly is happening in WandaVision, you're made to actually want to watch it again, without hesitation.
Yes, WandaVision Even Improves Avengers: Endgame
But wait! Much like a television ad that WandaVision would be inclined to parody in their '80s/'90s-styled episodes, there's more! Not only does WandaVision improve the quality of Avengers: Age of Ultron, it also makes her big moment in Avengers: Endgame all the more crucial. No longer will Wanda Maximoff be valued as a $2 Avenger in those internet budget memes, because if that moment itself hadn't convinced people Scarlet Witch was one of the most powerful Avengers out there, WandaVision has taken that moment and literally scaled it to the size of a town.
Wanda Maximoff's powers are officially off the charts in WandaVision, as she's enchanted a whole town of people in New Jersey to play out sitcom fantasies for her and Vision to star in. And believe me, I'm from Jersey; this is a pretty big feat in the land of Bruce Springsteen and The Sopranos. As if beating the ink out of the Mad Titan, without any assistance from another Avenger, wasn't enough of a flex, Wanda's now starting to take over towns and turn them into fodder for TV Land. What was once an impressive moment of strength now seems like an eerie moment of foreshadowing that plays two different ways upon rewinding.
What Else Has WandaVision Improved In The MCU?
Honestly, WandaVision could be seen as an improvement on the entire Marvel Cinematic Universe when you think about it. The series not only made movies like Avengers: Age of Ultron more essential to the enormous MCU marathons that catch people up to speed, but it helps enforce a key point that all Marvel movie fans should keep in mind. Any character, be they seemingly minor like Scarlet Witch or major like Loki, could find themselves used to expand the cinematic universe on the whole. WandaVision finally gives Wanda and Vision's story a platform to play out in long form, which means those who wanted to see their romance in Avengers: Infinity War blossom on another plain have gotten their wish.
Also, in a move that is reminiscent of Doctor Who, the series has also taken another side character and turned them into a better written presence as well. While Kat Dennings' comedic relief hijinks as Darcy Lewis were very much a subject to the phrase "your mileage may vary" in past MCU appearances, WandaVision has revamped her in the best way possible. While still very much a snarky and wise-cracking character, we get to see Darcy's intelligence really shine in her assistance in investigating the Westview anomaly. She outthinks S.W.O.R.D agents, riffs on K-Cups and even gets to buddy up with Agent Jimmy Woo (Randall Park). Darcy Lewis is not only comic relief on WandaVision, she's actually a crucial team player; and it's enough to make me want a spinoff where she and Agent Woo get to pull the MCU equivalent of The X-Files.
It's not enough that WandaVision has, as Kevin Feige promised, expanded the horizons of the Marvel Cinematic Universe. It's not even enough that this is the perfect project to break that Marvel drought the world has been lamenting since Avengers: Endgame dropped in 2019. WandaVision is absolute proof that, when handled correctly and under the right supervision and planning, a comic book franchise can be rather effective with fans and non-fans alike. I was worn out by the Marvel machine myself, but now the promise of these Disney+ series taking films like Avengers: Age of Ultron and helping them play better is something I'm eager to see when shows like The Falcon and the Winter Soldier start to tackle my diehard MCU favorites.
For the time being, it looks like I'll be making mine Marvel, with some Ultron still very much on the side. You can do the same, as Disney+ still has some new WandaVision episodes dropping over the next couple of weeks, so whether you're already a subscriber, or need to jump on the bandwagon, there's something worth your while on the dial.
Your Daily Blend of Entertainment News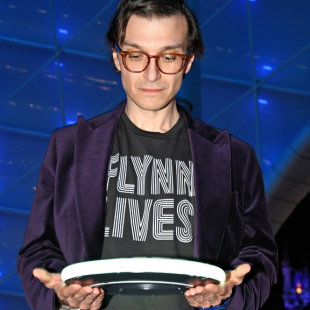 Senior Movies Contributor
CinemaBlend's James Bond (expert). Also versed in Large Scale Aggressors, time travel, and Guillermo del Toro. He fights for The User.