Did Disney Make A Thanos-Sized Mistake Pushing Black Widow's Release Date?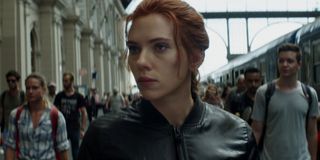 It's been a year of delays, delays and more delays for a lot of major theatrical releases, but the tide may be finally turning. This weekend, despite being available on HBO Max, a slew of people ultimately opted to let the major studios know that they are ready and willing to get back to the theater with a monster theatrical release for Godzilla Vs. Kong. Things are looking good for the likes of Spiral and A Quiet Place Part II as well, prompting me to wonder: Did Disney make a mistake when it shifted Black Widow's release date and the MCU schedule roughly a week ago?
Heading into the weekend, it was anticipated that Godzilla vs. Kong would make a little over $20 million in theaters, a tidy and middling number but not wholly unexpected during pandemic times, when theater capacity has been lessened and also when the movie was made available on HBO Max. Then a funny thing happened: The Millie Bobby Brown and Alexander Skarsgard starrer blew past that amount in two days -- weekdays no less. At the time of this writing (and Sunday box office numbers have not dropped yet), it's made a much heftier sum.
Through Friday, the movie neared $28 million and new box office estimates have it in the $40-$50 million range for opening weekend domestically. That's honestly not much lower than the opening weekend domestically for Godzilla: King of the Monsters, which opened to a little over $47 million in 2019. It's also a sign that the box office is roaring back to life.
Why Did Disney Make The Call On Black Widow So Early?
The whole thing honestly has me wondering why Disney and Marvel didn't wait to make the call on Black Widow a week ago. I know a lot of the major studios are hoping to hold onto their "sure things" until theaters are fully reopened, but there's one advantage movies opening over the next couple of months will have: there's virtually no competition. When I went to see Godzilla vs. Kong this weekend, sure there were a few theaters devoted to Raya and the Last Dragon and Bob Odenkirk's Nobody; however Godzilla vs. Kong had the run of a majority of screens.
Allowing major new movies releases to have a higher percentage of available screens in specific theaters lets these films potentially put up big numbers, even in areas with capacity limitations. In addition, newer features like allowing customers to order concession food on an app and pre-select their seats should make many guests who may have been a bit nervous about returning more comfortable. People should of course do what makes them more comfortable, but as a larger percentage of the population gets vaccinated, it's easy to envision a future in which pre-pandemic numbers are possible for the right movie.
It's also weird because the news came right after head honcho Bob Chapek literally said the studio was going to be "flexible" and make a call "at the last minute." Instead, the company made a call like 6 weeks+ out ahead of release. If the studio could just have held its horses and seen how Godzilla vs. Kong did and what the landscape looked like mid-month this month instead of jumping the gun and shifting to late summer, we could still be getting an MCU movie as Falcon and the Winter Soldier wrapped its Disney+ run. Plus, it's worth noting that if Disney had just waited and even ultimately made the same call, at least the company would have made the same call with more information rather than less.
Why Black Widow's Budget Likely Factors
To be fair, Black Widow needs to cover more ground than Godzilla vs. Kong, though not by much. The anticipated budget for Black Widow is $200 million while the new MonsterVerse film has been estimated at $160 million before marketing. Black Widow also has the distinct disadvantage of having to maintain marketing interest over a much longer period of time, given it was supposed to come out last May. Given the way box office works and given we don't have specific access to the numbers, the general thought is that movies need to make at least 2.5X their budget in order to start making real money (and it may be even more for a movie that needed to sustain interest through an entire pandemic).
It's also worth pointing out that Warner Bros. has a totally different philosophy toward this year than Disney seems to have. Warner Bros. has basically decided to push HBO Max over everything else. Disney seems to be fine pushing out the titles that weren't "sure things" for the studio -- aka movies like Mulan and new, original property Raya and the Last Dragon, but unlike HBO Max, the studio hasn't made it cheap or easy, upcharging on Disney+ to see the flicks. And over the last few weeks, there's been a weird shift in the attitude toward the two approaches.
Warner Bros., Once Angering Directors, Is Now Having A Bright Moment
By holding big movies for their theatrical releases, Disney has carefully towed a line between trying not to lose money and also trying to make sure that theaters are still going to be available options for entertainment at the end of all of this global trouble. The company has sustained that image over a period of a year, until this week. Meanwhile, Warner Bros. pissed off the likes of Christopher Nolan, got into a legal fight with Legendary -- the company behind Godzilla vs. Kong -- and has overall incurred ire through nearly this entire pandemic period, even when it comes to things like industry paydays.
But by releasing Godzilla vs. Kong at a time when there is clearly an appetite for big movies and big movies are few and far between, it's looking as if Warner Bros. has actually gotten it right this week. There's an argument that could be made Legendary also had a key role in this, but the end result is that Godzilla vs. Kong is going to have a viable box office run and promote HBO Max at the same time. Meanwhile, theater owners are now angry that Black Widow held out so long yet will still simultaneously release on Disney+. What is Disney gaining as it now waits three more months for its next big MCU turn?
Cruella And Phase Four Of The MCU
If you look at the upcoming movies schedule over the next several months, Disney will be releasing Cruella at the end of May, Emma Stone's highly-anticipated take on the famous 101 Dalmations character. So, to be clear, I'm not arguing that Disney is running scared here or not trying to help the box office landscape at all. But no offense, releasing Cruella over Black Widow would be like if Warner Bros. had decided to release Mortal Kombat and then Godzilla vs. Kong a few months later. Mortal Kombat and Cruella have fanbases, they both look like interesting movies --seriously no negative thoughts toward either of them -- but if you want to jumpstart the box office, you need Godzilla vs. Kong and you need Black Widow.
Most of what Marvel has coming up in Phase Four of the MCU are unknowns. People don't know The Eternals and even though Kumail Nanjiani getting ripped has received positive reactions, a lot of people could not tell you much about that property as a whole. Shang-Chi is also a newcomer MCU character and while Marvel has made box office wins out of previously lesser known characters in the past, until Thor: Love and Thunder and Doctor Strange in the Multiverse of Madness are finally out, the MCU is going to be a lot of new, new, new. I would guess the thought process is that a July 9 release date will give more time for people to get vaccinated and for theaters to open up more, making Black Widow more of a sure thing. However, it'll also be competing with Top Gun: Maverick (out the weekend before), so I'd argue that's a factor as well.
Disney has a lot to factor in and none of the decisions the studios have made over the last 12 months have been made lightly. Choosing a release date is always somewhat of a chess game, and now Disney has to hedge whether or not it feels people will be ready to go back to the movies on top of competing with other theatrical releases. Studios at this point are also strapped and making money needs to factor in. In many ways, the studios are also deeply responsible for whether or not the future of theatrical entertainment will even involve movie theaters. I don't necessarily blame Disney for making the choice it did, particularly given how much notice Disney+'s Marvel series have been getting and capably whetting people's appetites for what's next.
At the end of the day though, how cool would it have been if Black Widow had been one of the first movies to really get people back to theaters? As it stands, it's looking like other titles are going to fill that gap.
This poll is no longer available.
Reality TV fan with a pinch of Disney fairy dust thrown in. Theme park junkie. If you've created a rom-com I've probably watched it.
Your Daily Blend of Entertainment News
Thank you for signing up to CinemaBlend. You will receive a verification email shortly.
There was a problem. Please refresh the page and try again.