Lily-Rose Depp's Voyagers Reviews Have Dropped, Here's What Critics Are Saying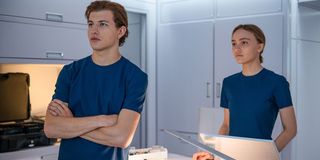 From the mind of Neil Burger (Divergent, Limitless) comes Voyagers, a sci-fi thriller that he has written and directed. It stars Colin Farrell, Lily-Rose Depp, Tye Sheridan, and Fionn Whitehead, among others. The film takes place in a fictional future where a hospitable planet far from Earth has been discovered, but it takes 86 years for a crew to arrive. So in order to start a colony of humans there, 30 young men and women are sent into space on a mission, during which they will reproduce so that their grandchildren can become the first colonists. But when the children are young adults, one discovers that they've been given a drug that suppresses their ability to truly feel human, and chaos ensues.
Voyagers debuts in theaters on April 9, and critics have already started sharing their thoughts on the film. Check out what they're saying.
Our very own Sarah El-Mahmoud saw the sci-fi thriller for the home team and was disappointed, rating it a 2.5 out of 5 stars. Though Voyagers has a solid concept and stylistic cinematography, El-Mahmoud's interest in the film went downhill after the first half. She argues that the script doesn't allow the actors enough to work with, specifically Tye Sheridan and Lily-Rose Depp, and that the movie is too "safe." She writes:
David Rooney of The Hollywood Reporter says Voyagers is "basically Lord of the Flies in space," pointing out that it's not very original. While Rooney considers the cinematography "invigorating" and compliments Travor Gurecki's score, he argues that the script doesn't allow the characters to have enough personality, and this is needed as the film builds tension through a contemplation of the essential struggles of human nature. Though the young adults on the voyage are supposed to lack individuality, as that's the point before they figure out why they're so docile, the rest of the film doesn't allow the characters to be anything more than basic outlines. Rooney said:
Katie Walsh from the Los Angeles Times also touched on the lack of individuality of the characters in Voyagers, and noted that even later on when the kids stop taking the vitamin that stops them from having any feeling, there's still a "chill" between the characters and they act as if they haven't grown up together all those years. Walsh writes:
Vanity Fair's Richard Lawson was majorly let down by the space thriller. He enjoyed the premise of the film and how it could have had such thematic possibility. However, he compares it, like we've seen before, to "Lord of the Flies in space," and was disappointed that it left so many paths unexplored. Lawson saw the potential diminish scene after scene, and noticed a lot of narrative threads that could be so easily pulled, but are never touched. Overall, he said:
Leigh Monson from What To Watch also touched on the commonality between Voyagers and Lord of the Flies in her review, but was a little more impressed than other critics we've highlighted here. She did note that the movie failed to deliver as much personality to the women than to the men (though the men are pretty "stock characters"), leaving Lily-Rose Depp's character with little to do. But Monson argues that predictable though it is, the climax remains thrilling.
Will audiences see Voyagers as simply Lord of the Flies in space? Or will they enjoy it more than some aforementioned critics have? We'll have to wait until April 9 when the sci fi thriller releases in theaters to find out.
Until then, you can check out our list of all of the new movies coming out this month to plan your next trip to the theater or your couch.
Your Daily Blend of Entertainment News
Your Daily Blend of Entertainment News
Thank you for signing up to CinemaBlend. You will receive a verification email shortly.
There was a problem. Please refresh the page and try again.