The Petition To Bring Johnny Depp Back To Pirates Of The Caribbean May Not Hit Its New Goal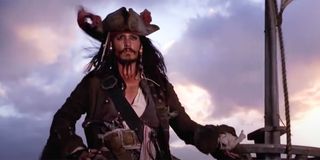 Over the last few months, Johnny Depp has been on the news based around a variety of topics, including new movie releases, his ongoing court cases related to Amber Heard and his current status regarding Disney's popular Pirates of the Caribbean franchise. The latter has been highlighted by a slew of fans signing a petition watching Depp brought back to play Captain Jack Sparrow. However, it's looking more and more as if the petition may not hit its new goal.
Over the last week, the number of signers on the "We Want Johnny Depp Back As Captain Jack Sparrow" petition over at Change.org has slowed considerably. When I perused the numbers on Monday last week during the a.m. period, I noted that 562,808 petitioners had signed. By Wednesday a.m. last week, that number was up to 563,372 and by Thursday of last week, 563,782 had signed. Kicking off the week this Monday a.m., the numbers were at 566,252 at the time of this writing.
While all of those numbers do show growth over a period of days, and hitting over 500,000 signatures is no small feat for a petition, the issue worth noting is that the Johnny Depp petition in question recently raised the goal. Once hoping to reach a goal of 500,000 signatures, the "We Want Johnny Depp Back As Captain Jack Sparrow" petition decided to aim for an even higher benchmark: that of 1 million signatures. It may have been a hope that ultimately was a little too lofty despite the petition having achieved an increase in notice in recent weeks.
Now that the number of signatures has slowed, it's unclear if the newer 1 million benchmark is even feasible. The whole thing is somewhat semantical anyway, as even if the petition had achieved that benchmark is not likely to have a huge bearing on what Disney decides to ultimately do with the Pirates of the Caribbean franchise or with the character of Captain Jack Sparrow.
When it comes to the facts (and the rumors) we know about the Pirates of the Caribbean franchise, a few different things have come down the pipeline. There seem to be multiple scripts out there in the universe and in the works including one by Ted Elliot and Craig Mazin and another that would serve as a leading vehicle for a rumored female-led Pirates production starring Margot Robbie. At one point for one of these projects reports indicated that Jerry Bruckheimer had once been looking to have Johnny Depp at least cameo as Captain Jack Sparrow, but since then, that idea has seemingly fizzled out and you can delve into that in more depth with our full Pirates of the Caribbean guide.
In the meantime, nothing about an actual brand-spanking-new Pirates of the Caribbean movie has moved beyond these early phases. Disney's movie release schedule coming up is both Pirates and Johnny Depp-free, though with Jungle Cruise starring The Rock and Emily Blunt coming up after pandemic delays, there will be another upcoming movie based on a famous Disney World and Disneyland ride out soon. In the meantime, at some point you'd think Pirates of the Caribbean is too big of an IP to let fall by the wayside completely, whether or not Depp is ultimately involved.
We'll be sure to keep you updated as Disney continues filling out its movies schedule over the next couple of years. In the meantime, be sure to check out what's coming up with our full movie release schedule.
Your Daily Blend of Entertainment News
Reality TV fan with a pinch of Disney fairy dust thrown in. Theme park junkie. If you've created a rom-com I've probably watched it.
Your Daily Blend of Entertainment News
Thank you for signing up to CinemaBlend. You will receive a verification email shortly.
There was a problem. Please refresh the page and try again.