Every Musical That Has Won An Oscar For Best Picture, Ranked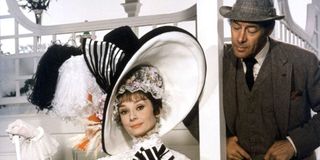 Today, we have superhero movies. Audience attendees would gladly plop down some hard-earned cash to see Guardians of the Galaxy. But decades ago, there was no grander spectacle than a big budget musical like The Sound of Music. In fact, out of the 92 movies that have won the highest award at the Oscars, 10 of those movies were musicals that won Best Picture at the Academy Awards. However, that now seems like a bygone era, as films like La La Land are so few and far between that you would be forgiven for thinking that Hollywood now hates the musical.
Sure, Steven Spielberg will be doing a remake of West Side Story, but like I just said, that's a remake. From Steven Spielberg. And we also have Jon M. Chu's adaptation of Lin-Manuel Miranda's In The Heights to look forward to. So, while I think it's safe to say that like the western, Hollywood has mostly moved on from the musical, it's still nice to look back every so often at a time when Hollywood was absolutely gaga about the medium. So, I present to you every musical that has won Best Picture, ranked. Oh, and only one of these movies is currently streaming on Netflix. The others you're going to have to track down by other means.
10. The Broadway Melody (1929)
The Broadway Melody is the second movie to ever win Best Picture (and the first movie with sound to win), but it is, in my opinion, the very worst film to ever win the highest honor. I mean, it's just terrible. Directed by Harry Beaumont and starring Bessie Love and Anita Page as two sisters who struggle to make it on Broadway, The Broadway Melody is old and it feels it. In fact, the very first movie to win Best Picture, Wings, is a silent film, but it still feels like it was made years after The Broadway Melody. Just check out this clip for the song "You Were Meant For Me". I can literally feel myself aging just listening to it.
And get this. There was once a technicolor scene in the film, but it's since been lost to the sands of time. Now, you can't even see the big color number. Not that you'd want to, though. The Broadway Melody is an absolute snore, and the music and dancing is not even worth the watch. Pass.
9. Going My Way (1944)
Winning 7 Academy Awards, including Best Picture, Best Director (Leo McCarey) and Best Actor (Bing Crosby) Going My Way is a sweet film about two priests who don't see eye to eye. Those two priests are the up-and-comer, played by Bing Crosby, and the old guard, played by Barry Fitzgerald. It holds the distinction of winning at the 17th Academy Awards in 1945, which was the first time the Academy Awards were broadcasted nationally. So, it has that going for it.
But it doesn't really have much else going for it. Bing Crosby has a beautiful voice, and his songs are all pretty nice. That said, the story is pretty corny, and it's a rather mawkish movie that you can definitely appreciate, but I'm not sure if you'll like it. I sure didn't. It also doesn't really feel like a musical. Not really since it's more of a story with songs in it, rather than a story where songs make up the bulk of the story. But I'll provide more examples later.
8. Oliver! (1968)
Remember how I just said that Going My Way didn't really feel like a musical? Well, that's only because I compare it to movies like Oliver!, which is like, full-blown musical with a capital M. Based off of the British stage musical (which is also, of course, based on the Charles Dickens novel, Oliver Twist), Oliver! (which has an exclamation point at the end like mother!) is about an orphan who becomes a street urchin. And yes, the book is much better. The film just feels kind of bland in comparison.
The film won at the 41st Academy Awards and also won for Best Director (Carol Reed). It actually beat Funny Girl with my girl, Babs, which I actually think is the far better musical. But again, I think that just goes to show how popular musicals were back then. Not one, but TWO musicals were up for Best Picture. Looking back, it almost makes me want some more musicals. Oh, well.
7. The Great Ziegfeld (1936)
The Great Ziegfeld is another one of those, "this doesn't really feel like a musical" musicals. Directed by Robert Z. Leonard and starring William Powell as the eponymous "Great" Ziegfeld, the film feels more like a soft biopic of the man who would revolutionize the stage than anything else.
We get to see an adaptation of Ziegfeld's Follies, which were these big budget Broadway productions of the time. But the actual musical aspect is a little hollow. There's a huge "Wedding Cake" sequence that I straight up fast-forwarded through since it was more performance than song, but it's there if you want to watch it. Thankfully, the story itself is pretty interesting. It won at the 7th Academy Awards held in 1937, and, well, that's about it. It's fine.
6. Gigi (1958)
The story of Gigi is gross. It's like Lolita, but somehow acceptable. A girl (played by Leslie Caron) is being groomed to be a prostitute, but she catches the eye of a rich man (played by Louis Jourdan), and he ends up falling for her. Yuck.
The film swept the 1959 Oscars in all of its categories with 9 total wins, including Best Director (Vincente Minnelli), Best Cinematography, and Best Song. Speaking of songs, there's an early number in the film titled, "Thank Heaven for Little Girls" and it's sung by an old man. Did I happen to mention this movie's gross? That said, it definitely deserved its Cinematography award. Visually, it's stunning. But that's Paris for you.
5. An American In Paris (1951)
Vincente Minnelli was nominated but didn't win Best Director for this far better film than Gigi. Starring the great Gene Kelly, the story is about three friends who are struggling to make ends meet in Paris, and then, to complicate matters, there's a love triangle involving Gigi herself, Leslie Caron (In her film debut!) It won at the 24th Academy Awards in 1952, and beat A Streetcar Named Desire. Not too shabby.
Still, An American In Paris as a movie also doesn't feel like a musical as much as it feels like a series of dance numbers, which makes sense since it stars Gene Kelly. There's a really ornate dance number at the end, and it's a pretty film. I can't hate on it. It's nice.
4. Chicago (2002)
The last musical to win Best Picture was nearly 20 years ago. Let that sink in. It was directed by Rob Marshall (who didn't win) and also starred Renee Zellweger, Richard Gere, and Catherine Zeta-Jones (who did win, for Best Supporting Actress). It's about two women (played by Zellweger and Jones) who are up for murder, and the trial that swirls around them.
It's also a lot of fun. Chicago is more like Oliver! In that it's a capital M musical, which makes sense since it was a stage musical first. The numbers are catchy and sexy, the pacing is brisk, and the actors play their parts well. Should it have beaten The Pianist at the 75th Academy Awards in 2003? God, no. But it's still a great musical all the same.
3. West Side Story (1961)
I don't personally love West Side Story, but I know how important it is, which is why it made the Top 3. I'll settle at 3. Loosely based around Romeo and Juliet and involving two rival street gangs and the lovers who get caught in the middle, West Side Story is probably the most Musical musical on this list—the whole thing is pretty much just singing and dancing—which might be why I'm not so keen on it.
Directed by Robert Wise, the film won more Academy Awards than any other musical, topping out at 10 at the 34th Academy Awards in 1962, including Best Supporting Actress (Rita Moreno), Best Supporting Actor (George Chakris), and Best Scoring. It's a great film, but not for me.
2. The Sound of Music (1965)
Starring Julie Andrews and the late Christopher Plummer, The Sound of Music is the story of the real life von Trapp family, and the widowed husband who finds love again… but with a nun. Oh, did I mention that the dude is a hardass with 7 kids (though Georg had 10 kids in real life). If it sounds weird, it is. But it's also really sweet and it has some great songs.
The Sound of Music was actually the highest grossing movie ever at the time (Take that, Avatar!). Robert Wise, who won Best Director for West Side Story, won it for this one, too. None of the actors won at the 38th Academy Awards in 1966, but the performances in this film will probably outlive us all.
1. My Fair Lady (1964)
I mentioned in the intro that one of these musicals can be found on Netflix, and this is it. My Fair Lady is my dad's favorite film, which is why I might have a soft spot for it, but it's a genuinely great movie, and better yet, a genuinely great musical, which is why I'm putting it at the top of this list. It's the story of a flower girl (played by Audrey Hepburn) who meets a stuffy linguist (played by Rex Harrison), and the love they form as she learns how to speak "proper" English.
The music in this one can't be beat. I especially love "With a Little Bit of Luck," sung by Stanley Holloway, who played Hepburn's character's deadbeat dad. It was directed by George Cukor, and while Audrey Hepburn wasn't even nominated (Shucks!), Rex Harrison was, and he won Best Actor at the 37th Academy Awards in 1965. Out of all the musicals on this list, My Fair Lady is probably the only one I could watch over and over again.
Now, my own favorite movie musicals—Singin' in the Rain, Fiddler on the Roof, and Poultrygeist: Night of the Chicken Dead (Yes, you heard me)—didn't win Best Picture, but that's fine. The best movies rarely do win. Still, if you're looking forward to the 2021 Academy Awards then look no further than our coverage. Oh, and out of the musicals that won Best Picture, which one is your favorite? Sound off in the poll below!
This poll is no longer available.
Rich is a Jersey boy, through and through. He graduated from Rutgers University (Go, R.U.!), and thinks the Garden State is the best state in the country. That said, he'll take Chicago Deep Dish pizza over a New York slice any day of the week. Don't hate. When he's not watching his two kids, he's usually working on a novel, watching vintage movies, or reading some obscure book.
Your Daily Blend of Entertainment News
Thank you for signing up to CinemaBlend. You will receive a verification email shortly.
There was a problem. Please refresh the page and try again.