Oscars 2021: Everything We Know About The 93rd Academy Awards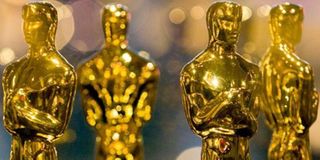 (Image credit: Academy of Motion Pictures Arts and Sciences)
Normally, but mid-December the film community would be abuzz about what films and actors are cementing themselves as Oscar contenders. But of course, 2020 has been anything but normal and the 2021 Oscars are not immune to its impacts. So, what's the deal with the 93rd Academy Awards? When are they? Will anybody be there? And what films will you need to check out to make sure you're in prime position to win your Oscar pool? Let's take a closer look.
When The 2021 Oscars Will Air
Since 2004, only the Winter Olympics could push the Oscars out of a February ceremony. But because of the pandemic and the numerous impacts it has had on the film industry - delayed release dates and productions - and the general population, the Academy decided to push back the ceremony from its original date of Feb. 28, 2021, to April 25, 2021.
Honoring 2020 films when we'll be nearly five months into 2021 feels weird, but it's actually a bit of a return to form for the Oscars. For much of its history, the Oscars were held in late March, early April.
Not including the first few years when they held five ceremonies over a three year span (holding the first-ever Oscars in May and another two in consecutive Novembers), April 25 will be the latest an Oscar ceremony has taken place since 1966, when the Sound of Music took home the top prize.
When Will The 93rd Academy Award Nominations Be Announced
Of course, before you have a show you have to have nominees. Typically announced in mid-January, nomination day is like Christmas morning for fans of the Oscars, waking up early (around 5 a.m. for those on the West coast) to see who got in and who was snubbed.
For the 2021 Oscars, the nomination process won't get started until February 1 with preliminary voting, which gets categories like Best Documentary, Best International Film, Best Visual Effects and more down to a shortlist voted on by members of their affiliated Academy branches. Preliminary voting will end this year on February 5, with Oscar Shortlists announced on February 9.
Nomination voting opens en masse on March 5 before wrapping up on March 10. The 93rd Academy Award nominations will then be announced bright and early on March 15.
Who's Hosting The 2021 Oscars
To put it simply, we don't know who's hosting the Oscars in 2021 yet. With the show more than four months away and whether or not vaccinations will be at a stage that a more traditional Oscar ceremony can be held it's still too early to call.
We also can't be sure there will even be a host after the last two years have chosen to go without one. And for what is usually considered the most thankless job in Hollywood, the show may just be better off letting the movies generate the headlines rather than the hosts.
However, the decision on whether or not there will be a host - and whatever format the show will take - is up to the producers, which Deadline reported last week will be Jesse Collins, Stacey Sher and Oscar-winning director Steven Soderbergh.
In announcing the producing team, Academy President David Rubin and Academy CEO Dawn Hudson said in a statement:
What Movies Are Eligible For The 2021 Academy Awards
The shifting of the Oscar dates were in large part to give filmmakers a chance to finish their projects after COVID-related delays and still qualify for this year's awards. To do that, they had to extend the 2021 Oscar eligibility window.
Normally, films would have to be released between January 1 and December 31 of their given year, but for 2021 the Academy will accept films that were released between January 1, 2020, and February 28, 2021.
The Oscars adapted one other rule this year because of the extraordinary circumstances. Usually requiring films to have an exclusive seven-day run in theaters to qualify, since movie theaters had stretches where they were forced to close for safety reasons and studios have been forced to make decisions on how best to release their movies, the Academy is allowing films that intended to have a qualifying or full run in theaters but instead opted for streaming/VOD to be eligible for all awards, assuming they meet all other requirements.
What Movies Have Oscar Buzz Right Now
So those are the rules of the game, now who are the players? Many of the normal precursors that would help us gauge the field at this time have also been delayed, but word of mouth and a handful of awards bodies have started laying the groundwork for the 93rd Academy Awards. Here's a rundown of who may be in play.
Ma Rainey's Black Bottom: Chadwick Boseman is garnering a lot of the attention for this August Wilson adaptation, and rightfully so as the final film from the late Black Panther star, but don't sleep on Viola Davis or the gorgeous look of the film set in the 1920s and helmed by George C. Wolfe that could end up being among the leading nominated films.
Nomadland: Two-time Oscar-winner Frances McDormand vies for number three in this story of a woman who accepts a nomad-way of life following America's Great Recession. Director Chloé Zhao has helmed what looks like the critical favorite of the year, recently winning top prizes with Boston critics after earning festival laurels from Toronto and Venice.
Mank: David Fincher's retelling of the writing of Citizen Kane falls right in line with a subject the Oscars love to award - movies about Hollywood. Expect Fincher's meticulous designed, wonderfully acted film to be a player in nearly all categories.
The Trial of the Chicago 7**:** Depicting a country struggling with racial divisions and a politically-charged atmosphere, Aaron Sorkin's retelling of the landmark 1968 trial echoes many of the things we are still dealing with today. Sorkin's writing, which he previously won an Oscar for, and the strong ensemble will keep Chicago 7 in the conversation.
One Night in Miami: Regina King won an Oscar for her first acting nomination, can she do the same with her first directing gig? Focusing on four iconic Civil Rights leaders - Malcolm X, Muhammad Ali (still Cassius Clay during the film), Sam Cooke and Jim Brown - King has drawn praise and shown she is just as talented behind the camera as in front of it.
The Father**:** It's been nearly 30 years since Anthony Hopkins won an Oscar for The Silence of the Lambs, but the 83-year-old may have the pole position right now for Best Actor as he plays a man who's battle with dementia begins to challenge his reality. The film, from playwright-turned-director Florian Zeller, is also seen as a Best Picture player.
News of the World**:** One of the few films taking the more traditional approach to a release strategy this year (thanks in part to Universal's exclusive deal with theaters), this Tom Hanks-Paul Greengrass western hopes to recapture the glory that helped propel films like True Grit and Unforgiven as major Oscar contenders.
Soul**:** It's been 10 years since Pixar had a Best Picture nominee, Toy Story 3, but the studio's latest has the buzz to break that drought. The question becomes after Parasite broke the barrier of a foreign-language film winning Best Picture last year, could this Pete Docter-helmed tale be the one to do so for animated films?
Da 5 Bloods**:** Spike Lee finally won his long-deserved Oscar a couple of years ago, but he continues to prove he is one of the most essential filmmakers working with his latest, which also features a great opportunity for long-time character actor Delroy Lindo to be recognized for his searing performance.
Other films in the discussion: Minari, Promising Young Woman, Sound of Metal, The Prom, The Midnight Sky, Palm Springs, The Invisible Man, Borat Subsequent Moviefilm, Wonder Woman 1984
Things will hopefully start to crystalize as we make our way through this unusual Oscar season.
Your Daily Blend of Entertainment News
D.C.-based cinephile. Will dabble in just about any movie genre, but passionate about discovering classic films/film history and tracking the Oscar race.