The Best Man Director Malcolm D. Lee On Barriers That Still Exist For Black Filmmakers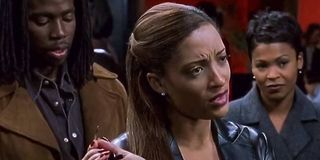 When Malcolm D. Lee released his first film, The Best Man, in 1999, it was the first of its kind. We'd see Black people play the best friend, the supporting character, and the extra, but The Best Man gave us multi-dimensional Black characters as leads in a romantic comedy. Since then, representation in film and television has come a long way, but there are still some barriers that Black filmmakers face.
The cast and director of The Best Man recently reunited for the first episode of Hollywood Homecoming, a new series from the American Black Film Festival (ABFF) that pays homage to iconic films that notably showcase Black humanity. I got to sit down with Malcolm D. Lee to discuss the reunion, and he shared that he and the cast reflected on the experience of creating The Best Man and things that have changed between then and now. In his own words,
To see so many Black people working in the entertainment industry today, and not just working but starring, leading, and making decisions is such a beautiful thing. More of this, please! Malcolm D. Lee wants the ability to expand beyond the American borders, and rightfully so. That's definitely something the industry can work toward next.
Malcolm D. Lee also expanded upon getting recognition as a Black filmmaker and made some very interesting points. Ultimately, all creators want to be proud of the work they create, but it's hard to resist wanting recognition from others as well. Here's what the director told CinemaBlend:
It sounds like learning to stop wanting that validation is a work in progress, but doable. The example Malcolm D. Lee provided about film school professors not relating to his stories is a great one to pause and reflect on. We all have our own worldview and experience to draw from which is what makes us beautiful and unique.
While we should always acknowledge the work that has been done, we also need to acknowledge the work left to do. Malcolm D. Lee has the best attitude moving forward in that his main priority is to make the best product he can. He mentioned financial limitations when it comes to anything that may be against a film, such as the subject matter, having stars in it, etc. along with reiterating his previously mentioned goal of trying more things overseas. His conclusion:
Seeing that his very first film was a roaring success, it's not hard to believe Malcolm D. Lee will continue expanding his viewership and try new audiences. His positive attitude and demeanor and the barriers he faces as a Black filmmaker makes him a role model to all of us. Have the conversations, create change when and were you can, and always make the best product you possibly can.
Your Daily Blend of Entertainment News
Obsessed with Hamilton and most things Disney. Gets too attached to TV show characters. Loves a good thriller, but will only tolerate so much blood.
Your Daily Blend of Entertainment News
Thank you for signing up to CinemaBlend. You will receive a verification email shortly.
There was a problem. Please refresh the page and try again.