12 Black-Led Hidden Gem Movies Available Streaming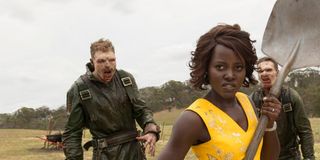 CinemaBlend participates in affiliate programs with various companies. We may earn a commission when you click on or make purchases via links.
The movie industry is full of iconic black films, everything from superhero movie Black Panther to romantic comedy How Stella Got Her Groove Back to Oscar-winning Moonlight. The black cinema landscape has movies that appeal to audiences of all genres, but they are often overlooked or forgotten. Netflix, Hulu, Amazon Prime, and other streaming services have plenty of black-led hidden gems, including Lupita Nyong'o's Little Monsters, Beats starring Anthony Anderson, and sci-fi future classic Sorry to Bother You.
The films on this list are black-led movies that address pressing societal and universal struggles, while also being entertaining. I tried to include at least one movie from each of the major film genres (horror, comedy, drama, etc.). If you're looking for something to watch, I hope you consider some of these films.
The Weekend (Amazon Prime)
The Weekend, released in 2018, stars Sasheer Zamata, Tone Bell, DeWanda Wise, Y'Ian Noel, and Kym E. Whitley. It's directed by Stella Meghie. The Weekend follows Zadie (Sasheer Zamata) as she goes for a weekend at her mother's B&B and ends up spending what was supposed to be her vacation with her ex and his new girlfriend. She also bonds with one of the male guests. The Weekend is a romantic comedy that's very funny and offers some insight into relationship choices and things we allow because we can't let go. Most of the comedy in The Weekend comes from Zadie's blunt relationship with her mother Karen (Kym E. Whitley).
Stream it on Amazon Prime here.
Uncorked (Netflix)
Uncorked is a 2020 Netflix original that's directed by Prentice Penny. Mamoudou Athie plays Elijah in the movie, a young man who dreams of becoming a sommelier, but his father, Louis (Courtney B. Vance), wants him to help run the family restaurant. Elijah decides to follow his dreams and study to be a sommelier but several obstacles make that dream even harder. Uncorked has a fantastic cast that includes Niecy Nash as Elijah's mother. The film is a dramedy that has some really funny moments mixed with some heartbreaking scenes. It's a unique movie because there aren't many films that focus on sommeliers and make them actually compelling.
Stream it on Netflix here (opens in new tab).
Fast Color (Hulu)
Fast Color is about three generations of black women with powers. This 2018 drama focuses on Ruth (Gugu Mbatha-Raw) as she's being hunted for her weather-controlling powers. Years ago, Ruth abandoned her daughter (Saniyya Sidney), and is now heading back home to her and her mother (Lorraine Toussaint), both of whom also have powers. Fast Color is directed by Julia Hart and produced by her husband Jordan Horowitz, who also produced LaLa Land. Fast Color is a superhero origin story that also dabs in folklore, making for a more grounded superhero film. Fast Color is a film that really sucks you into this world and makes you want to stay as long as possible to learn more about it, and these women and their powers.
Stream it on Hulu here. (opens in new tab)
Eve's Bayou (HBO Max)
Kasi Lemmons made her film directorial debut with Eve's Bayou in 1997. She later went on to direct 2019's Harriet. The cast includes Lynn Whitfield, Samuel L. Jackson, Jurnee Smollett, Debbi Morgan, and Meagan Good. Eve Bayou is about how a father's infidelity starts to break a family apart, but it's torn even further--leading to deadly consequences--when a lie forces one daughter to take drastic actions. Eve's Bayou is very dark in its subject matter, but it's a movie that leaves a lasting impression, mainly due to the stellar acting by the entire cast and the film's use of witchcraft.
Stream it on HBO Max here (opens in new tab).
Little Monsters (Hulu)
Little Monsters is a 2019 horror comedy starring Lupita Nyong'o, Josh Gad, and Alexander England. The film follows a zombie outbreak, and a teacher and musician who have to protect a group of school children who don't quite understand what's going on. Lupita Nyong'o plays Miss Audrey Caroline, a sweet but badass school teacher who uses her wits and resources to get the children out of some really dangerous situations. Little Monsters falls in the Shaun of Dead zombie horror film world with a very silly portrayal of a zombie apocalypse. Director Abe Forsythe has a lot of fun with the concept, and the film really thrives with Nyong'o and Alexander England as leads. It's also very entertaining to see Josh Gad play a not-so-nice guy.
Stream it on Hulu here (opens in new tab).
Roxanne Roxanne (Netflix)
Michael Larnell directed Roxanne Roxanne, a 2017 biopic about the life of rapper Roxanne Shante. The film stars Chanté Adams, Nia Long, and Mahershala Ali. Roxanne Roxanne focuses a lot on Roxanne's turbulent home life, first as a child and then as an adult. It's a very dramatic movie that involves domestic violence, drug abuse, and even a child kidnapping. Roxanne Roxanne is also about the 80s and 90s music industry, and how a young girl was able to use her talent to breakthrough.
Stream it on Netflix here (opens in new tab).
Loving (HBO Max)
Loving is a movie about the real-life Loving v. Virginia case that made interracial marriages legal in the United States. The film follows Richard (Joel Edgerton) and Mildred (Ruth Negga) Loving, a white man and a black woman married at a time when it was still illegal in some states to marry outside of one's race. The couple goes to the supreme court to have their life and marriage legalized. 2016's Loving received several major award nominations, including an Oscar nomination for Ruth Negga. Jeff Nichols does an excellent job directing Loving, but the biggest strength of the film is the acting from Negga and Joel Edgerton. They really bring these historical figures to life with delicacy and thoughtfulness.
Stream it on HBO Max here (opens in new tab).
Sweetheart (Netflix)
Kiersey Clemons stars in Sweetheart, a 2019 horror film about a young girl trapped on a deserted island with a deadly creature. Sweetheart is so much more than a monster flick as it deals with hot button societal issues like privilege and racial and gender inequalities. Justin Dillard directed Sweetheart and the film works both as a thriller and a character study. Viewers watch Jennifer (Clemons) go from helpless castaway to someone who goes headfirst into a monster fight.
Stream it on Netflix here (opens in new tab).
Luce (Hulu)
Luce stars Kelvin Harrison Jr., Octavia Spencer, Noami Watts, and Tim Roth. This 2019 film directed by Julius Onah is based on a play of the same name, so it feels very much like a film with theatrical origins. Luce revolves around adoptive parents who start to question if their star son is not as noble and good as they believed. This suspicion is fueled by his teacher, Harriet Wilson (Spencer), who thinks Luce may still have violent tendencies from being a child soldier in Eritrea. Luce doesn't offer viewers any clear cut answers, everything is vague and ambiguous, but that's the point. It's a film that's supposed to make you think and question Luce, his adopted parents, Harriet, and society as a whole.
Stream it on Hulu here (opens in new tab).
Love Jacked (Netflix)
Amber Stevens West and Shamier Anderson star in Love Jacked, a 2018 romantic comedy about Maya (Amber Stevens West), a woman who finds out her fiancé has been cheating on her, right before their plans to travel back to America where he was to meet her family. Upon returning to America, she meets Malcolm (Shamier Anderson) and tells him her entire broken engagement story. He ends up pretending to be her African fiancé. If you're expecting some Shakespeare sonnet level writing with Love Jacked, you'll be very disappointed. If you expect a cute, simple romantic comedy, then you'll be pleasantly surprised with Love Jacked. Amber Stevens West and Shamier Anderson have great chemistry and the wacky storyline will keep you entertained all through the movie.
Stream it on Netflix here (opens in new tab).
Sorry to Bother You (Hulu)
Lakeith Stanfield and Tessa Thompson star in Sorry to Bother You. This 2018 Boots Riley black comedy follows Cash (Stanfield) as he gets a new job as a telemarketer. He quickly discovers that when he uses his "white voice," he gets better responses. He becomes a top person at his company but finds himself conflicted when his friends want to form a union. Things just get weirder from there in Sorry to Bother You. The film takes an unusual and clever approach to address issues like slave labor and implicit biases. It's definitely a film that leaves a lasting impression.
Stream it on Hulu here (opens in new tab).
Beats (Netflix)
Beats is a 2019 Chris Robinson directed film about a boy August (Khalil Everage ) who develops PTSD after he witnesses his sister being shot and murdered. Because of the incident, he no longer leaves his home. A former music producer turned high school security guard, Romelo (Anthony Anderson) goes to August's house to try to get him to return to school to improve the school's attendance. He hears August mixing beats and the two develop a friendship. Their friendship helps August start to create music and overcome his PTSD. Beats is an interesting look at a boy who has kind of lost his ability to cope in society and how music allows him to begin to live again.
Stream it on Netflix here. (opens in new tab)
These are just a few of the many great black-led films that you may have not seen yet, so make sure to check CinemaBlend for some of our other recommendations.
Your Daily Blend of Entertainment News
Spent most of my life in various parts of Illinois, including attending college in Evanston. I have been a life long lover of pop culture, especially television, turned that passion into writing about all things entertainment related. When I'm not writing about pop culture, I can be found channeling Gordon Ramsay by kicking people out the kitchen.
Your Daily Blend of Entertainment News
Thank you for signing up to CinemaBlend. You will receive a verification email shortly.
There was a problem. Please refresh the page and try again.