The Best Man Director Reflects On The Film's Success And Reuniting With The Cast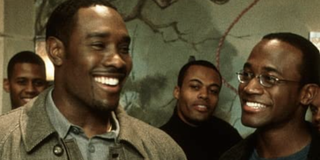 It's been 22 years since The Best Man was released and eight since The Best Man Holiday came out. People are still loving this franchise, so much so that a TV series with the original cast is in the works at Peacock. The cast and director Malcolm D. Lee recently reunited, and Lee reveals what it was like to meet up again as well as reflect on creating that first film together.
The Best Man cast has reunited for a new Digital series, Hollywood Homecoming, from American Black Film Festival (ABFF). In collaboration with IMDb, ABFF's new series will pay homage to iconic films that notably showcase Black humanity by providing balanced portrayals of the Black experience. The Best Man director Malcolm D. Lee said the following of the reunion in an interview with me for CinemaBlend:
It sounds like the cast enjoyed being back together, and seeing everything that's come out of this movie from the start of their careers is inspiring. As Malcolm D. Lee said, The Best Man was his first movie. He couldn't have planned for it to become a classic or a hit phenomenon, but that's exactly what happened. And for his very first film, too.
I personally feel The Best Man is a perfect choice to kick off Hollywood Homecoming because it exemplifies everything the new series seeks to uplift. Being one of the first romantic comedies to focus on Black couples, The Best Man also offered a deeper look into the lives of Black characters that many films at the time were not. As Malcolm D. Lee mentioned, these weren't supporting characters or tokens, they were leads with backstories, dreams, hard decisions, and emotional depth.
Audiences clearly resonated with the characters of The Best Man as they gave just as much love to The Best Man Holiday almost 15 years later. Fans will not want to miss this reunion special featuring director Malcolm D. Lee and cast members Taye Diggs, Morris Chestnut, Monica Calhoun, Melissa DeSoussa, Terrence Howard and Harold Perrineau sharing stories from creating the film and more.
Hollywood Homecoming premieres Tuesday, April 13 at 3 p.m. PT on ABFF PLAY. The first episode will also simulcast on the IMDb homepage and social channels. Keep it here at CinemaBlend for updates on The Best Man series coming to Peacock, and check out these romantic films with Black leads.
Your Daily Blend of Entertainment News
Obsessed with Hamilton and most things Disney. Gets too attached to TV show characters. Loves a good thriller, but will only tolerate so much blood.
Your Daily Blend of Entertainment News
Thank you for signing up to CinemaBlend. You will receive a verification email shortly.
There was a problem. Please refresh the page and try again.