The Lucas Brothers Are 'Optimistic' About Black Cinema But Have Some Concerns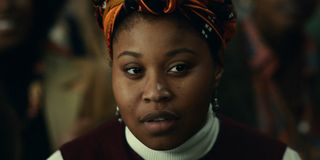 With the recent awareness around racial tensions in America, Black cinema has gotten a boost. Stories about social justice and the historical figures that fought for it are especially timely. Having worked in film and television as writers, directors, comedians and producers, the Lucas Brothers are optimistic about the future of Black cinema, but also have some concerns.
Keith and Kenny Lucas wrote the story for Judas and the Black Messiah. It's a phenomenal film about Fred Hampton's betrayal by FBI informant William O'Neal that led to Hampton's assassination. The Lucas Brothers shared their overall optimism as well as some concerns about Black cinema with CinemaBlend. Here's what they said:
Sounds like the Lucas Brothers acknowledge the progress of Black cinema and are happy to be a part of it, but are worried about history repeating itself. The repetition of time is something Regina King has spoken about in reference to the relevance of her directorial debut, One Night In Miami, so the Lucas Brothers are not alone with their sentiments. Time will tell, but hopefully Kenny Lucas is backed up in his hopes that the infrastructure has changed. He elaborated upon his mention of Black creators being "in this together" with the following:
To say that Judas and the Black Messiah has some talented people behind it is an understatement. Directed by Shaka King and produced by Ryan Coogler, Charles King and Shake King, the film has an all-star cast that will absolutely blow you away.
Kenny and Keith Lucas are identical twin writers, comedians, producers and actors ready to make a lasting impression on the entertainment industry. Keith Lucas shared his excitement for the future of Black cinema, saying:
Judas and the Black Messiah is now available in theaters and streaming on HBO Max (opens in new tab). For more films with Black leads, we have lists for you! Check out these romantic movies to rent or stream, these hidden gems, and these quintessential movies all film fans should see. What do you think about the future of Black cinema? Let me know in the comments.
Obsessed with Hamilton and most things Disney. Gets too attached to TV show characters. Loves a good thriller, but will only tolerate so much blood.