Without Remorse Ending: How It Sets Up The Future Of The Clancyverse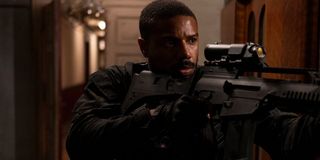 Warning: spoilers for Without Remorse are about to be openly discussed. If you're looking to avoid being spoiled, exfil to safety and come back once you're ready.
The legacy of author Tom Clancy's universe of counterterrorism tales is as legendary as it is voluminous. Michael B. Jordan's new film, Without Remorse, is the latest entry in the modern adaptations of Clancyverse that fans can find on Amazon Prime, and it's got a pretty specific plan for where the future of the potential franchise could go. Which means it's time to take a look at Without Remorse's ending, and see where John Kelly's origin story has its sights set to venture towards.
Before we get started, consider this the final warning that there will be extensive spoilers discussed from Without Remorse's plot. So there's still time for you to head to another piece of coverage we've run pertaining to the film's not-so-spoilery pastures. With that out of the way, let's see how John Kelly becomes the hero that we all know as John Clark.
The Truth Behind Without Remorse's Covert Mission
After surviving an attack that was meant to kill him in Without Remorse, John Kelly (Michael B. Jordan) and the team of operatives are drafted to apprehend the surviving team member that killed not only Kelly's former squadmates, but also his pregnant wife, Pam (Lauren London.) Identified as Russian agent Victor Rykov (Brett Gelman), the journey to capture Rykov takes a huge left turn.
Before killing himself with an explosive vest, Victor Rykov tells John Kelly that they're both pawns in a larger game. A game that's supposed to send Russia and the United States into a war. With Rykov dead, and a potential frame up sparking that war if the team isn't careful, Kelly intends to sacrifice himself to let his team escape.
Luckily, John Kelly's diversion allows him to get out of Without Remorse alive, and clinging to life. He recovers, and leaves with his team, bound to return to prison as a condition of his participation in the covert mission that was supposed to be payback for a heinous crime. The true purpose of that mission is something that could only be discovered by a ghost.
What Happens At The End Of Without Remorse?
As John Kelly and the team escape, with one of their own dead and Kelly on his way back to jail, CIA officer/teammate Robert Ritter (Jamie Bell) has an idea. A plan starts to form in order to dig into who is behind the mounting tensions between the US and Russia, and why. Ritter says he'll declare John Kelly dead, allowing him to become the ghost agent needed, in the hopes that his skills and determination could help uncover who is behind this plot.
It's not long before John Kelly gets to work, as Robert Ritter's superior, Secretary Thomas Clay (Guy Pearce), is the first interrogation on the block. Tricking him into revealing his full knowledge of the situation, John Kelly threatens to kill Clay's family as a reprisal, unless he tells him the full story. Captive in an SUV that Kelly is driving, Secretary Clay admits that, "A big country needs big enemies." And as Secretary Clay put it, Russia was our greatest enemy throughout the Cold War. Wars spark spending, prop up economies, and keep nations unified by having someone else to fight.
John Kelly drives the SUV off a bridge, with Sec. Clay in the car. All he wants to hear is Clay say his wife's name before he dies, which he does. Clay drowns in the SUV, but Kelly survives, recording the confession to blow the lid off of this insidious plot. Ready to die himself, he hesitates to leave the car, but is eventually recovered by friend and colleague, Lt. Commander Karen Greer (Jodie Turner-Smith.)
How Without Remorse Sets Up The Future Of The Clancyverse
The future of the Clancyverse is very clear at the end of Without Remorse. Technically, John Kelly is buried, officially dead to the world. A funeral with full honors is held, just as the story about Secretary Thomas Clay's extracurricular activities hits the news. But, of course, Kelly's still alive, and thanks to his compatriots Robert Ritter and Lt. Commander Greer, he'll live in the shadows; thanks to a new identity he's been given. Say goodbye to John Kelly, long live John Clark.
One year later, John Clark and Robert Ritter meet up in DC, as Ritter is now freshly promoted to the post of CIA director. Clark has been thinking about the events from the end of Without Remorse, and how he doesn't want a repeat. Much like his friend had a plan to save his life, John Clark has his own plan to make sure this sort of thing can be prevented before it happens again.
"A multinational counter terrorist team" is his suggestion, with US, UK, and "a handful of selected NATO personnel" making up its ranks. It will have the "full support of the national intelligence services," and be run by Clark himself. And it shall be called Rainbow, because of very personal reasons that John Clark doesn't want to reveal. That's ok, because for now, the mere setup of Rainbow Six is news enough for fans of the Clancyverse.
There's another factor that can be taken into account when it comes to the formation of the Clancyverse. As revealed in Without Remorse, Lt. Commander Karen Greer is the niece of Clancyverse fixture/Jack Ryan character Jim Greer (Wendell Pierce.) So that's a convenient bridge that could allow John Clark and Jack Ryan (John Krasinski) to crossover; or at the very least, allow both stories to exist in the same universe without conflicting. Which makes Rainbow Six's job a hell of a lot easier.
Could Rainbow Six Be The Next Clancyverse Movie?
In the long history of getting Without Remorse made as a major motion picture, the most recent developments saw both this film and Rainbow Six pitched as a two-part project. Since both books are connected as a John Kelly duology in Tom Clancy's shared universe of counterterrorism, it only makes sense to tee up the legendary novel/video game franchise to be the next installment. Perhaps the most powerful asset Rainbow Six has in its arsenal is the fact that Michael B. Jordan is a huge fan of the games.
So he's really into getting that movie off the ground, and the mid-credits sequence at the end of Without Remorse basically says that it has to be the next step. Though, another quick note about the lore from the Clancyverse dictates that the story for this potential film will need another key tweak to its source material. Seeing as in Rainbow Six's original novel, Jack Ryan is President of the United States, that's a factor that will need to either be explained or changed. But again, if Jim Greer has a niece in this universe, then there surely has to be a plan in play.
The future of the Clancyverse can go into some interesting directions, should the motivation be there. Everything from Rainbow Six to the long in development hell adaptation of Splinter Cell could be on the table, if audiences take to Without Remorse as is hoped. If for some reason you read through this rundown without seeing the movie, you can now stream it on Prime Video. But don't forget to check out the full list of 2021 new movie releases, as well as check back in to see where you've seen the Without Remorse cast before.
Your Daily Blend of Entertainment News
Senior Movies Contributor
CinemaBlend's James Bond (expert). Also versed in Large Scale Aggressors, time travel, and Guillermo del Toro. He fights for The User.
Your Daily Blend of Entertainment News
Thank you for signing up to CinemaBlend. You will receive a verification email shortly.
There was a problem. Please refresh the page and try again.