Without Remorse Cast: Where You've Seen The Tom Clancy Amazon Movie Stars Before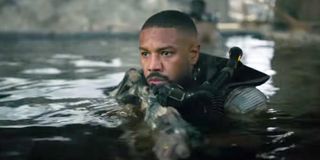 Without Remorse is Amazon Prime's exciting new action thriller based on Tom Clancy's book of the same name. The film stars Michael B. Jordan as John Clark. Clark loses what he holds dear, his family, so he sets off on a mission for revenge but also ends up helping the United States government in their ongoing battle against Russia. One of the things that makes this film so exciting is because of Michael B. Jordan and the entire Without Remorse cast.
The Without Remorse cast includes some award-nominated actors and some who have appeared in critically acclaimed TV shows and movies. Without Remorse should appeal to huge Michael B. Jordan fans, Tom Clancy fans, or just action movie junkies. If you plan to see Without Remorse or have already seen it, you may be wondering what TV shows and movies you've seen the Without Remorse cast in before. Here's a quick rundown of their past and future projects.
Michael B Jordan (John Clark)
Michael B. Jordan plays John Clark, a former U.S Navy SEAL who goes to prison after beginning a mission to hunt down the men who assassinated his wife Pam (Lauren London). Jordan's early works include roles in The Wire, All My Children, Chronicle, The Assistants, Friday Night Lights, and Parenthood. In recent years, Michael B. Jordan has become one of the most bankable and well-known names in Hollywood. He has appeared in the films Fantastic Four, Fahrenheit 451, Black Panther, Just Mercy, and The Creed films.
His TV work has included Raising Dion and Gen: Lock. Some of the upcoming Michael B. Jordan movies and TV shows include reprising his Black Panther role as Erik Killmonger in Marvel's What If...?. He's also filming the Denzel Washington-directed A Journal for Jordan. Soon Michael B. Jordan will make his feature directorial debut with Creed III.
Jamie Bell (Robert Ritter)
Jamie Bell plays Robert Ritter in Without Remorse. Ritter is a CIA officer and one of the main players involved in Clark's special mission. Without Remorse marks the on-screen reunion of Michael B. Jordan and Bell, who both appeared in 2015's Fantastic Four. At only 13 years old, Bell made his screen debut in Billy Elliot. He then appeared in films such as Nicholas Nickleby, The Chumscrubber, Jumper, Defiance, Skin, and The Adventures of Tintin. In 2013, he had a supporting role in Bong Joon-ho's Snowpiercer.
From 2014 to 2017, Jamie Bell played Abraham Woodhull in TURN: Washington's Spies. He took on the role of Bernie Taupin, Elton John's long-time music partner, in Rocketman. He was criminally not nominated for an Oscar for that role. Bell's upcoming projects include a drama called Surrounded.
Jodie Turner-Smith (Karen Greer)
Jodie Turner-Smith plays Karen Greer, a Lt. Commander and a former member of Clark's SEAL team. Turner-Smith gained attention when she appeared as co-lead with Daniel Kaluuya in Queen & Slim.She also appeared in the films The Neon Demon, Newness, and Lemon. Turner-Smith will be the star of one of the most buzzed-about 2021 TV shows, Anne Boleyn.
Jodie Turner-Smith's TV show credits also include The Last Ship, Jett, Nightflyers, Mad Dogs, and True Blood. Her next big film project is Kogonada's sci-fi film After Yang. The cast of that film also includes Justin H. Min, Colin Farrell, Haley Lu Richardson, and Brett Dier. She'll also be starring in Borderland with John Boyega and Felicity Jones.
Luke Mitchell (Rowdy)
Luke Mitchell plays Rowdy, a member of Clark's SEAL team. Those who are still mourning the cancellation of The Tomorrow People will remember him as John Young on the canceled too-soon CW series. Agents of S.H.I.E.L.D. fans will also remember him as Lincoln Campbell, Daisy's (Chloe Bennet) Inhuman and doomed boyfriend. Mitchell also played Roman on Blindspot, Romeo on Home and Away, and Abe on The Code.
Luke Mitchell's TV and film credits have also included H2O: Just Add Water, Neighbours, 7 Minutes, and Black Water: Abyss. He'll play Danny on the upcoming CW drama The Republic of Sarah.
Jack Kesy (Thunder)
Jack Kesy plays Thunder, another member of Clark's SEAL Team. Kesy may best be known for playing Gabriel Bolivar on The Strain. He played him from 2014 to 2016. He also plays Roller Husser on Claws, which was originally set to end in 2020, but now he'll play the character until Claws officially ends, likely in 2021. Jack Kesy's TV credits also include The Alienist, Ray Donovan, and Deputy.
Marvel and Deadpool fans may recognize Jack Kesy for playing Black Tom Cassidy in Deadpool 2. He's also appeared in the films Intruders, Hot Summer Nights, Baywatch, 12 Strong, Death Wish, Blood Brother, The Outpost, and Dark Web: Cicada 3301.
Brett Gelman (Victor Rykov)
Brett Gelman plays Victor Rykov on Without Remorse. Stranger Things fans may recognize Gelman as Murray, the conspiracy nut who actually might not be so nutty after all. Stranger Things fans will see a lot more of him in the upcoming fourth season. Gelman also played the most punchable guy Martin in Fleabag. Gelman's TV credits also include Mr. Mercedes, Camping, Twin Peaks, Another Period, American Dad!, Love, and Eagleheart.
Brett Gelman has also appeared in episodes of Happy Endings, Curb Your Enthusiasm, The Office, Drunk History, and Mad Men. His film roles include The Other Guys, 30 Minutes or Less, A Very Harold and Kumar 3D Christmas, The Disaster Artist, and Like Father. Gelman will also be appearing in the upcoming film Surrounded, the same film as his Without Remorse co-star Jamie Bell.
Colman Domingo (Pastor West)
Colman Domingo plays Pastor West in Without Remorse. Fear the Walking Dead fans may recognize Domingo as Victor Strand. He also plays Ali in Euphoria. Other TV credits for Domingo include The Twilight Zone, Lucifer, The Knick, The Big Gay Sketch Show, and Nash Bridges. You may also recognize Domingo for his performance in the Oscar-nominated movie Ma Rainey's Black Bottom. He played Cutler, one of Ma Rainey's band members.
Colman Domingo's other prominent film credits include Lincoln, Lee Daniels' The Butler, The Birth of a Nation, If Beale Street Could Talk, and Selma--where he played Ralph Abernathy. Domingo's upcoming projects include Zola, The God Committee, and Candyman.
Guy Pearce (Thomas Clay)
In Without Remorse, Guy Pearce plays Secretary of Defense Thomas Clay, he's one of the leading forces behind Clark joining the team against Russia. Many may remember Pearce from the critically acclaimed Christopher Nolan film Memento. Pearce has been playing the character Jack Irish since 2012 in various TV movies, but has been the character on the series Jack Irish since 2016. Pearce's TV credits also include Neighbours, Home and Away, Mildred Pierce, When We Rise, The Innocents, FX's A Christmas Carol, and HBO Max's Mare of Easttown.
Pearce has also appeared in the films The Time Machine, The Count of Monte Cristo, The Road, The Hurt Locker, The King's Speech, Animal Kingdom, The Catcher Was A Spy, Bloodshot, and Mary Queen of Scots. He played supervillain Aldrich Killian in Iron Man 3. Guy Pearce's upcoming projects include Memory, Zone 414, Blacklight, and Back to the Outback.
Lauren London (Pam Clark)
Lauren London plays Pam Cark, John Clark's wife. Her murder starts his revenge mission. Lauren London may best be known for playing New New in ATL. Yes, from the infamous gif. London has also appeared in the films The Christmas, I Love You, Beth Cooper, Madea's Big Happy Family, Baggage Claim, and Always and Forever.
London also has many TV credits. Her recent series Games People Play began airing on BET in 2019, with Season 2 expected in 2021. She also appeared in the series Everybody Hates Chris, 90210, Keeping up with the Kardashians, The Game, and Single Ladies.
Jacob Scipio (Hatchet)
Hatchet (Jacob Scipio) is another one of John Clark's SEAL team members. Jacob Scipio has appeared in the films Hunt Killer, We Die Young, and plays Armando Aretas in Bad Boys for Life and potential future movies. His TV credits have included Pieces of Her, Bob the Builder (UK), Damned, Dixie, Some Girls As The Bell Rings, and White Teeth.
Cam Gigandet (Keith Webb)
Cam Gigandet plays Keith Webb, another member of Clark's SEAL team. Twilight fans may recognize him as James from the first movie. Gigandet has been in countless popular shows and movies, so even if you may not recognize his name, you probably recognize his face. He's been in well-known TV shows like The O.C, Jack & Bobby, Ice, and The Young and the Restless.
Cam Gigandet has also appeared in the films Never Back Down, The Unborn, Easy A, Burlesque, The Magnificent Seven, Dangerous Lies, and The Roommate.
Todd Lasance (Dallas)
Todd Lasance plays Dallas, yet another one of Clark's SEAL team members. Many The Vampire Diaries fans will remember Lasance as Julian, a major villain in the seventh season. Like a few of his Without Remorse co-stars, he also appeared in the Australian soap opera Home and Away. He also appeared in the series Rescue Special Op, Crownies, Spartacus, Bite Club, and The Flash. He played Edward Clariss aka The Rival on The Flash.
Todd Lasance has also appeared in the movies Fool's Gold, Terminus, and The Divorce Party.
Catch Michael B. Jordan and the rest of the Without Remorse cast when it begins streaming on Amazon Prime on April 30, 2021. Without Remorse is one of the best Amazon Prime movies to watch this weekend.
Spent most of my life in various parts of Illinois, including attending college in Evanston. I have been a life long lover of pop culture, especially television, turned that passion into writing about all things entertainment related. When I'm not writing about pop culture, I can be found channeling Gordon Ramsay by kicking people out the kitchen.
Your Daily Blend of Entertainment News
Thank you for signing up to CinemaBlend. You will receive a verification email shortly.
There was a problem. Please refresh the page and try again.