Why Captain Marvel 2's Official Title The Marvels Is Such A Big Deal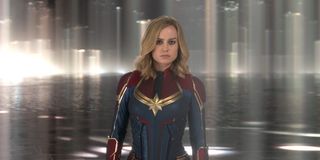 With a few exceptions, namely the Iron Man and Guardians of the Galaxy movies, Marvel Studios has opted to use subtitles to label its sequels rather than simply numbers. Still, the starring hero, or heroes, of the film series have naturally remained in these follow-up titles. Well, that streak was broken today, as it's been announced that what we've been calling Captain Marvel 2 for close to a year and a half now will officially be called The Marvels.
If you haven't been following along with the development of the Captain Marvel sequel, calling this upcoming Marvel Cinematic Universe movie The Marvels might sound weird. However, even though it might take some getting used to, there's a good reason this title's being used, as it's starring three heroines who have all gone by either Captain Marvel or Ms. Marvel in the comics. Let's go over who these ladies are and why using The Marvels title might mean big things for the MCU following this movie's release.
Carol Danvers
Her name isn't in the title anymore, but don't think that Carol Danvers, a.k.a. Captain Marvel, is sitting The Marvels out. It was confirmed back in January 2020 that Brie Larson would reprise the character following her time in Captain Marvel and Avengers: Endgame, and the actress has been preparing for the sequel since the beginning of the year. We last saw Carol at Tony Stark's funeral, and in Spider-Man: Far From Home, Nick Fury (or rather, Tales disguised as Fury) mentioned that she'd returned to space. We don't know yet what will draw Carol back to Earth in The Marvels or what kind of threat she'll face, but we'll finally see her reunite with a familiar face from her pre-superhero days.
Monica Rambeau
We first met Monica Rambeau as a 10-year-old in Captain Marvel, but earlier this year, the adult Monica came into play, with Teyonah Parris playing her in the Disney+ series WandaVision. As an agent of S.W.O.R.D, Monica investigated the bubble Wanda Maximoff conjured around the town of Westview to live out her sitcom fantasies, and following multiple entries and exits from this Hex, Monica came out of WandaVision with powers like energy absorption, special vision and intangibility. In the comics, Monica has gone by several superhero names, including Photon, Pulsar, Spectrum and Captain Marvel, and she actually held that latter moniker before Carol Danvers did. So she's definitely worthy of being grouped in as a Marvel for this movie, and while not officially confirmed yet, it's a good bet we'll see Parris' Monica evolve into a full-fledged superhero.
Kamala Khan
We haven't seen Kamala Khan yet in the MCU, but we'll be quite familiar with her by the time The Marvels comes out. Iman Vellani is debuting as the character in the upcoming Disney+ series Ms. Marvel, and like her comic book counterpart, the MCU's version of Kamala is a Carol Danvers superfan who gains shapeshifting powers. Once Ms. Marvel's origin story is out of the way, she'll make the jump to the cinematic realm, and I can only imagine how much Kamala will fangirl out at getting to meet her idol. Ms. Marvel is one of the most popular Marvel Comics superheroes who's been introduced over the last decade, so it's only fitting that she gets to shine on both the big and small screens so early into her live-action tenure.
What Does The Marvels Title Mean For Even Further Into The Future?
The decision to name the Captain Marvel sequel The Marvels indicates that Monica Rambeau and Kamala Khan will share equal billing with Carol Danvers, akin to how Ant-Man was followed by Ant-Man and the Wasp. But what happens if The Marvels gets a sequel? Even if Carol were to be the lead again, it'd be weird to call it Captain Marvel 3 since there's technically never been a Captain Marvel 2. That's why I'm thinking that should this particular MCU film series reach trilogy status (and considering the franchise's track record, the odds of that happening are incredibly likely), either Movie #3 will star this trio of women again, or the groundwork is perhaps being laid for either Monica or Kamala to take over as the main hero.
The first option seems more likely, as over the years have passed, Marvel has shown more willingness to make team-up movies outside of the Avengers movies, such as Iron Man popping up in Spider-Man: Homecoming and Hulk taking part in Thor: Ragnarok. There's no question that Carol Danvers has a lot of fans, but there are plenty of Monica Rambeau and Kamala Khan enthusiasts out there too. This would be a good way to satisfy all those fanbases, and repeatedly pairing these superheroines together certainly doesn't feel inorganic given their ties from the comics and connections in the MCU.
On the other hand, maybe Marvel Studios is wanting to give a bigger platform to Monica Rambeau or Kamala Khan, and transition Carol Danvers into being more of a supporting hero in the MCU. Should this be the case, I suspect that Monica would be the likelier candidate to take over this particular film series, while Kamala would either stick around in a secondary capacity or star in another season of the Ms. Marvel series. Who knows, maybe something will happen in The Marvels that takes Carol out of commission temporarily or permanently, and Monica would become the new Captain Marvel. This would be similar to how Anthony Mackie's Sam Wilson is now being primed to take over the Captain America film series following the events of The Falcon and the Winter Soldier.
Basically, The Marvels holds the potential to shake up the MCU even more so than each movie in this franchise usually does, but until official plot details are revealed, all we can do is speculate. Along with the aforementioned actors, The Marvels has also hired The Handmaid's Tale's Zawe Ashton to play the yet-to-be-revealed villain. Behind the scenes, Candyman's Nic DaCosta is directing from a screenplay written by WandaVision's Megan McDonnell.
The Marvels is slated to come out on November 11, 2022, so keep checking back with CinemaBlend for more updates on its progress. Feel free to also look through our upcoming Marvel movies guide to learn what else the MCU franchise is sending to theaters.
Your Daily Blend of Entertainment News
Connoisseur of Marvel, DC, Star Wars, John Wick, MonsterVerse and Doctor Who lore. He's aware he looks like Harry Potter and Clark Kent.
Your Daily Blend of Entertainment News
Thank you for signing up to CinemaBlend. You will receive a verification email shortly.
There was a problem. Please refresh the page and try again.