Disney+'s Ms. Marvel TV Show Has Added A Former Walking Dead Star For Big Role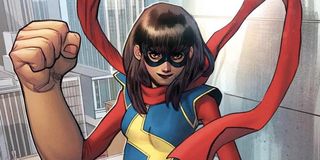 Disney+ is continuing to grow its Marvel repertoire. Along with WandaVision and The Falcon and the Winter Soldier, several more series are headed to the streaming service soon. One of the most highly anticipated ones is Ms. Marvel, which has already begun filming in Atlanta and, as it turns out, the Disney+ series has added a former The Walking Dead star in a pretty big role.
Prior to Ms. Marvel's production start date, the only cast member announced was Iman Vellani, who will play titular character Kamala Khan. Now, thanks to set photos, we have a better idea about who will be joining the beloved superhero on her adventures. Per Murphy's Multiverse, The Walking Dead alum Matt Lintz has reportedly been cast as Kamala's friend and pseudo sidekick, Bruno Carrelli.
It's important to note that Matt Lintz's casting has not been confirmed by other outlets or by anyone working at Disney and Marvel. All that said, it seems rather obvious who Lintz is probably playing based on the photos taken from the set of Ms. Marvel.
In one image set, Iman Vellani's Kamala is decked out in a Captain Marvel-inspired helmet and jacket (not surprising considering that Captain Marvel is her idol). Lintz is standing next to her wearing a bicycle helmet, lab coat, and backpack. It seems Kamala is out on a mission of some sort because Bruno is seen boosting her up onto a rooftop.
In pages of Marvel comics, Bruno is one of the only people who knows that Kamala is Ms. Marvel and helped her keep that secret from her family. Bruno not only aids Ms. Marvel on her missions, but he's pretty much a genius with a 170 IQ. Bruno isn't a bad choice to have at Ms. Marvel's side, considering all the trouble she gets into. Things can quickly go awry, and a superhero always needs to have someone in on their secret should they need backup, am I right?
Prior to landing a role on Ms. Marvel, Matt Lintz played the older version of Henry on Seasons 9 and 10 of AMC's The Walking Dead. However, he was ultimately killed off, with his severed head zombified (it's pretty gruesome). Lintz also had a role as Stevie Taggert on the TNT drama The Alienist: Angel of Darkness, where he starred alongside The Falcon and the Winter Soldier's Daniel Brühl. In addition, the actor has guest starred on TV shows like Sleepy Hollow, Banshee, and the Eric Kripke-created series Revolution.
Ms. Marvel does not yet have a scheduled premiere date but, with production already moving right along, I'm willing to bet that the Disney+ series could debut by the end of next year. Stay tuned to CinemaBlend for updates on the show and be sure to check out both our fall TV guide and our 2021 winter and spring schedule for more on what to watch in the meantime.
Your Daily Blend of Entertainment News