That Marvel Hype Video Was Missing Four Important Reveals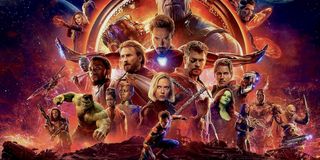 No fanbase cares as much about the calendar as Marvel Studios fans. We constantly debate about when certain Marvel movies are coming to theaters, and what the order of releases could mean. We get just as excited talking about what's on the horizon as we do breaking down the incredible MCU movies that are in front of us, or in the rearview. So this morning's Hype Video that seems to lay out all of Marvel's Phase Four had the internet buzzing. I've included it at the top, just in case you needed to watch it again. Lord knows I've seen it five times this morning.
Now, far be it from me to be the one to say to Marvel Studios, "That's cool and all, but…" I mean, they just confirmed that Ryan Coogler's Black Panther sequel is going to be titled Wakanda Forever, dated everything from Captain Marvel 2 (now titled The Marvels) to Guardians of the Galaxy Vol. 3, and showed us the first official footage from Chloe Zhao's Eternals. But because I'm a Marvel junkie who is so in tune with the studio's production calendar and announced plans, I noticed four things that were missing from the Hype Video. Let's dive into them below.
Where's that Fantastic Four release date?
The Fantastic Four, Marvel's first family, are getting their third crack at big-screen stardom, but the first pass as the members of the MCU. We're going to go ahead and assume that the good folks at Marvel know how best to tell a Fantastic Four story, though we still have many, many questions about how this movie is going to go. Before we dive too deep into those, the most obvious question left on the table from this hype video is, "What is Fantastic Four's release date?" All of the title cards that came ahead of the Fantastic Four title card had dates attached to them. We know that Marvel has release dates circled in July and November for 2023, and we're assuming that Fantastic Four takes one of them. By leaving it off, I guess that Marvel buys themselves some freedom to shift it back from July (meaning the next open slot) to November, particularly if another one of the movies I'[m mentioning below comes together quickly.
No mention of Mahershala Ali's Blade?
The reason why this is unusual is because Marvel took the time to introduce two-time Academy Award winner Marheshala Ali as the mic-drop moment at the end of the Marvel Studios panel at San Diego Comic-Con in 2019. Granted, I understand that the film industry ground to a halt, and Marvel scrambled to adjust release dates in the wake of COVID delays. But now we have MCU dates through 2023, and Blade is not part of the calendar. As I pointed out, there are open dates in July and November of 2023, and Blade could easily slot into one of them. Because if Marvel waits until 2024 to deliver on the Daywalker, that'd make five years between when Ali was announced to play the vampire slayer, and when he finally appeared on screen. We know that Blade brought Stacy Osei-Kuffour on board as a writer, and that got us excited that news on the film was imminent. Just… not his morning with that new video.
Deadpool and the mutants remain in the shadows.
As soon as Marvel got its characters back from 20th Century Fox, the two main properties that fell under the microscope of speculation about how, when and where they'd be rebooted were the Fantastic Four and the X-Men. One is getting its proper treatment, but the X-Men (and mutants in general) remain on the Marvel backburner. I wondered if WandaVision was going to be a portal for mutants into the MCU, but that Disney+ show came and went without mentioning the genetic alterations. That's fine. Mutants aren't an easy thing to just introduce into the universe of the MCU, and I want Marvel to take its time to figure out the best way to do it. But there has been talk from Kevin Feige lately that he and Ryan Reynolds have been making progress on plans for Deadpool 3, so will that movie take one of the open 2023 dates?
Will we get any more Avengers films?
Admittedly, topping the one-two punch of Avengers: Infinity War and Avengers: Endgame seems daunting. But does that mean Marvel simply isn't going to try? Not anytime soon, according to all of these announced projects, which are focused on individual members of the MCU and new teams like the Eternals and the Fantastic Four. Yes, the founding members of the Avengers have been scattered to the winds, so Iron Man (Robert Downey Jr.), Captain America (Chris Evans), Black Widow (Scarlett Johansson) and the rest aren't coming back. But between Disney+ shows like The Falcon and the Winter Soldier, Hawkeye, She-Hulk and more, Marvel is poised to unleash the West Coast Avengers, the New Avengers, the Dark Avengers (or the Thunderbolts)... some iteration of a high-powered team-up movie. It's just not happening any time soon, so let's continue to be patient.
Sean O'Connell is a journalist and CinemaBlend's Managing Editor. He's frequently found on Twitter at @Sean_OConnell. ReelBlend cohost. A movie junkie who's Infatuated with comic-book films. Helped get the Snyder Cut released, then wrote a book about it.
Your Daily Blend of Entertainment News
Thank you for signing up to CinemaBlend. You will receive a verification email shortly.
There was a problem. Please refresh the page and try again.