Taking A Cue From Will Smith, Marlon Wayans Accepts The Dad Bod Challenge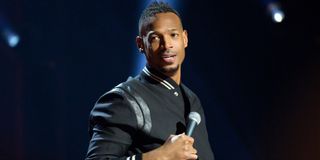 The discussions surrounding body positivity have only increased over the past several years, and many would likely agree that it's led to some to reconsider how they view their bodies. These conversations especially apply to the Hollywood landscape, in which the standards of beauty and body image can be incredibly high. One star who is leading the charge in regard to body positivity is Will Smith, who recently revealed his quarantine body. The fan-favorite actor's post sparked a number of positive reactions, and it's also led Marlon Wayans to follow suit with his own dad bod challenge.
Marlon Wayans had no problem showing off his own body in a recent Instagram post. In the caption, Wayans gives a shout-out to Will Smith for inspiring him to post the pic before mentioning his intended date for landing the body he wants. Check it out down below:
While Marlon Wayans may have a goal in mind when it comes to getting his body to where he wants it, this photo proves he's still comfortable in the body he has right now. Quite frankly, you love to see someone who's comfortable with their body and isn't afraid to show how it changes. Wayans also posted another image a few days later in which he reiterated his plans to get the body he wants:
Will Smith went viral last week when he shared a photo of himself, saying that his current body carried him through the pandemic. While he loves the body he has, the actor still admitted that he wants to "feel" better, declaring that he's preparing to get in the best shape of his life. The photo would have been powerful coming from anyone, but the fact that Smith has been known for his shredded physique for so long makes the image that much more meaningful.
One of the positive responses to Will Smith's message came from none other than Jamie Lee Curtis. In a since deleted Instagram post, she shared a vintage image of herself paired with a recent photo of Smith's and, in the caption, she stressed the importance of one accepting their own body.
Recently, other celebrities have stepped forward to share their own messages of body positivity. Billie Eilish, who recently went viral for her photoshoot with Vogue UK, got candid about the public's perceptions of people's bodies and how individuals choose to show them. TV personality Ashley Graham also went viral for body positive comments and, shortly after, she shared a photo in which she showed a bit of self-love.
Will Smith is definitely a major spark for an ongoing discussion, and it's nice to know actors like Marlon Wayans have no problem following in his footsteps. Hopefully, this is a conversation that only gains steam as time goes on.
Your Daily Blend of Entertainment News
Covering superheroes, sci-fi, comedy, and almost anything else in film and TV. I eat more pizza than the Teenage Mutant Ninja Turtles.