After Will Smith Debuted His Quarantine Body, He's Getting Into Serious Shape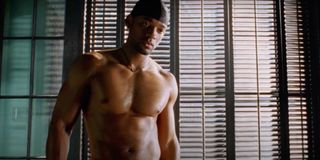 Will Smith made headlines recently for debuting his quarantine body on Instagram. While I'm certainly no one to judge the physique of one of Hollywood's most successful leading men, Smith candidly admitted that he was currently in the worst shape of his life. However, the former Fresh Prince has recently announced that he's fed up with where he's at right now, and plans on getting into serious shape.
In a follow up posted to his Instagram, Will Smith announced that he will be getting into the best shape of his life. Check it out:
I mean, you just gotta respect that. While I'm pretty certain that the initial quarantine body reveal was a teaser for the upcoming partnership between the Men In Black actor and YouTube, it's still cool that fans will be able to watch his journey.
Smith has crafted an extremely successful online presence over the past few years. We're talking more than 100 million followers between Instagram and TikTok alone. Smith even had one of the top performing videos on TikTok in 2020, which is pretty damn impressive. More recently, Smith recreated an iconic Bad Boys poster alongside co-star Martin Lawrence in celebration of the 26th anniversary of the franchise, which was also a huge hit on TikTok's growing platform.
Hopefully, his new fitness journey will bring him similar success, both in terms of health and his impressive online following. There's little doubt in my mind that Mr. Smith will have a tough time getting jacked once again. I mean, have you seen what he looked like as Mike Lowrey?
It's not surprising to see that Smith has tacked on a few extra pounds over quarantine. After all, there have been a number of celebrities who have detailed their struggles with weight over the course of the pandemic, including Gwyneth Paltrow and Jim Carrey. But hey, who hasn't? The pandemic has been tough on just about everyone.
Fortunately it looks like Will Smith has a pretty good attitude about the whole situation. From candidly flaunting his weight gain to establishing a running partnership with YouTube that will detail his weight-loss journey, I'd say the guy has it figured out.
One has to wonder, though, is Smith also getting jacked for the upcoming Bad Boys 4 or perhaps the follow up to Netflix's 2017 urban sci-fi Bright? It probably wouldn't hurt, as both of those flicks require pretty demanding action work.
Currently, there's no word on when Will Smith's fit journey will kick off on YouTube, however it looks like both Bright 2 and Bad Boys 4 are in pre-production. So, hopefully fans won't have to wait too long before they see Mike Lowrey back in action, kicking ass. At least we know there's a good chance Smith will be pretty damned jacked this time around.
Your Daily Blend of Entertainment News
Into tracksuits by Paulie Walnuts, the Criterion Channel and Robert Eggers.