Upcoming Samuel L. Jackson Movies And TV Shows: What's Next For MCU Star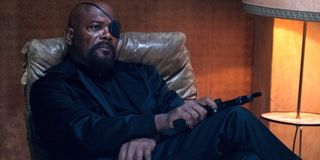 There are few actors as recognizable as Samuel L. Jackson. From his badass collaborations with Quentin Tarantino to his legendary voicework in animated movies to his roles in massive franchises like Star Wars and the Marvel Cinematic Universe, Samuel L. Jackson is as iconic as he is prolific. There's a good chance that if you are watching any number of Samuel L. Jackson movies, you're gonna have a good time, and fortunately for us, the MCU star is on the screen more than just about anyone else
Despite clocking in at 72 years of age, the bad mother f'er himself doesn't look like he has any intention on stepping away from show business or even slowing down as he celebrates the start of his sixth decade in film, television, and pop culture in general. That being said, now's the perfect time to see what Samuel L. Jackson has in store for us all these next few years…
The Asset - April 23, 2021 (Post-Production)
Samuel L. Jackson has appeared in his fair share of action thrillers over the years with the likes of Die Hard with a Vengeance, Patriot Games, and the xXx franchise all coming to mind. That being said, it should come as no surprise that the man who became a legend after telling us to "hold onto our butts" will soon appear in yet another film in that specific genre with the upcoming title The Asset. According to The Hollywood Reporter, the movie follows Anna (Maggie Q), an assassin raised by a man named Moody (Jackson) who trained her to become one of the world's premier contract killers. But when Moody is assassinated, Anna must work her former rival, Rembrandt (Michael Keaton), in order to track down the killer.
Principal photography on The Asset, which is directed by Martin Campbell (Casino Royale), got underway in January 2020 in London, Bucharest, and DaNang, Vietnam, per Deadline. During the conversation with Collider in September 2020, Maggie Q revealed that production had recently been completed after taking a multi-month break once London went on shutdown. The Asset is currently slated to be released April 23, 2021.
Spiral - May 21, 2021 (Completed)
Samuel L. Jackson is probably best remembered for his various appearances in Quentin Tarantino films or the Marvel Cinematic Universe or even off-the-wall action spectacles like Snakes on a Plane or Deep Blue Sea, but that doesn't mean he's a stranger to the horror genre. With titles like Sphere and 1408 under his belt, it shouldn't come as a surprise to see Jackson appearing in Spiral, the forthcoming ninth installment in the Saw franchise. In the horror thriller, which will surely make even those with the strongest of wills wince, Jackson will be taking on the role of Marcus Banks, an esteemed police officer and father of Chris Rock's Ezekiel "Zeke" Banks, a detective who finds himself stuck in the middle of a deadly game.
Spiral was initially slated to be released in October 2020, but that date was moved up to May 15 of that year before eventually being delayed for a year and some change for a May 21, 2021 release. This extended delay was not for production slowdowns as principal photography wrapped in August 2019, a little less than two months after the cameras started rolling in Toronto, according to Variety. Like most movies originally supposed to come out in 2020, Spiral was pushed back because of the impact the ongoing health and financial crises are having on the theater industry.
The Hitman's Wife's Bodyguard - August 20, 2021 (Post-Production)
Samuel L. Jackson and Ryan Reynolds (who will soon be linked in the MCU) appeared in the popular and raucous 2017 action comedy The Hitman's Bodyguard, but that wasn't a one-time pairing as the two action stars will soon get back together for The Hitman's Wife's Bodyguard. This time, however, Reynolds' Michael Bryce won't just have to protect Jackson's Darius Kincaid, as the world's most notorious hitman's wife, Sonia Kincaid (Salma Hayek) is also in need of his services. What the cast and director Patrick Hughes have in store for us remains unknown at this point, but considering the insanity of the original and the movie's poster, we're in for a wild ride.
First announced back in 2018, The Hitman's Wife's Bodyguard entered production the following year and was originally slated to be released on August 28, 2020 before the world was brought to a screeching halt. The release date was later shifted to a more conservative August 20, 2021, but with the way movie releases are going in the early part of 2021, it wouldn't be out of the realm of possibility for the return of Samuel L. Jackson, Ryan Reynolds, and Salma Hayek to be delayed once more.
What If…? - 2021 (Completed)
At some point in 2021 we will see Samuel L. Jackson's Nick Fury return to the Marvel Cinematic Universe (in cartoon form, anyway) when the former S.H.I.E.L.D.director appears in the Disney+ animated anthology series What If…?, alongside a massive list of returning heroes and villains. For those not familiar with the upcoming Marvel series or in case it got lost in the shuffle of all the other series and movies announced by Disney during the 2020 Investors Day event, What If…? will explore some of the MCU's biggest moments but with a twist. The series will showcase an alternate reality, so to speak, and will show how those iconic showdowns could have gone. And best of all, the series is considered canon with the MCU as it falls in Phase Four of the ongoing saga.
What If…?, which will consist of 10 episodes narrated by a mysterious character known as The Watcher (Jeffrey Wright), is currently slated to premiere on Disney+ at some point in mid-2021. And Marvel fans who are excited to see Nick Fury make his return to the MCU will be even more stoked when they read about another Marvel show starring Samuel L. Jackson coming to Disney+ in the future (but more on that later).
Blazing Samurai - 2021 (In Production)
In all my years I never thought there would be an animated movie loosely based on Mel Brooks' 1974 comedy western Blazing Saddles, but here I am writing about Blazing Samurai. The movie, which is slated to be released at some point in 2021, centers around Hank (Michael Cera), a fumbling dog who sets out to become a fearless samurai under the watchful eye of Jimbo (Samuel L. Jackson), a once respected warrior who has lost his way. Along the way, the unlikely pair form an unbreakable bond as they work together to save a town from the wrath of a villainous cat called Ika Chu (Ricky Gervais). Sound familiar? Don't be surprised if this one ends with a brawl in a Hollywood backlot.
First announced back in early 2015, Blazing Samurai has had a troubled production with numerous starts and stops over the years, including an extended hiatus as financing and other issues were addressed. That all seemed to have been worked out by August 2020, per Deadline, when Align agreed to provide financing and resume production. Blazing Samurai, which also includes the voice work of Mel Brooks himself, is currently slated to be released at some point in 2021, though the specifics have yet to be revealed.
Futha Mucka - TBD (Pre-Production)
The Hitman's Wife's Bodyguard isn't the only time Samuel L. Jackson and Ryan Reynolds will work together in the near future because both actors are attached to star in an animated series under the name of Futha Mucka. According to Variety, the series will follow the two actors as Jackson becomes Reynolds' primary caregiver after a minor mishap, kickstarting a story that involves an overly excited Reynolds spending all his time with Jackson, who doesn't seem as overcome with joy. Sounds crazy, right?
The series was created by Jim and Brian Kehoe, best known for their 2018 gross-out comedy Blockers, and was originally supposed to air on Quibi, but considering what happened to the streaming platform in late 2020, it's hard to say when and where Futha Mucka will land. But considering the talent, their history together, and the insane nature of the plot, hopefully Futha Mucka is able to find a new home before the plug is pulled. There could be hope for the show and other Quibi content, especially after the Wall Street Journal reported in January 2021 that Roku is nearing a deal to buy the rights to Quibi's old content.
Secret Invasion - TBD (Pre-Production)
The last time we saw Samuel L. Jackson's Nick Fury in the post-credits scene of Spider-Man: Far From Home in July 2019, he was soaking up the "Sun" on a Skrull ship somewhere far off in the galaxy. Well, with the December 2020 announcement of the Disney+ series Secret Invasion, it looks like we will soon find out what Fury and Talos (Ben Mendelsohn) have up their sleeves. The series, which does not yet have a release date ironed out, will take inspiration from the crossover comic event of the same name, but how much of the sprawling storyline gets included in the upcoming television adaptation remains to be seen. We will just have to wait and see with this one.
By the looks of it, Samuel L. Jackson isn't going anywhere soon, especially with multiple projects lined up for years to come. One thing that was missing from that list, however, is the fourth chapter of the xXx franchise, which has been a place Jackson has called home off and on for nearly 20 years now. Let's just hope we haven't seen the last of Augustus Gibbons.
Nick grew up in Maryland has degrees in Film Studies and Communications. His life goal is to walk the earth, meet people and get into adventures. He's also still looking for The Adventures of Pete and Pete season 3 on DVD if anyone has a lead.
Your Daily Blend of Entertainment News
Thank you for signing up to CinemaBlend. You will receive a verification email shortly.
There was a problem. Please refresh the page and try again.