Now, Johnny Depp Is Suing Over The Details Of Amber Heard's Alleged Divorce Settlement Donation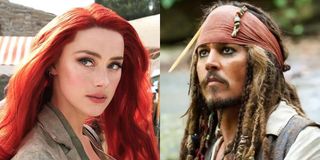 Johnny Depp is busy prepping for the Virginia-based lawsuit and countersuit that he and Amber Heard filed, and one of the key components in the case is the money from the divorce settlement Heard said publicly she would donate. More recently, it has come to light that may not have happened and so Depp is now suing the ACLU to figure out exactly what happened with the sums.
Apparently, the American Civil Liberties Union has not released private donation details, but Johnny Depp and his lawyers want the information out. Thus, Depp is "respectfully" requesting "ACLU Witnesses to fully comply with the subpeoonas" and show up in court to clear up the matter (via People).
When Amber Heard and Johnny Depp divorced back in 2016, the Aquaman 2 star was an ambassador to the ACLU and made a lot of headlines after allegedly donating her entire $7 million divorce settlement to the ACLU and the Children's Hospital of Los Angeles, with both nabbing $3.5 million apiece. At the time, she made a public statement, noting:
As part of her ongoing lawsuits with Johnny Depp, news came out that Amber Heard did not seem to have donated the entirety of her divorce settlement after all. Back in January, Heard's lawyers confirmed that Heard had not donated the full sum she'd gotten from Depp at the time their divorce was settled privately, also saying that the lawsuits she has been involved in with Depp had delayed those monetary donation goals. But it's unclear what was donated to what organizations, how much was donated and when those donations occurred, information that is coming to the forefront as the defamation lawsuit gets off the ground in Virginia and as Depp's lawyers have argued the donations have swayed opinion on the suits.
On her end, Amber Heard's team has released information that she donated more than "seven figures." That allegedly tallies to $950,000 to the ACLU and $850,000 to the Children's Hospital. Her team has also said further donations were expected over a 10-year period and not immediately.
This isn't the first time outside organizations have been roped in or the attempt has been made to rope them in. Previously, we learned Amber Heard's legal team wanted a Disney representative or representatives to speak up about Johnny Depp during the time he was working in the Pirates of the Caribbean franchise, including any erratic behavior and/or possible "drug use."
Johnny Depp is suing Amber Heard for a Washington Post Op Ed in which she claimed she was abused. Depp was not named specifically in the article, but he is now suing over Defamation for $50 million. Amber Heard has countersued for $100 million, saying Depp's team has embarked on a "smear campaign."
Reality TV fan with a pinch of Disney fairy dust thrown in. Theme park junkie. If you've created a rom-com I've probably watched it.
Your Daily Blend of Entertainment News
Thank you for signing up to CinemaBlend. You will receive a verification email shortly.
There was a problem. Please refresh the page and try again.