Summer Lovin': 10 Great Romantic Movies To Watch On Plex Right Now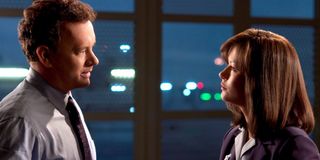 In the past, CinemaBlend has partnered with Plex to talk about all the thrilling action movies, Oscar nominees, and all-around great films available for free on the versatile streaming platform. And with the summer — and all its weddings, pool parties, and mixers — right around the corner, we've teamed up with the streamer once again, but this time to talk about all the great romance movies that are available right now.
If you're looking for something to keep you entertained throughout the season, we have put together a quick list of romantic stories to hold you over. With movies like Bridget Jones's Baby, the 2016 sequel to the beloved British rom-com Bridget Jones's Diary, and Vicky Cristina Barcelona, as well as some forgotten gems, there's something for the hopeless romantic in all of us…
Bridget Jones's Baby (2016)
The most recent entry in the Bridget Jones franchise, 2016's Bridget Jones's Baby, which as the name implies, centers on the 40-something television producer as she tries to figure out who's the father of her unborn child: her former flame Mark Darcy (Colin Firth) or Jack Qwant, a dashing American inventor. Over the course of this hilarious and heartfelt romantic comedy, the terminally awkward Jones prepares to begin her journey as a new mother while also tending to matters of the heart. And despite its absurd premise and inability to break from the tropes of the genre, this story makes for a charming and fun time.
Stream Bridget Jones's Baby on Plex.
Vicky Cristina Barcelona (2008)
Some of the best romantic comedies of all time have come from Woody Allen, and his 2008 effort, Vicky Cristina Barcelona, is near the top of that list. Centering on two American friends, Vicky (Rebecca Hall) and Cristina (Scarlett Johansson) as they spend a hot and steamy summer in Spain, this Golden Globe winner (Best Film - Musical or Comedy) explores matters of the heart, mind, soul, and body as the friends become tangled up in an affair with a talented, charismatic, and seductive painter named Juan Antonio (Javier Bardem). Only after both women fall for Juan do they fully begin to understand just what kind of mess they're in.
Stream Vicky Cristina Barcelona on Plex.
The Prince And Me (2004)
If finding ways to properly balance her studies and love life wasn't hard enough already, things become even more complicated for pre-med student Paige Morgan (Julia Stiles) in the 2004 romantic comedy The Prince and Me, when she realizes that the bumbling Danish co-ed with whom she has fallen in love is actually the one-day king of the European nation. Faced with making decisions that will either ruin what could be her greatest shot at love or force her to detour her career goals, Paige finds herself in quite a situation.
Stream The Prince and Me on Plex.
My Best Friend's Girl (2008)
There was a stretch of time during which Dane Cook was becoming the go-to guy in the world of romantic comedies (for better or worse) and one of the biggest examples of that is 2008's My Best Friend's Girl. Surrounded by a cast that includes Kate Hudson, Jason Biggs, Alec Baldwin, and Lizzy Caplan, Cook plays Sherman "Tank" Tuner, a helpline operator with a reputation of being a horrible date. When Tank's best friend, Dustin (Biggs) calls on his services to win back his ex-girlfriend Alexis (Hudson), the serial dater's vulgar and off-putting ways have the opposite effect, setting up quite a dilemma for all involved parties.
A Little Bit Of Heaven (2012)
The 2012 romantic comedy-drama A Little Bit of Heaven follows free-spirited and easy-going New Orleans ad executive Marley Corbett just as she is diagnosed with terminal colon cancer. What initially begins as one woman's plan to live out the last of her days in a carefree manner that won't tie her down before crossing over into the great beyond quickly unfolds into something much more serious as she falls in love with her doctor, Julian Goldstein (Gael Garcia Bernal). Oh, and Peter Dinklage plays a very suave male prostitute.
Stream A Little Bit of Heaven on Plex.
The Mexican (2001)
Jerry Welbach (Brad Pitt) finds himself trapped between a rock and a hard place in the 2001 adventure romance film The Mexican, in which he must decide between doing one last job for the mob or losing his girlfriend, Samantha Barzel (Julia Roberts) if he crosses the border into Mexico to retrieve a legendary pistol. When he makes the not-so-wise decision to head south of the border, the situation becomes all the more complicated for everyone involved, even Samantha.
The Terminal (2004)
Tom Hanks is typically known for two things: romantic comedies and Steven Spielberg movies. At the center of that Venn diagram is 2004's The Terminal, which sees the two-time Academy Award winner take on the role of Viktor Navorski, an Eastern European tourist who finds himself caught up in an international crisis that leaves him trapped at New York's JFK International Airport with no word on when, or if, he'll be able to head home. It isn't all bad news, however, as Viktor meets and falls in love with Amelia Warren (Catherine Zeta-Jones), a flight attendant whose heart he tirelessly tries to win over.
The Terminal will be streaming on Plex on June 1.
Cashback (2006)
Sean Ellis' 2006 romantic fantasy drama Cashback (which initially started out as a 2004 short film of the same name) centers on aspiring artist Ben Willis (Sean Biggerstaff) who develops insomnia after experiencing a traumatic breakup. With a lot more hours in the day now that he can't sleep, Ben takes a graveyard shift at a local supermarket where he discovers he can drastically slow down time. When not slowing down time and using shoppers as models for his paintings, Ben falls in love with Sharon Pintey (Emilia Fox), though matters become complicated as their courtship unfolds.
Hello I Must Be Going (2012)
Hello I Must Be Going follows Amy Minsky (Melanie Lynskey), a recently divorced woman living with her mother who gets a new lease at life — and love — when she meets Jeremy (Christopher Abbott), a 19-year-old actor. Thanks to her new young and bold lover, the restless Amy is able to build herself back from the depths of despair and self-pity in this Sundance 2012 favorite.
Stream Hello I Must Be Going on Plex.
At Middleton (2014)
The 2014 romantic comedy At Middleton follows George Hartman (Andy Garcia) and Edith Martin (Vera Farmiga), two complete strangers who meet while attending a campus tour with their college-bound children. More interested in their conversations (and each other) than the tour, the pair split off for an adventure of their own.
This is just the beginning of all the great offerings available for free on Plex right now. With more movies being added every week (both timeless classics and more modern adventures), there's plenty to watch on the free platform. Who knows, maybe we'll see some of the 2021 movies on the robust streamer in the near future.
Philip grew up in Louisiana (not New Orleans) before moving to St. Louis after graduating from Louisiana State University-Shreveport. When he's not writing about movies or television, Philip can be found being chased by his three kids, telling his dogs to stop yelling at the mailman, or yelling about professional wrestling to his wife. If the stars properly align, he will talk about For Love Of The Game being the best baseball movie of all time.
Your Daily Blend of Entertainment News
Thank you for signing up to CinemaBlend. You will receive a verification email shortly.
There was a problem. Please refresh the page and try again.