After Justice League, One Sucker Punch Star Is Supporting Calls For A Snyder Cut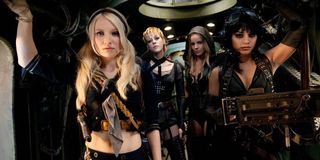 Although Zack Snyder was Justice League's original director, Joss Whedon was brought in to helm the reshoots following Snyder's departure, resulting in the DC movie being drastically altered and being met with underwhelming reception upon hitting theaters. That paved the way for the #ReleaseTheSnyderCut movement, and back in March, Zack Snyder's Justice League finally premiered on HBO Max. But it doesn't have to be the last Snyder Cut-style movie we see, as one of the stars of Sucker Punch is calling for that movie to receive the same kind of treatment.
For context, Zack Snyder recently confirmed that there is a director's cut of Sucker Punch "that has yet to be released," and that bit of information subsequently made the news rounds. Jena Malone, who played Rocket in Sucker Punch, saw said news and advocated for this more Snyder-approved version of the 2011 movie, saying the following on her Instagram Stories:
Now if you're at all familiar with Sucker Punch, you probably already know that in addition to the theatrical cut, there was an extended, R-rated version included on the Blu-ray release, which added 18 minutes to the movie. However, Zack Snyder has previously said that this extended version doesn't reflect his true Sucker Punch vision, though he expressed doubt at the time that his desired Sucker Punch would ever see the light of day due to rights issues. Still, Zack Snyder's Justice League was once considered a pipe dream, so since it eventually made its way to the masses, maybe Sucker Punch: The Snyder Cut could also one day become an HBO Max exclusive.
Jena Malone (who Zack Snyder also directed in Batman v Superman: Dawn of Justice) isn't the only Sucker Punch actress who's interested in the movie getting the Snyder Cut polish, as Abbie Cornish, who starred as Sweet Pea, shared Malone's Instagram post. For those unfamiliar with Sucker Punch, it followed a young woman nicknamed Babydoll who's sent to a mental institution and copes with the experience by imagining she's in a brothel. As she teams up with four other women to escape the facility, she enters a new, more fantastical realm of imagination. Sucker Punch's cast also included Emily Browning, Vanessa Hudgens, Jamie Chung, Carla Gugino, Oscar Isaac and Jon Hamm.
While Sucker Punch was met with primarily negative reception and only made a little under $90 million worldwide off an $82 million budget, it's nonetheless developed a cult following, so there would surely be a sizable amount of people interested in seeing it filtered through a Snyder Cut lens. However, because Zack Snyder's Justice League starred characters from DC Comics, all of whom have been popular to one degree or another for decades, that undoubtedly played a huge role in the folks at WarnerMedia deciding to greenlight it. Sucker Punch, on the other hand, is an original story with no ties to existing IP, and it doesn't help that it fared worse at the box office than Justice League's theatrical cut.
Taking into account that Zack Snyder also doesn't sound like he's on the best of terms with Warner Bros even after the release of his Justice League cut, and the chances of his final vision for Sucker Punch ever coming out seem incredibly slim. However, should that change, we'll be sure to let you know. For now, you can watch Zack Snyder's latest movie, Army of the Dead, on Netflix.
Your Daily Blend of Entertainment News
Connoisseur of Marvel, DC, Star Wars, John Wick, MonsterVerse and Doctor Who lore. He's aware he looks like Harry Potter and Clark Kent.
Your Daily Blend of Entertainment News
Thank you for signing up to CinemaBlend. You will receive a verification email shortly.
There was a problem. Please refresh the page and try again.