Army Of The Dead's Dave Bautista Reveals One Thing That 'Really Bothers' Him When He's Watching The Movie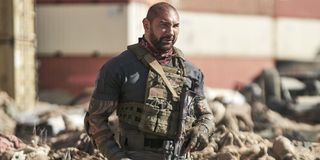 Zack Snyder's Army of the Dead is finally out in the world, and the zombie heist movie is a thrilling and gory entry into the zombie movie genre, and includes a star performance from Dave Bautista. Army of the Dead is straight from the mind of Zack Snyder and even has one of his best title sequences of any of his films. As a whole, it looks like Justice League director was really given the freedom to go for his vision of a zombie heist movie, and we should definitely be grateful for that. However, Bautista has revealed the one thing that "really bothers' him whenever he's watching the movie.
Dave Bautista recently spoke about a slight nitpick he has about Army of the Dead, but it has nothing to do with the quality of the film, though. In an interview with Vulture, Bautista admitted that his problem with the movie stems from not being personally acquainted with one of the film's stars. The actor said:
Tig Notaro was cast to replace Chris D'Elia after he was faced with sexual misconduct accusations. Army of the Dead had already completed shooting, so Zack Snyder had to go to great technical lengths to insert Notaro into the movie. While he was successful in bringing her in, this also meant the actor did not get to mingle with her castmates or have those bonding experiences with stars. While Dave Bautista would have liked to have worked with her, he still thinks the actor fit right into the ensemble:
Dave Bautista thinks Tig Notaro was amazing in the film and wants to meet her and let her know in person. All in all, the cast seems to have enjoyed working together and shooting in a real casino seems to have made for a unique experience for them. Still, one can't help but wish Notaro was with them during the initial shoot.
Army of the Dead is another nice notch in Dave Bautista's belt, as he's carved out a nice career and has established himself as a legit star. One of his most famous roles is that of Drax in Guardians of the Galaxy. However, the actor has recently expressed some criticism towards the way Marvel has handled the character and has announced that Guardians of the Galaxy Vol. 3 will be his final appearance in the MCU. But overall, he seems to have enjoyed his tenure in the massive, cinematic universe.
Following Army of the Dead, it looks like the actor is still eager to play Bane in a Batman film, which is a bit of perfect self casting from a man who will be around for a long while. We can't wait to see what Dave Bautista does next but, whatever he has on the horizon, he's likely to crush it.
Army of the Dead is now streaming on Netflix.
Your Daily Blend of Entertainment News
Movie and TV obsessive. A good Heist movie is the way to my heart. Enjoyer of everything from Marvel Movies to Rom-coms.
Your Daily Blend of Entertainment News
Thank you for signing up to CinemaBlend. You will receive a verification email shortly.
There was a problem. Please refresh the page and try again.