Disney's Cruella Reviews Are In, Check Out What Critics Are Saying About Emma Stone's Latest Movie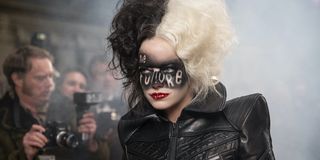 CinemaBlend participates in affiliate programs with various companies. We may earn a commission when you click on or make purchases via links.
Everyone, hide your puppies. That's right, Cruella is almost here. The live-action adaptation about a young Cruella de Vil, played by Emma Stone, arrives in just a few days. Rounding out the cast is Emma Thompson, Joel Fry, Paul Walter Hauser, Emily Beecham, Kirby Howell-Baptiste, and Mark Strong, and the picture was directed by Craig Gillespie.
Cruella follows Estella, a clever girl determined to become a fashion designer. One day, Estella's flair for fashion catches the eye of the Baroness von Hellman, and their relationship sets in motion a course of events that will cause Estella to embrace her wicked side and become the notorious Cruella de Vil. Cruella will release this Friday, May 28, in theaters and simultaneously on Disney+ with Premier Access. We already saw reactions to the movie on social media, and now critics are releasing their reviews. Let's check out what they're saying about Disney's latest blockbuster.
Let's start, as always, with the home team. Sarah El-Mahmoud rated Cruella a 3.5 out of 5 stars. She highly praised Stone's performance as the titular character, calling her "chillingly good." El-Mahmoud also enjoyed Gillespie's directing style and the fashion styling of the movie, noting that the love for fashion in this movie could be another main character all by itself. But she criticized the too-familiar formulaic habits by Disney, noting an "emptiness" about this origin story. She said:
Lovia Gyarkye of The Hollywood Reporter also highly praised the "exquisite" costuming of Cruella, commending costume designer Jenny Beavan for providing such vivid style to the film. She also enjoyed Stone's performance as the main character, noting her charisma and dedication. But she criticized the script and noted that the comedy-drama missed an opportunity to use London's punk rock revolution movement to deepen the vision. Gyarkye said:
Critics really seem to enjoy the fashion of Cruella (and I mean, is anyone surprised?) Leah Greenblatt from Entertainment Weekly applauded Beavan's costumes, as well as the soundtrack of the film. But while acknowledging the positives of the movie (including Stone's and Thompson's performances), Greenblatt criticized "hectic" aspects of the story, saying:
If you can believe it, the costuming was also applauded in another critic's review. Kate Erbland of IndieWire argued that Beavan should be nominated for her costuming in Cruella. Erbland noted that the movie is definitely messy and silly, but still fun, saying:
Richard Lawson of Vanity Fair also commended Beavan's costuming, calling it "exquisite," (definitely sensing a pattern here), but that's about where his praises end for Cruella. He called the script confusing and criticized Gillespie's too-familiar direction. He describes the movie as a "Tim Burton knockoff," saying:
Well, if there's one thing we can be sure of, it's that the fashion in Cruella is going to be awesome. Will audiences have similar reactions to the crime comedy-drama as these critics? We'll have to wait and see when the movie debuts in theaters and on Disney+ with Premier Access this Friday, May 28.
In the meantime, check out the rest of the summer movies with our release guide.
Your Daily Blend of Entertainment News