Disney's Cruella Reactions Are In, Here's What People Are Saying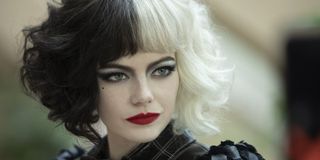 If she doesn't scare you, no evil thing will. That's right, the live-action adaptation about a young Cruella de Vil (from Disney's 101 Dalmations) is almost here! Cruella stars Emma Stone as the title character (but they pay proper homage to Glenn Close's original legacy), and also features Emma Thompson, Joel Fry, Paul Walter Hauser, Emily Beecham, Kirby Howell-Baptiste, and Mark Strong. This crime comedy-drama follows Estelle de Vil, who aspires to be a fashion designer but journeys along the path that will lead her to become the notorious Cruella de Vil. (Everyone, hide your puppies.)
Cruella doesn't release until May 28 in theaters and simultaneously on Disney+ with Premier Access, but some critics have already seen the movie and are sharing their thoughts on social media. Check out what they're saying about Disney's new big screen picture below.
Let's start with the home team. Sarah El-Mahmoud saw the flick and was somewhat disappointed, calling Cruella too forced. But she points out that the emphasis on '70s fashion is great and that the cast is "sassy." She also commends Emma Stone's performance, noting that it actually gave her chills at one point. Overall, she said:
Jazz Tangcay of Variety liked Cruella a bit more, calling it "de-vilishly good." She commends Stone's and Thompson's performances as well as the soundtrack, and comments that the film "wows and stuns." That's some high praise! Tangcay says:
Joel Meares, editor-in-chief at Rotten Tomatoes, also has some high praise of the comedy. He applauds the movie for its LGBTQ+ representation, as well as jokingly stating that it "slaps so hard my face is still beet-red a day later." I mean, if that's not excitement about a film, I don't know what is! Meares says:
Praise of the movie's LGBTQ+ representation is mentioned more than once. Grace Randolph, a member of the Critics Choice Association, applauds Disney for this reason, and also enjoyed the comedy-drama, saying:
Simon Thompson, who has credits with Forbes and Variety, calls this Emma Stone-led flick "tasty," and commends the actress' performance. He also praises the visuals and cinematography, while giving shout-outs to other members of the cast, like Emma Thompson. He says:
People sure most seem to enjoy Stone's performance as the titular Cruella de Vil! Erik Davis of Fandango calls Stone and Thompson "exceptionally evil and hilarious," and applauds them for making the movie memorable. He compares this comedy as a "Disneyfied Devil Wears Prada," and also mentions the awesome costumes and soundtrack. (I mean, it couldn't be compared to Devil Wears Prada without having great costumes, am I right?) Davis continues, saying:
It would seem that critics at least enjoy the fabulous duo of the Emma's - Emma Stone and Emma Thompson, that is. And the costumes seem to be fabulous - I mean, they better be, in a movie about Cruella de Vil! Will audiences enjoy Cruella as much as some of these critics enjoy it, or will it fall flat for some viewers? We'll have to wait until May 28 when the crime comedy-drama releases in theaters and on Disney+ with Premier Access.
In the meantime, check out what else is being released on Disney+ this month!
Your Daily Blend of Entertainment News