A Quiet Place Part II: What Fans Are Saying About John Krasinski's Horror Sequel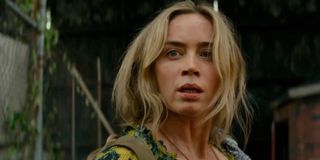 (Image credit: (Paramount))
Did anyone else get tickets for A Quiet Place Part II back in March 2020 just ahead of lockdown? Well, here we are 15 months later, and John Krasinski's sequel to his unexpected horror hit is finally here. It's one of the first major releases of the summer, and it not only has a tough act to follow after the 2018 success, but it's collected additional time of expectations from fans. So let's talk about it: what are fans saying about this weekend's big release?
A Quiet Place Part II opened in theaters only against Disney's Cruella over Memorial Weekend, and it crushed at the box office, setting a new record for an opening weekend since the COVID-19 pandemic began. So that said, a ton of people went out to see the horror sequel in theaters during Memorial Weekend, and we're ready to gauge consensus based on social media reactions.
Quiet Place Part II Was A Memorable First Movie Back To Theaters For Many
First off, A Quiet Place Part II was a monumental release for many movie fans because it marked their first time back in theaters since the pandemic. And interestingly enough, the movie holds themes that many of us would not have related to before this past year. For one, the movie is all about a world that is overrun with sound-sensitive monsters, and humanity's attempts to survive and find shelter amidst the disaster. Empty city streets and the challenge of the needs of a community versus one's own means of survival is highlighted in the film. Fans such as this one recognized this on their first trip back to theaters:
A Quiet Place Part II saw a major delay throughout the pandemic, and it certainly could have gone to streaming within that time, but John Krasinski and Paramount waited it out and it looks to have paid off. The sequel will forever be the one that brought many fans back with other moviegoers:
And what a great pick. A Quiet Place Part II makes great use of sound against intense silence to stress out audiences and bring them into the world of the film.
A Quiet Place Part II Was A Tense And Restless Watch
Speaking of silence, fans were definitely affected by John Krasinski's return to form with the sequel's use of sound to create tension for its viewers in theaters. Fans have been posting images to illustrate how they felt while watching A Quiet Place Part II, and one person chose this picture of Ben Affleck in languish after seeing the horror movie opening weekend:
Hey, but it's a good kind of stress because you're watching it as opposed to actually being attacked by monsters, right? Lots of fans were affected by the John Krasinski's filmmaking, with one Twitter user also sharing this hilarious reaction to how they felt during the movie's runtime:
Now that's accurate. When it comes to a movie like A Quiet Place Part II, audiences certainly go in expecting to get a little spooked, and as it turns out, fans felt like it very much did its job.
Fans Loved The Addition Of Cillian Murphy To The Cast
Although A Quiet Place Part II does give John Krasinski screen time in between his writing, directing and producing of the sequel, his character did tragically die at the end of A Quiet Place, leaving out a major character we fell in love with in the original. But Cillian Murphy does come on board as a fellow survivor the Abbotts meet as they continue to attempt to survive. Fans were really excited to see the Peaky Blinders actor in the role too:
Cillian Murphy most memorably has found roles in Christopher Nolan movies, alongside his roles in 28 Days Later and Sunshine. He often is in a supporting role, but in A Quiet Place Part II, Murphy is given major screen time and a great arc in the movie. Fans were appreciating his inclusion in the film too:
It was great to see Cillian Murphy in the role, and his inclusion did not feel like a replacement or shoe-in for John Krasinski's absence either.
Tons Of People Felt The Sequel On Par With The Original
When it comes to sequels, many of us get understandably nervous about if the second movie will be able to live up to the movie before it. When it comes to A Quiet Place Part II, lots of fans of social media are praising it as a great sequel comparable to the original:
Obviously it's rare for a sequel to reach or surpass this threshold, but according to another fan, it's actually better than the first movie from 2018:
Now A Quiet Place Part II does use a lot of the same techniques of the original, but after making the first one, audiences seem to notice John Krasinski went to the next level. What's interesting about this is The Office star originally didn't even want to make a sequel until he sat down and started writing it.
The Ending Left Many Expecting More From The Franchise
And now to the ending. We won't talk in detail about what goes down during the conclusion of A Quiet Place Part II here (though you can check out our explanation of it), but this is a section of contention among fans. For one thing, the movie is just 97 minutes long, making it an especially short blockbuster. Online, fans discussed how the movie didn't feel quite complete by the time it gets to the end and were sounding off for more:
Another viewer shared that movie made her "mad" because the ending didn't quite give her the sendoff she was hoping for:
There are apparently whispers that A Quiet Place is meant to be a trilogy, which could aid these mixed feelings about the movie's ending. For now, we'll just have to wait and see. What did you think of A Quiet Place Part II? Vote in our poll below and get ready for your next trip to the movie with CinemaBlend's 2021 release schedule.
This poll is no longer available.
Your Daily Blend of Entertainment News
YA genre tribute. Horror May Queen. Word webslinger. All her writing should be read in Sarah Connor's Terminator 2 voice over.
Your Daily Blend of Entertainment News
Thank you for signing up to CinemaBlend. You will receive a verification email shortly.
There was a problem. Please refresh the page and try again.