Dwayne Johnson Jokes With John Krasinski About Watching A Quiet Place 2 With His Daughters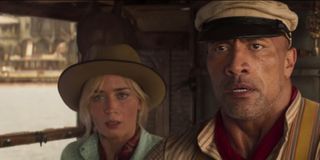 A new trailer for Dwayne Johnson and Emily Blunts's Jungle Cruise dropped this week and had some major Pirates of the Caribbean vibes. Dwayne Johnson, who has to stay fit all the time, is hard at work on Black Adam teasing fans with shirtless photos and how massive the set is. Emily Blunt is starring in A Quiet Place Part II, directed by her husband John Krasinski, and The Rock is supporting his Jungle Cruise co-star in a funny way. Dwayne Johnson recently joked with John Krasinski about watching A Quiet Place 2 with his daughters.
Dwayne Johnson's Instagram is the source for all his workouts, cheat meals, film updates, and family pictures. Johnson posted a hilarious picture joking with John Krasinski about his new horror movie starring his wife Emily Blunt, who happens to be the Rocks Jungle Cruise co-star. Here's Dwayne Johnson's joke via his Instagram:
Dwayne Johnson posts a photo of himself and his young daughters enjoying some weekend breakfast and watching something on a laptop. The Rock says he and his daughters are watching A Quiet Place Part II, saying his daughters aren't afraid of anything, then quickly admits they are watching The Godfather. But in reality they are watching The Lion King.
The Rock says next weekend that he and his girls are watching Scarface, but we know it will most likely be The Lion King again. It's nice to see some reprieve from his demanding schedule that requires a lot of dedication in the gym and diet-wise. Dwayne Johnson never lets an opportunity to have some fun on Instagram go, and we are all grateful for it. The Idea that The Rock is showing his daughters A Quiet Place Part II is insane, but surely he wishes he could change it up from what is probably his 30th viewing of The Lion King of the month.
Dwayne Johnson had a little fun with John Krasinski, whose highly anticipated sequel to the excellent A Quiet Place is out now. Krasinski even commented on the photo bringing everything full circle. A Quiet Place 2 is out in theaters and will be available from Paramount+ soon, and here's what critics are saying about the Emily Blunt-led horror blockbuster. Just make sure that it's age-appropriate for everyone watching.
Dwayne Johnson's Jungle Cruise is set for a July 30th release, and it absolutely looks like an incredibly great time. Production for Black Adam is underway, and The Rock and Aldis Hodge, who is playing Hawkman, are pumped. The anticipation of the arrival of the iconic DC anti-hero grows with every tease, and the reveal of Dwayne Johnson in Black Adam's full costume will set the fandom ablaze when it drops.
Your Daily Blend of Entertainment News
Movie and TV obsessive. A good Heist movie is the way to my heart. Enjoyer of everything from Marvel Movies to Rom-coms.