Minions 2: The Rise Of Gru: Release Date, Cast And Other Quick Things We Know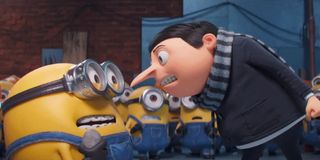 Over the course of the past decade, the Despicable Me franchise and the animation studio which produces its increasingly popular movies and shorts, Illumination, has completely revolutionized animated movies, releasing one box office hit after another. And, while the past year or so has been tough for international animation houses, and movie studios in general, Illumination and its premier franchise are looking at an optimistic future, one led by the upcoming release of Minions: The Rise of Gru.
Also known as Minions 2, the long-awaited sequel to 2015's Minions and the fifth theatrical release in the franchise as a whole is still a ways off (its release date has shifted multiple times since first being announced a few years ago), but there is still a lot about The Rise of Gru that we already know at this point, including its release date, stacked cast, and all other sorts of details. Let's take a look…
Minions: The Rise Of Gru Opens July 1, 2022
When the Despicable Me prequel, and Minions sequel, was officially announced in May 2019, it looked like fans of the Illumination franchise would be filing into theaters on July 3, 2020, a little less than five years after its predecessor raked up $1.16 billion at the worldwide box office, per Deadline. That date, unfortunately, came and went after Universal Pictures (Minions: The Rise of Gru's distributor) pushed back its slate of 2020 movies just as the pandemic was picking up, deciding to move its release to a safer date of July 2, 2021. The was eventually moved once again, to July 1, 2022, its current and hopefully final release date, per Variety.
Tarji P. Henson, Michelle Yeoh And Alan Arkin Join Steve Carell And Pierre Coffin In The Minions 2 Cast
Back again in Minions: The Rise of Gru will be Steve Carell as the titular villain and Pierre Coffin as Kevin, Stuart, Bob, and newcomer Otto for another round of action. Joining them will be the Vicious 6 (a group of supervillains) consisting of Belle Bottom (Taraji P. Henson), Master Chow (Michelle Yeoh), Jean Clawed (Jean-Claude Van Damme), Nunchuck (Lucy Lawless), Svengeance (Dolph Lundgren), and Stronghold (Danny Trejo), as well as the group's former leader, Wild Knuckles (Alan Arkin).
Other members of the Minions 2 cast include Julie Andrews as Marlena, Gru's mother, Russell Brand as Dr. Nefario, Gru's future assistant, and Wu-Tang Clan founding member RZA in an undisclosed role, as revealed in an October 2020 interview with NME.
Minions 2 Will Serve As An Origin Story For Steve Carell's Gru
We finally saw the first meeting of Gru and his villain-obsessed yellow friends in the final moments of Minions, and it appears The Rise of Gru will pick up right where things left off in 2015. According to Illumination, Minions 2 will be set in the heart of the 1970s, when a 12-year-old Gru puts his plans in motion to become the world's greatest supervillain. Obsessed with the villainous group known as the Vicious 6, Gru draws up a plan that will not only make a name for himself but also earn the respect of the formidable sextet. What initially appears to be no easy task is made a little easier thanks to the faithful and fearless minions and their ability to produce destructive weapons and technology for their new leader.
Minions And Despicable Me 3 Director Kyle Balda Is Helming The Rise Of Gru
Kyle Balda, who co-directed Minions and Despicable Me 3 alongside Pierre Coffin, is returning for Minions: The Rise of Gru, with Brad Ableson and Jonathan del Val serving co-directors, according to Illumination. This will mark the fourth film in the Despicable Me franchise to feature Balda's involvement in some shape or form, which started out with the one-time Pixar artist supervising the layout of the the 2010 film that kicked it all off. The only film in the franchise to not feature the work of Balda is 2013's Despicable Me 2.
Longtime Illumination Writer Brian Lynch Penned The Minions 2 Script
Brian Lynch, who wrote the script for Minions, returned to write the 2015 box office smash hit's sequel, The Rise of Gru, per The Hollywood Reporter. Including Minions 2, Lynch has had a successful career with Illumination dating back to the studio's second feature film, Hop, in 2011. Since then, Lynch has served as a writer on The Secret Life of Pets and its sequel, as well as the computer-animated Universal Studios ride Despicable Me Minion Mayhem. During this time, Lynch also helped come up with the story that would become Puss in Boots.
Illumination Continued Work On Minions: The Rise Of Gru Remotely During The COVID-19 Pandemic
Although the Minions 2: The Rise of Gru release date has shifted several times since early 2020, Illumination and its various team members in both its Paris and Santa Monica-based offices have continue to put in work throughout the pandemic. In a May 2020 article, Deadline reported that the studio had shifted to a remote-work setup with all aspects of development, production, and marketing being carried out as they were when everyone went to their respective offices. This wasn't as much of a shock for Illumination as other production companies, due to the studio already having employees collaborating across two continents prior to lockdown measures.
Grammy Award-Winning Producer Jack Antonoff Curated The Minions: The Rise Of Gru Soundtrack
Like all previous entries in the Despicable Me franchise, the duo of Heitor Pereira and Pharrell Williams will once again be composing Minions: The Rise of Gru, but the fifth movie in the series will also feature an additional producer helping out with the music. Similar to how James Gunn put together the Awesome Mixes for Guardians of the Galaxy and Guardians of the Galaxy Vol. 2, Grammy Award-winning producer and musician Jack Antonoff put together a "killer" '70s soundtrack for Minions 2, some of which can be heard in the film's trailer.
There is still quite a bit of time before we all get to see Minions: The Rise of Gru for ourselves, but July 2022 will be here before you know it. In the meantime, check out CinemaBlend's list of all the 2021 movie premiere dates.
Your Daily Blend of Entertainment News
Philip grew up in Louisiana (not New Orleans) before moving to St. Louis after graduating from Louisiana State University-Shreveport. When he's not writing about movies or television, Philip can be found being chased by his three kids, telling his dogs to stop yelling at the mailman, or yelling about professional wrestling to his wife. If the stars properly align, he will talk about For Love Of The Game being the best baseball movie of all time.
Your Daily Blend of Entertainment News
Thank you for signing up to CinemaBlend. You will receive a verification email shortly.
There was a problem. Please refresh the page and try again.