Good Place Star Responds To Superman Casting Rumors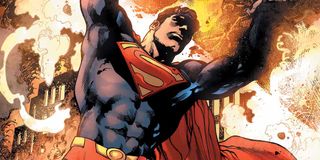 The Internet loves to fancast. Log onto social media at any time of day and you're bound to see a thousand posts detailing cast lists for movies that might never even happen. Rarely do the actors cast in these fan productions ever actually see these fancasts - but sometimes they do, and it's glorious. The Good Place star William Jackson Harper is one such actor. His fan role? None other than the Man of Steel himself, Clark Kent/Superman.
In a virtual appearance on Jimmy Kimmel Live, William Jackson Harper responded to a series of tweets claiming that he should play Superman with the following:
The Chidi-as-Superman discussion arose when it was announced that the bestselling author of Between the World and Me, Ta-Nehisi Coates, would pen a new DC movie featuring a Black Superman. Black Panther alum Michael B. Jordan quashed any rumors that he would be involved, which got the Internet thinking. While I'm usually wary of anything conjured up by social media, I have to admit: Twitter has a point.
Not that I want to subject William Jackson Harper to a superhero's workout regimen, but casting him as Superman would actually make a lot of sense. And it's not just because of the Clark Kent-esque glasses he sports as Chidi Anagoyne on The Good Place (Jimmy Kimmel jokingly suggested as much), although the adorkable oversize frames definitely help.
For one thing, William Jackson Harper is jacked... like, seriously jacked. Remember Eleanor's look of total bewilderment when she first saw shirtless Chidi? I do, because it was also my reaction. It's ironic that he doesn't want to do the exercise routine, because if The Good Place is any indication, he doesn't really need it.
Buff arms and six-pack aside, William Jackson Harper proved that he can play a nervous and nerdy guy, which is Clark Kent to a tee. And when Chidi gains more confidence as The Good Place progresses, you can see glimpses of the hero William Jackson Harper could evoke in a different role, namely the role of Superman.
One Twitter user also suggested that The Mandalorian actor Giancarlo Esposito play Lex Luthor in this theoretical Superman movie, which - come on. DC, make it happen. Thousands of people have joined in the conversation, so movie studios: take note. The people have spoken, and they want William Jackson Harper. In the meantime, check out CinemaBlend's ranking of every existing Superman movie.
Your Daily Blend of Entertainment News
Actor, singer, and occasional dancer. Likes: fashion, books, old buildings. Dislikes: cilantro, the NJ Turnpike, sneaker wedges.
Your Daily Blend of Entertainment News
Thank you for signing up to CinemaBlend. You will receive a verification email shortly.
There was a problem. Please refresh the page and try again.