Monsters And Men Ending Explained: How It Starts The Conversation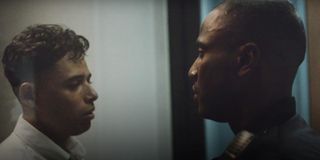 CinemaBlend participates in affiliate programs with various companies. We may earn a commission when you click on or make purchases via links.
In 2018, director Reinaldo Marcus Green released Monsters and Men, one of the hidden gems of that year. It's a film that stars three very popular rising actors: Anthony Ramos, John David Washington, and Kelvin Harrison Jr. Monsters and Men is a thought-provoking film that challenges viewers to ask questions, make choices, and rise up when faced with difficult decisions. The Monsters and Men ending further supports the film's goal of starting an engaging conversation about what happens next.
Monsters and Men addresses topics of police brutality, the Black Lives Matter movement, and cop culture. It's the type of movie that leaves an impression long after the credits roll. Monsters and Men doesn't want to tell you what to think and feel about the movie and the situations presented in it but, instead, wants to inspire you to navigate your own path with this complicated topic. Let's explore the Monsters and Men ending and how it sparks conversations.
What Happened At The End Of Monsters And Men
Zyrick's (Kelvin Harrison Jr.) father throws him a party to celebrate the night before his baseball showcase. Instead of staying to celebrate, He leaves to join the protest about the Darius Larson (Samuel Edwards) shooting. His father attempts to stop him by saying that things like this will continue to happen and it's not worth risking his future, his ticket out.
Zyrick still decides to go. The protest starts off peaceful but eventually gets a bit out of hand. He returns home to his disappointed father. The next morning, Zyrick, his coach, and the scouts are excited to see him play. Meanwhile, Zyrick continues to ponder the events of last night. While getting ready for his game, he decides to put on a protest shirt that says "I Am Darius Larson" and heads to the baseball field. He takes a knee and Monsters and Men fades to black.
Why The Unresolved Monsters And Men Ending Works
Monsters and Men ends on Zyrick's story, but each ending of all three men's stories offers no resolution. Manny's (Anthony Ramos) story ends with him being arrested for allegedly selling a gun to a child. We see throughout Zyrick and Dennis's (John David Washington) stories that his girlfriend Marisol (Jasmine Cephas Jones) and activists like Zoe (Chante Adams) are continuing to fight for his freedom. However, there are no answers about whether the charges against Manny are ever dropped.
Dennis's story ends with him choosing to protect his police brothers, specifically Scala (Steve Cirbus), by not helping the investigation into the Darius Larson shooting. We don't know if he continues to remain silent or if one day, he'll speak up. Zyrick chooses to fight for what he believes in but we never learn the effects of this action. Does he lose his chance to be recruited into the minor leagues?
In an interview with Pop Matters, Monsters and Men director Reinaldo Marcus Green discussed how in real life, we often don't get things like this nicely resolved and all our questions answered. He wanted to at least give viewers some direction on the path that Dennis, Manny, and Zyrick were embarking on in their lives, but no definite conclusion for their stories. Green also added that characters like Dennis have no defined endpoint. It's an ongoing battle of whether to speak up or to remain silent.
The Monsters and Men ending for each man feels realistic because, in this complex situation, there isn't any real conclusion or definite path. It's a constant struggle and chain reaction of choices.
Three Very Different Men With The Same Problem
Dennis, Zyrick, and Manny are united in many ways. They work or live in the same Bed-Stuy neighborhood, they all encounter the same two cops, and they all have some connection to the Darius Larson shooting. They also are all connected in being young men of color who are, at some point, targeted by the police.
Monsters and Men opens with Dennis being pulled over while driving. He later tells his partner that he's already been pulled over six times and it's only June. Being a cop doesn't protect Dennis from being targeted because of the color of his skin. Throughout the film, Zyrick is a model for the community, quiet, stays out of trouble, and has a bright future because of his baseball career, but he's still stopped and searched by the police, because at the end of the day, they don't see his accolades, they see his skin color.
Each man is also united in the dilemmas they face with the Darius Larson shooting. They all must decide whether to do nothing and continue on with their lives or to take action. Two of them take action.
Creating A Balanced Conversation In Monsters And Men
In an interview with the Los Angeles Times, Green revealed that the inspiration for Monsters and Men came at Sundance. He was there with friends to premiere his short film Stop. One of his long-time friends, who is a white cop, was there too because he was in the film. Later that night, the topic of Eric Garner came up. The conversation started off normally, but progressively got more heated. This conversation led to the movie and the dinner scene in Monsters and Men.
At a dinner with friends, Lisa (Cassandra Freeman) asks Dennis for his opinion on the Larson shooting. She expects him to agree that something needs to be done about it and cops need more training or something to handle these situations better. Dennis grows increasingly defensive and says that Lisa doesn't understand how it feels to be a police officer in that situation.
Green explained that he didn't make Dennis a white cop, like his friend, because he didn't want it to come off as a white or black thing. He wanted to present a more complex conversation and that worked better with Dennis being black. He wanted viewers to sympathize with him and see his perspective as much as they see Manny and Zyrick's perspectives. He wanted police officers to also have their side of the debate shown.
The dinner scene is the best way Monsters and Men displays this complex conversation, because even if you don't agree with Dennis's point-of-view, you understand it. You see that he means what he says when he talks about fearing for his life on the job. The film then shows two police officers dying and how that causes ripples in the police force. Their death is felt just as strongly by these police officers as Larson's death is felt by his community.
Lisa is also right in everything that she says, and Dennis not speaking up and his conversation with his wife after the police officers' deaths show the problematic side of cops putting each other before communities that they're sworn to protect. Monsters and Men allows each side of the debate to get their fair share of screen time and a chance to present their case to the audience.
What Choices Are The Audience Given In Monsters And Men
In the PopMatters interview, Green said this to summarize one of the main themes and purposes of the film:
Green further explained that the audience sees how difficult these choices are for the characters, but he hoped that it would inspire the viewers to do something. He discussed that the actions that hopefully are inspired by the film don't have to be as big as protesting but could be as small as how police officers choose to approach people in the future.
In an interview with The Fall Mag, Green also added that he hoped the audience would see themselves in one of the characters and that would inspire change:
Monsters and Men has a powerful message and great performances by the entire cast. You can see Anthony Ramos, John David Washington, and Kelvin Harrison Jr. in other fantastic 2021 movies being released soon. Monsters and Men is currently streaming on Hulu. Stream it here (opens in new tab).
Spent most of my life in various parts of Illinois, including attending college in Evanston. I have been a life long lover of pop culture, especially television, turned that passion into writing about all things entertainment related. When I'm not writing about pop culture, I can be found channeling Gordon Ramsay by kicking people out the kitchen.
Your Daily Blend of Entertainment News
Thank you for signing up to CinemaBlend. You will receive a verification email shortly.
There was a problem. Please refresh the page and try again.