Marvel's James Gunn Gives Thrilling Guardians 3 Update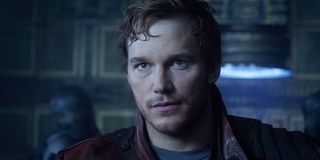 Movies can take a long time to get made. The wait can be frustrating for fans, but most films have so many hoops to jump through that the delay is inevitable. However, even the longest journeys start with a single step, and pre-production news can be just as exciting as a release date. Director James Gunn just revealed one such piece of news for the long-awaited Guardians of the Galaxy Vol. 3.
James Gunn, who also directed and wrote the first two entries in the Guardians of the Galaxy saga, posted an unassuming, yet extremely thrilling update on Guardians of the Galaxy Vol. 3: the movie is being storyboarded by Gunn as we speak. (Or would it be as I write?) Take a look below:
It's good to know that James Gunn is keeping his sense of humor. Also, he's totally right: Rocket thinking his face looks like a triangle is objectively hilarious.
Storyboarding is an indispensable part of filmmaking. Essentially, it's breaking the action of the movie down into comic-esque panels so the director can plan out exactly what they want their shots to look like. A storyboard isn't set in stone - lots of movies end up changing things for various reasons - but it does function as a road map. Whatever story James Gunn is envisioning for our beloved Guardians might not be the finished product we see onscreen, but the fact that he's begun to storyboard is an exciting development nonetheless. It means that the movie isn't languishing in development hell, and the creators are actively working to get it made.
James Gunn has posted updates for the third Guardians film before to keep fans excited for the much-delayed project. The threequel was originally supposed to be released early in Marvel's Phase Four, but James Gunn ran into some creative differences with Disney and ended up getting fired. The Mouse House eventually changed its mind and took James Gunn back, but during his absence, he had signed on to direct The Suicide Squad. That film became next on his to-do list, making Guardians of the Galaxy Vol. 3 a lower priority.
It could have been worse, though. Black Widow was delayed multiple times, as were several other projects in Marvel's Phase Four, so maybe we're lucky that Guardians of the Galaxy Vol. 3 wasn't pushed back even further. As it stands, the movie is scheduled to be released in theaters on May 5, 2023.
While we're waiting for Guardians of the Galaxy: Vol. 3, we can always keep up with James Gunn on Twitter (fingers crossed he'll post some of those storyboards he was talking about). You can also keep up with all the news concerning upcoming Marvel movies here on CinemaBlend.
Your Daily Blend of Entertainment News
Actor, singer, and occasional dancer. Likes: fashion, books, old buildings. Dislikes: cilantro, the NJ Turnpike, sneaker wedges.