Disney's Us Again Director On Working With World Of Dance Alums Keone And Mari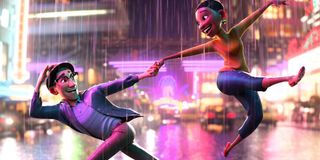 If you've had the opportunity to see Raya and the Last Dragon in a movie theater, then you've seen Us Again and probably cried. As the first Walt Disney Animation short in five years, Us Again has been much anticipated, and it packs an emotional punch that does not disappoint. The film was choreographed by award-winning dancers and choreographers Keone and Mari, who fans will recognize as featured performers on NBC's World of Dance, and the director shared what it was like working with the dance duo.
Zach Parrish, director of Us Again, always wanted Keone and Mari to be a part of the project and was overjoyed when they signed on. The husband and wife team have a long-established career in the dance world and were a perfect fit for Us Again's emotional look at life, love and aging. I sat down with Zach Parrish for an interview with CinemaBlend, and he shared how Keone and Mari were an integral part of the entire process from start to finish. Here's what he said:
So Keone and Mari were not only brought in to choreograph the dance featured in Us Again. They also served as consultants every step of the way, including music and story. This makes sense as it ensures they had every piece of the puzzle to create the dance that ultimately tells the story.
Us Again follows an elderly man, Art, who has lost his passion for life and fears further aging, and his young-at-heart wife, Dot. The two spend one magical evening together reigniting their passion for dance, life, and each other. The film is entirely non-speaking, which is something director Zach Parrish planned from the start. Here's what he said:
Art and Dots bodies certainly are their words and brilliantly convey a vast array of emotion throughout the film. From the opening scene where Art is depressed, slumped in his chair, stubborn with no desire to move to halfway through where he excitedly chases the magic that makes him young again, everything is conveyed through movement. Zach Parrish also said the following of why he chose Keone and Mari specifically to create the dance in Us Again:
Keone and Mari are amazing storytellers, as is Zach Parrish and the entire team at Walt Disney Animation. Us Again is everything we've come to expect from Disney and more. It captures human despair, hope, fear, love and excitement in the most beautiful way. Us Again can currently be seen in theaters before showings of Raya and the Last Dragon. It is scheduled to hit Disney+ in June. For those who can't make it to the theater, check out these underrated movies to stream on Disney+ to hold you over until June.
Obsessed with Hamilton and most things Disney. Gets too attached to TV show characters. Loves a good thriller, but will only tolerate so much blood.
Your Daily Blend of Entertainment News
Thank you for signing up to CinemaBlend. You will receive a verification email shortly.
There was a problem. Please refresh the page and try again.