6 Awesome Marvel Easter Eggs To Look For In Disneyland Resort's Avengers Campus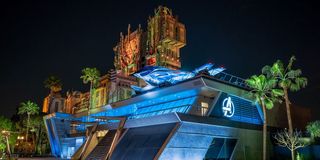 With the opening of Avengers Campus at Disney California Adventure, Earth's Mightiest Heroes have made a huge leap into Disney's theme park universe. For Marvel fans, there's simply nothing quite like it. You can see many of your favorite Marvel heroes simply walking around the land. You can feel like Spider-Man, slinging webs just like the Wall-Crawler. You can even eat shawarma, just like the Avengers. You can truly feel like you've walked into the Marvel Cinematic Universe. Of course, one of the most fun parts of any MCU movie is looking for easter eggs, and Avengers Campus has plenty of those.
CinemaBlend had a chance to visit Avengers Campus as part of a special media preview before the new land opened to the public, and in between live shows, a great ride and lots of delicious food, we found ourselves walking past several references to Marvel's larger world. To be clear, there are countless easter eggs to be found in Avengers Campus. Certainly far more than the six below, but we've grouped some of them together to make it easier. Otherwise, we'd be here all day.
Peggy Carter's Parking Spot
The story behind Avengers Campus is that the location used to be a Stark Industries complex that has been repurposed into a place for Earth's heroes to come together. However, there's evidence in the land that the location had another purpose once upon a time, as at least part of it was once used by the Strategic Scientific Reserve, the WWII era organization that was the precursor to S.H.I.E.L.D. Off in a corner near one of the entrances to the WEB Suppliers gift shop, you'll find a faded logo of the SSR, and that's not all.
On the opposite side of the faded logo, you'll find this sign designating the spot as the reserved parking space for Peggy Carter. The sign isn't all that big and it's in a spot that you might not even walk over to unless you needed a spot to sit down away from the crowds, so it's potentially easy to miss. But that made it extra cool coming across it, and it's equally nice to see Peggy Carter get a shoutout in Avengers Campus.
Peter Parker's WEB Team
The main attraction currently in Avengers Campus is called WEB-SLINGERS: A Spider-Man Adventure (and it's awesome), and it introduces an organization called WEB, the Worldwide Engineering Brigade. This is a group of young scientists and engineers who have come together to find new ways to use technology to help the Avengers fight potential threats. Obviously,Peter Parker is one of the people involved, but he's hardly the only one.
When you enter the main attraction building, you'll see a collection of portraits on the wall of all the people involved in bringing the special SLING/R vehicle to life. Several of the names will be familiar to those who know Marvel well. Doreen Green (Squirrel Girl) helped design the vehicle's AI system. Lunella Lafayette (Moon Girl) was in charge of the WEB Vision glasses that riders will wear. Onome, a native of Wakanda, designed the vehicle's structure out of vibranium. And Harley Keener, Tony Stark's young friend who appeared in Iron Man 3, helped design the vehicle's drive system. Keep your eyes open later in the queue and you'll see that Keener is also still playing with his potato gun and causing some issues for WEB.
Lucky The Pizza Dog
Hawkeye seems to be the most underappreciated of the Avengers, and while that may change when he gets his own show on Disney+ in a few months, Avengers Campus was sure not to leave him out... or at least his dog. Readers of the Hawkeye comic will likely be familiar with Lucky the Pizza Dog, a dog that Clint Barton adopts in the comics who, as his name implies, loves pizza.
In Avengers Campus, Lucky is actually the mascot of his own pizza parlor. Signs for Lucky Dog's Pizza can be found in a couple of places around Avengers Campus, including inside this display case at the WEB-SLINGERS attraction. Also visible is a menu for the Shawarma Palace, a place where you can actually get food inside Avengers Campus (inspired by the post-credits scene in the first Avengers movie) and a postcard that looks to be from Peter Parker's European vacation in Spider-Man: Far From Home.
Pingo Doce Soda
After going on an exciting attraction like WEB-SLINGERS, you might want to grab something refreshing to drink. The Pym Test Kitchen has a number of great food and drink options, including one soda that may look familiar to fans of the Marvel Cinematic Universe. While The Incredible Hulk may largely feel like the forgotten chapter of the MCU, you can now find out what the soda Bruce Banner was bottling actually tastes like.
Pingo Doce Soda is the drink that accidentally bottles a drop of Bruce Banner's blood in The Incredible Hulk, and it's one of the flavors available in the soda machine in the Pym Test Kitchen (in regular or zero sugar varieties in case you were curious). It basically tastes like Mountain Dew with added vanilla. I quite enjoyed it.
Geffen-Meyer Chemicals
As mentioned earlier, Avengers Campus was formerly a Stark Industries facility. Inside the WEB-SLINGERS attraction, there's a full map of the underground tunnels that the facility used to get around (which the Spider-Man ride is now using). They're referred to as utilidors, which itself is a Disney easter egg, as that's the name that was given to the same system when it was built underneath Magic Kingdom at Walt Disney World. The map shows off a number of different locations, including one that appears in a comic that inspired an MCU movie.
In the comic book version of Civil War, a superhero battle takes place at a division of Stark Industries called Geffen-Meyer Chemicals. Just north of the temporal anomaly (the former location of the previously mentioned Strategic Scientific Reserve) in the map above, you'll see the Geffen-Meyer location attached to Stark Motors. For the record, the temporal anomaly on the map is the current location of the Doctor Strange show, which explains why that's going on.
Damage Control
And then sometimes you don't even notice the easter eggs until you're going through your pictures after your trip. I got this picture of myself and Spider-Man during the media preview event, and it was only after looking at it again that I noticed that the crate Spidey's crouching on belongs to Damage Control. This is the organization that exists to help clean up the mess that inevitably comes whenever superpowered individuals start fighting.
Interestingly, the crate is labeled as Department of Damage Control: West, which certainly makes sense since Avengers Campus is in California, but the name also presupposes a Department of Damage Control: East. While Disney is restricted to what they can do with Marvel characters at Walt Disney World, it feels like only a matter of time before that changes.
As mentioned earlier, these are only a few of the easter eggs you'll find if you look all over Avengers Campus. With the shows to experience, the super fun Spider-Man ride and all the great food and drink to sample, you may not have time to go hunting for easter eggs. But if you do look, you'll certainly find them. Avengers Campus is open now at the Disneyland Resort.
Your Daily Blend of Entertainment News
Content Producer/Theme Park Beat
CinemaBlend's resident theme park junkie and amateur Disney historian. Armchair Imagineer. Epcot Stan. Future Club 33 Member.
Your Daily Blend of Entertainment News
Thank you for signing up to CinemaBlend. You will receive a verification email shortly.
There was a problem. Please refresh the page and try again.