One Thing Meryl Streep Vowed To Never Do Again After The Devil Wears Prada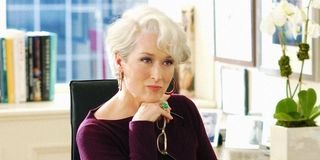 Meryl Streep is such a gifted actress that it's difficult to pinpoint her best performance. She's played so many unforgettable roles in various movies, from the tragic Sophie's Choice to the heartwarming Little Women. And with more than 20 Academy Award nominations under her belt, she's definitely learned a thing or two about the ups and downs of movie making. It turns out one of her biggest regrets occurred while filming one of her most inspired turns, The Devil Wears Prada.
As a notably versatile performer, Meryl Streep's roles have run the gamut, from heroine to villain and everything in between. As Miranda Priestly, The Devil Wears Prada's haughty editor-in-chief of Runway magazine, she terrorized Andy Sachs (Anne Hathaway in a star-making performance) and, with her ice-cold performance, she cemented her status as a true Hollywood icon. The film became a modern comedy classic after it was released in 2006, and 15 years later its fans and cast alike are still eagerly awaiting a potential sequel. Several members of The Devil Wears Prada cast bonded during filming -- Anne Hathaway still has fond memories of laughing on set with Stanley Tucci.
Meryl Streep, unfortunately, seems to remember the experience a little bit differently. She apparently chose to infuse her on-set interactions with her castmates, including Hathaway and Emily Blunt, with the same standoffishness that her on-screen character displayed. As a result, she says, her Devil Wears Prada experience wasn't quite so fun (via Entertainment Weekly):
So the takeaway here is that even Oscar-winning screen legends can end up with FOMO if they decide to get fully into character while playing the bad guy. Since Meryl Streep has played a few villainous characters in the years since The Devil Wears Prada, like The Witch in Into The Woods and Mary Louise Wright in Big Little Lies, we can only hope her on-set experiences for those projects were a little less lonely.
Of course, the results of her Method acting isolation led to amazing results -- Meryl Streep was nominated for an Academy Award for Best Actress, and to this day Miranda Priestly is one of her most memorable roles. Still, it's sad to know she doesn't share the same happy memories of The Devil Wears Prada set. Maybe that's as good a reason as any to have the cast reunite for a sequel -- she'll get a chance to joke around with her co-stars, and we'll all get a chance to see one of the best film ensembles on screen together one more time.
The Devil Wears Prada is currently available to stream on Hulu.
Your Daily Blend of Entertainment News
Thank you for signing up to CinemaBlend. You will receive a verification email shortly.
There was a problem. Please refresh the page and try again.