Upcoming Bradley Cooper Movies: What's Ahead For The Actor And Director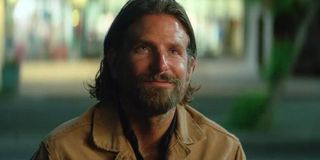 Few actors have seen a monumental shift in their careers quite like Bradley Cooper. Over the course of a decade, The Hangover star went from being an affable supporting player in Wedding Crashers and Yes Man to one of the most acclaimed actors-turned-directors working in Hollywood today. Certainly, this transition didn't happen overnight, but the eight-time Oscar-nominated A-lister has demonstrated his exceptional dexterity time and time again, both in front and behind the camera.
Suffice it to say, Hollywood is eager to bank on that proven talent with a number of exciting 2021 movies, including the newest films from Guillermo Del Toro and Paul Thomas Anderson. Additionally, Bradley Cooper is expected to reprise his role as Rocket Racoon in upcoming Marvel movies like Thor: Love and Thunder and Guardians of the Galaxy 3, all while he gets the pieces in place for his long-awaited sophomore directorial feature.
Indeed, Bradley Cooper's star power only continues to grow, and we should expect a lot more great things from the celebrated superstar in the years to come. If you love the Oscar-nominated actor-director behind A Star is Born, here's what's coming up next!
Untitled Paul Thomas Anderson Movie - November 26th, 2021 (Post-Production)
It's safe to say that Paul Thomas Anderson is one of our finest working filmmakers. Whether you know him best as the writer-director behind Boogie Nights, Magnolia, There Will Be Blood, The Master, Punch-Drunk Love, or Phantom Thread, the Oscar-nominated auteur has made some of the best films of the past two decades, and he has fostered some of the finest film performances in that time, too. Particularly seen through his work with Daniel Day-Lewis, Joaquin Phoenix, Julianne Moore, John C. Reilly, Adam Sandler, Amy Adams, and the late, great Philip Seymour Hoffman, to name only a few stars who've worked with the revered storyteller, PTA has crafted some extraordinary films with incredible lead and supporting performances. Hopefully, that's also the case for Bradley Cooper, the headliner of Anderson's latest, still-untitled movie.
Details remain slim for this new film, which is reportedly called (or was previously titled) Soggy Bottom, but we know that it follows a high school student trying to become an actor in the '70s. Certainly, that synopsis will earn a few comparisons to Boogie Nights right off the bat. Bradley Cooper is expected to play a film director and producer. Not a lot is known about his character otherwise, however. What we do know, though, is that the movie will premiere on November 26th, followed by a wide release on Christmas. Given Paul Thomas Anderson's impressive winning streak, one can reasonably assume that Cooper is attached to another winner. Hopefully, that's proven true later this fall.
Nightmare Alley - December 3rd, 2021 (Post-Production)
Additionally, Bradley Cooper is also working with another modern master moviemaker. Specifically, Cooper stars in Nightmare Alley, the latest psychological thriller from co-writer/director Guillermo Del Toro. As the awaited follow-up to his Best Picture winner, The Shape of Water, the genre filmmaker has rounded up another exceptional starry cast, including Cate Blanchett, Toni Collette, Rooney Mara, Willem Dafoe, and Bradley Cooper. Based on the novel by William Lindsay Gresham, Nightmare Alley follows Stanton "Stan" Carlisle (Cooper), an ambitious carny who has the unnerving talent of manipulating people with only a few well-chosen words. He'll join forces with Dr. Lilith Ritter (Blanchett), a ruthless psychiatrist who proves to be quite a dangerous collaborator. Together, Stan and Dr. Ritter make an appropriately ... nightmarish pair.
Following a few 2020-related production delays, Nightmare Alley is officially finished filming and it's scheduled to be released on December 3rd, 2021. That puts the movie right smack dab in the middle of awards season, which should hopefully prove well for both Guillermo Del Toro and Bradley Cooper during this year's upcoming Oscar circus.
Thor: Love And Thunder - May 6th, 2022 (Post-Production)
We haven't seen the last of Rocket Racoon. As we saw in the last two Avengers movies, the loud-mouth intergalactic mammal has become close — but maybe not chummy — with the hammer-wielding demigod. Therefore, it's unsurprising to know that Bradley Cooper will likely reprise this comic character in next year's Thor: Love and Thunder.
While this casting information hasn't been officially confirmed by Marvel, ScreenRant claims that Bradley Cooper's scene-stealing character is sure to appear along with the rest of the Guardians of the Galaxy, which makes sense given where we last saw Thor in Avengers: Endgame. Recently, the superhero sequel wrapped production ahead of its May 6th, 2022 release date. Details remain selective (and obviously secretive) for the time being, but we'll learn more about the supersized blockbuster in the months ahead.
Guardians of the Galaxy Vol. 3 - May 5th, 2023 (Pre-Production)
Likewise, Rocket Racoon will soon return for Guardians of the Galaxy Vol. 3, the third (and likely final) installment in the Marvel series, which is scheduled for May 5th, 2023.
Not much is known about the story at the root of this comic book sequel, but all the main cast members, including Chris Pratt, Zoe Saldana, Dave Bautista, Karen Gillan, and Vin Diesel, are expected to reprise their roles. Similarly, Bradley Cooper is signed on to return to voice the smartass, space-based criminal furball once more. Once again written and directed by James Gunn, Guardians of the Galaxy Vol 3 is still a while away, particularly with The Suicide Squad arriving soon, but it's on the horizon. Reportedly in the early stages of pre-production, Gunn's latest comic book adaptation is expected to start shooting either later this year or early next year.
Maestro - TBA (Announced)
With 2018's A Star is Born, Bradley Cooper proved to be a triple threat, notably as he gave arguably his finest performance of his career (to date) in a movie that he also co-wrote and directed with commanding confidence, particularly for a first-time filmmaker. Hell, the movie proved that he's actually a quadruple threat; to top it all off, he can sing! Suffice to say, the Oscar-winning directorial debut is a tough act to follow, but Hollywood was understandably eager to get the A-list actor back in the director's chair. Thankfully, it looks like that might happen sooner rather than later with Maestro, another ambitious romantic drama, this time centered around legendary West Side Story composer Leonard Bernstein and the decades-spanning love affair he shared with his wife, Felicia.
Along with directing, producing, and co-writing the upcoming Netflix movie, Bradley Cooper will also star in his sophomore feature as Leonard Bernstein opposite Carey Mulligan as Felicia Bernstein. Additionally, Martin Scorsese, Steven Spielberg, and Todd Phillips are expected to produce. Production isn't predicted to start until sometime in 2022, however, so Cooper's follow-up feature remains in early development — for now.
Matt Helm - TBA (Announced)
Based on Don Hamilton's prolific spy novel series, it makes sense that Matt Helm is coming together, especially in an age when literary adaptations like Jack Ryan, Jack Reacher, and Spenser Confidential, to name a few, are proving to be dependable star vehicles on screens — on screens both big and small — particularly for prominent male middle-aged actors. Certainly, in an era driven by franchise starters, it's also easy to see why Hollywood was interested in securing the rights to the 27 book series. In fact, four of the books were already turned into movies with Dean Martin in the 1960s. With that said, while Matt Helm isn't a surefire thing, if it does well, the gravy train will start a-rollin'. That said, developments have been slow for this potential starring vehicle.
When the project was announced in 2018, it featured a lot of heavy-hitters. Along with Bradley Cooper playing the title role, George Clooney and Grant Heslov were involved as executive producers. Likewise, Steven Spielberg was attached, though not to direct. It's uncertain who is presently attached to the project, but it's easy to see the potential — both for Cooper as an adaptable movie star and as a promising new action film series.
Producing: The Fixer - TBA (Announced)
Outside of his upcoming acting commitments, Bradley Cooper is also attached to produce The Fixer, a possible new Ron Howard picture. The story is centered around the true story of a disgraced FBI agent who, at the height of the Cold War, is tapped to lead a team of CIA operatives and Chicago mobsters on an unlikely mission to kill Fidel Castro, as Deadline reported. It's unclear if Cooper is also expected to play the FBI agent in this upcoming feature; he's only signed on to produce alongside frequent collaborator Todd Phillips. Additionally, it's unclear where this project is in development, as no further updates have been provided since it was announced in early 2020. Currently, Howard is filming Thirteen Lives. Therefore, this one is on the backburner.
Producing: Untitled Hulk Hogan Biopic - TBA (Announced)
The Hulkster has lived a long and varied life, to put it mildly. The controversial former WWE superstar was once among the most famous professional athletes on the planet, but time hasn't been kind to the weathered wrestler. His checkered reputation is the stuff of legend (in a matter of speaking), and it'll also inspire an upcoming, untitled biopic from Oscar-nominated director Todd Phillips (Joker), one that's set to star Chris Hemsworth as the troubled blonde-haired, long-mustached muscleman. Additionally, Bradley Cooper is on board to produce this cinematic version of Hulk Hogan's story.
Set up at Netflix, this Hulk Hogan biopic has a lot of narrative ground that it can explore, though it's unclear where it is in development. The project was announced a few years back, but the production start date hasn't been announced. Certainly, given how much Todd Phillips' profile has ballooned with the success of his recent Oscar-nominated movie, his attention might be diverted. So, it could take a minute to get to the screen. But this larger-than-life life story is certainly primed for a grandiose Hollywood retelling.
This poll is no longer available.
Your Daily Blend of Entertainment News
Will is an entertainment writer based in Pittsburgh, PA. His writing can also be found in The Playlist, Cut Print Film, We Got This Covered, The Young Folks, Slate and other outlets. He also co-hosts the weekly film/TV podcast Cinemaholics with Jon Negroni and he likes to think he's a professional Garfield enthusiast.