Upcoming Cate Blanchett Movies: What's Coming Next For The Mrs. America Actress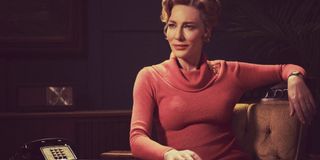 With two Oscars to her name, and several other accolades to boot, Cate Blanchett is undeniably considered one of our finest working actresses. In movies both big and small, as well as the new limited series Mrs. America, the award-winning actress has often demonstrated her incredibly dynamic and adaptable talents, proving herself willing to tackle many different on-screen personalities with gusto.
That tradition is set to continue with many exciting new projects in her future, including two upcoming Guillermo del Toro pictures (one of which is Netflix's animated Pinocchio), a new Adam McKay film, a video game adaptation, and more. Certainly, Blanchett's well-distinguished, well-recognized acting chops will stand out in any type of project — be it a blockbuster or prestige drama. So, we should expect only the best from Blanchett.
If you're a big fan of Cate Blanchett, like I am, here's what you can look forward in the near future.
Pinocchio - TBA 2021 (Filming)
Several storytellers have attempted to bring the fable of Pinocchio to life on the big screen. Unfortunately, only a select few have succeeded. Generally speaking, the ones that work tend to be the animated ones, with Disney's 1940 classic being the shining star example. With that said, if any working filmmaker could do justice to the tale of the wooden puppet who wants to be a real boy, it's fantasy director Guillermo Del Toro.
The Oscar-winning moviemaker is currently in the midst of making his own stop-motion animated version of the beloved fairy tale, and he's assembled a great ensemble of voice actors for the project. The talented stars set to lend their pipes to this forthcoming family film include Ewan McGregor, Christoph Waltz, Ron Perlman, John Turturro, Finn Wolfhard, Tim Blake Nelson, Tilda Swinton, and Cate Blanchett. That's a mighty fine roster right there!
With a screenplay written by Guillermo Del Toro, Patrick McHale (Adventure Time), Matthew Robbins (Jaws), and Gris Grimly, with a visual design that's evoking Grimly's 2002 re-design of the classic 1883 novel, Pinocchio will be the first feature-length animated movie directed by del Toro, and it's a project that the director has been trying to lift off the ground for years before Netflix finally agreed to foot the bill. The plan is to release the new movie, which is currently still in production, sometime next year.
Co-directed by Mark Gustafson, this latest cinematic take on Pinocchio is meant to be a "brutalist fable," in del Toro's words, of the familiar story. Certainly, del Toro's take on the tale is bound to be interesting — no matter which way he approaches the material. Anticipations are very high for Netflix's newest animated production, and we hope it's another winner for Guillermo del Toro!
Nightmare Alley - TBA (Filming)
In addition to Netflix's much-anticipated Pinocchio, Cate Blanchett is also starring in Guillermo del Toro's other new movie: an upcoming live-action psychological thriller, Nightmare Alley, based on the 1946 novel of the same name by William Lindsay Graham.
Adapted by del Toro and Kim Morgan, the tale of a corrupt con-man teaming up with a psychiatrist to trick people into giving them money will star Bradley Cooper, Cate Blanchett, Rooney Mara, Willem Dafoe, Toni Collette, Richard Jenkins, David Strathairn, Mary Steenburgen, and several other notable stars. As the follow-up (or, at least, one of the follow-ups) to the filmmaker's Best Picture-winning The Shape Of Water, it shouldn't come as a surprise to see how much talent and interest thrown into this new project. Alas, while filming started back in late January, the production was shut down in March due to the COVID-19 pandemic.
Nevertheless, production resumed again in mid-September under safety protocols, and it's presumably still going on at the moment. Though, with the timeline in consideration, one would assume that filming should be wrapping up soon — if it's not finished already. Therefore, while there's no release date set for Guillermo del Toro's latest live-action feature, one could reasonably believe that it might be ready to screen sometime next year.
Certainly, the tantalizing promise of not one, but two new Guillermo del Toro movies to look forward to in the months ahead is exciting for movie lovers everywhere. But nothing is currently confirmed when it comes to the movie's release. More details should hopefully arrive in the months to follow, but if Nightmare Alley does decide to come out sometime next year, it's possible that we might be looking at another awards contender for del Toro. But only time will tell.
Don't Look Up - TBA 2021 (Pre-Production)
Don't Look Up is the latest satire written and directed by Oscar-winner Adam McKay (Anchorman, The Big Short). And it's gearing up to host one of the most impressive ensembles we've seen in recent memory. In addition to Jennifer Lawrence frontlining, this Netflix comedy will also star Leonardo DiCaprio, Timothee Chalamet, Jonah Hill, Meryl Streep, Ariana Grande, Kid Cudi, Himesh Patel, Matthew Perry, Rob Morgan, and Cate Blanchett. Certainly, that's one great line-up of stars. And the premise itself might prove to be highly relevant for today's times. The plot follows a pair of astronomers (Lawrence, DiCaprio) who try to warn the world of an impending meteorite that will destroy the planet in six months. Chaos ensues from there.
While McKay is more well-known for his more dramatic endeavors, Don't Look Up is said to be a rip-roaring comedy, which is intriguing to hear.
While The Big Short and Vice have their fair share of critical praise and awards consideration, it's hard not to miss Adam McKay's looser, goofier broad comedies — notably, the five he made with Will Ferrell. The filmmaker has an Oscar to his name now, though. So, no matter how big or wacky his future films might get, they'll garner some awards consideration — which makes it easy to see why McKay was able to wrangle up such an impressive cast-list.
Nevertheless, outside of Leonardo DiCaprio and Jennifer Lawrence's roles, it's currently unknown how big of a part these other actors will have in this new movie. It's possible they're prominent players, and it's possible that they're glorified cameos. With an A-list cast this big, neither one is out-of-the-question. Therefore, we'll have to wait to see what becomes of this new Netflix production. It's currently in pre-production and expected to start filming early next year for a release later in 2021.
Armageddon Time - TBA (Pre-Production)
The time of Armageddon will soon set upon us. Following up last year's acclaimed space drama, Ad Astra, writer-director-producer James Gray is set to helm Armageddon Time, a coming-of-age drama exploring friendship, loyalty, and adolescence while growing up in Queens in the 1980s. Currently, details are limited on the project otherwise, but Gray has already scored a hell of a cast for his latest film. The forthcoming film will star Anne Hathaway, Oscar Isaac, Robert De Niro, Donald Sutherland, and Cate Blanchett in undisclosed roles.
As an autobiographical period piece meant to be evocative of the works from Federico Fellini and François Truffaut, Armageddon Time might pose a scary title, but it's said to be a warm and emotional piece reflective of Gray's previous film, Two Lovers (and, for my money, one of his finest films yet). Hopefully, more details will come out soon.
What we do know, however, is that it's going to be filmed in New York City — which seems like a no-brainer, given the setting in mind. But in the midst of this ongoing pandemic, it's hard to know when productions will begin in earnest in the Big Apple. Most likely, the goal will be to shoot this film next year, with the intention of releasing it either that same year or the year after. No matter what happens with Armageddon Time, it's certainly going to be one worth following. Hopefully, Gray will get another great performance out of Cate Blanchett, similar to how he's gotten several great performances from several of his past notable collaborators, including Joaquin Phoenix, Marion Cotillard, Brad Pitt, Robert Pattinson, Gwyneth Paltrow, and more.
There's currently no release date in place for the upcoming movie, currently in pre-production. Whenever more details arrive, we'll certainly keep you posted.
Borderlands - TBA (Pre-Production)
Cate Blanchett and director Eli Roth made for an unlikely pair when they collaborated on 2018's darkly comedic family fantasy film, The House with a Clock in its Walls. But the resulting film is one of the best-reviewed films in Roth's filmography, and it became a stealthy hit at the box office to boot. So, it might not be terribly surprising to learn that Blanchett and Roth are planning to reunite for an upcoming project. Nevertheless, it's surprising that the movie they picked is an adaptation of Gearbox Software's apocalyptic video game series, Borderlands.
Set in the abandoned fictional planet of Pandora, this new movie will follow the inhabitants of this decrepit planet as they search for a mysterious relic. It's still early in development, but it's already securing some major talent. Chernobyl's Craig Mazin, for instance, is set to write the screenplay alongside newcomer Aaron Berg.
Developments made on the film remains limited otherwise, though it was reportedly set to enter pre-production earlier this year before COVID-related shutdowns halted several productions. How ironic it is that an apocalyptic wasteland movie might've been delayed by the threat of a real-life disaster. Nevertheless, we'll have to wait to see what happens next for this project. It'll be a big film with a sizable budget, so these things take time. It might be a while before it's geared up and ready to go.
In any case, Cate Blanchett is keeping herself busy with a variety of different projects at this time. Whether or not this one comes together, there's no doubt that the two-time Oscar-winning actress will find some projects that hopefully complement and continue demonstrating her incredible acting talents. Whether or not that project is a film adaptation of Borderlands by director Eli Roth still remains to be seen.
Which upcoming Cate Blanchett movie gets you excited the most? Be sure to let us know in the comment section below!
Your Daily Blend of Entertainment News
Will is an entertainment writer based in Pittsburgh, PA. His writing can also be found in The Playlist, Cut Print Film, We Got This Covered, The Young Folks, Slate and other outlets. He also co-hosts the weekly film/TV podcast Cinemaholics with Jon Negroni and he likes to think he's a professional Garfield enthusiast.