Jerry Maguire: 9 Behind-The-Scenes Facts About The Tom Cruise Movie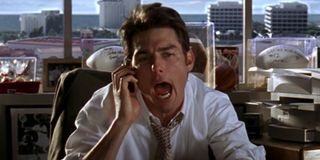 CinemaBlend participates in affiliate programs with various companies. We may earn a commission when you click on or make purchases via links.
Every moviegoer remembers the first time they heard the words "Show me the money" or "You had me at 'Hello.'" This was 25 years ago when Jerry Maguire, the Academy Award-winning third feature by writer and director Cameron Crowe, was released to universal praise from critics and audiences alike, impressive box office returns, and a succeeding legacy as one of the most iconic, quotable, and inspirational comedy-dramas that technically qualifies as a sports movie. Equally as interesting as plot of the Tom Cruise movie, about a hot shot agent to pro athletes whose moral epiphany sends him on a drastic journey of self-rediscovery, is the behind-the-scenes facts that craft the story of how it was made, starting with the some of people whose own lives contributed to the story.
Jerry Maguire Is Loosely Based On Real Sports Agents, Including Leigh Steinberg
In a making-of documentary included on the 20th Anniversary edition Blu-ray of Jerry Maguire, Cameron Crowe recalls how the inspiration for the film came from multiple avenues - some personal and some from the modern world of business. To put a face to a name, Leigh Steinberg was one of the more notable sports agents who largely served as the inspiration for the title character played by Tom Cruise. Steinberg told Sky Sports that Crowe spent a a year and a half shadowing the agent, whose most famous clients at the time included Dallas Cowboys' Troy Aikman (who makes a cameo) and one who also sparked a few ideas in Crowe's mind.
Leigh Steinberg's Client Tim McDonald Inspired Cuba Gooding Jr.'s "Show Me The Money" Line
The aforementioned doc sees Cameron Crowe go on to mention an athlete whom Leigh Steinberg represented when he was researching for Jerry Maguire named Tim McDonald. He recalls conducting an interview with the former football player that led to one of the film's more memorable moments:
Cameron Crowe then explains how that one sentence, which he adapted into one of the most recognizable movie quotes of all time, was the spark that led to the creation of Rod Tidwell - an Arizona Cardinals wide receiver who becomes Jerry Maguire's sole client after he gets fired. The character is also remembered as the role that earned Cuba Gooding Jr. his Oscar for Best Supporting Actor in 1997.
Jerry Maguire's Mission Statement Was Inspired By A Real Disney Memo By Jeffrey Katzenberg
Say, speaking of Jerry Maguire getting fired, the inciting incident of this is what the hot shot agent calls a "mission statement" for his company about emphasizing personal relationships over monetary gain that he pens after suffering a moral crisis. As it turns out, Cameron Crowe also borrowed this creative and inspiring plot device from reality as well - specifically a 28-page memo that Jeffrey Katzenberg wrote when he was head of Disney after becoming dissatisfied with the company's box office-driven mentality. The producer sent this manifesto to his employees in 1991 - three years before leaving to develop DreamWorks with Steven Spielberg and David Geffen.
Jerry Maguire's Post-Firing Fall Was A Secret Between Tom Cruise And Cameron Crowe
Of course, Jerry Maguire's exit came much quicker after releasing his statement, courtesy of Bob Sugar (Jay Mohr), who chooses to announce the termination at a public restaurant to avoid causing a scene. Jerry still manages to create a rousing moment at the agency when he returns in such a rush to contact his clients that he falls flat on his face on the way to his office - an unforgettable instance of physical comedy that, apparently, was not in the script. According to Cameron Crowe on the 2016 Blu-ray featurette, he suggested the stable to Tom Cruise last-minute without telling anybody else on set, resulting in the completely natural reaction we see in the final cut.
Cameron Crowe Wrote The Jerry Maguire Role With Tom Hanks In Mind
It is off-the-cuff decisions that end in great results like that which are why it is impossible to imagine anyone else but Tom Cruise playing the title character of Jerry Maguire. However, the Mission: Impossible movies star was not the first choice in mind Cameron Crowe, who actually wrote the part the intention of casting Tom Hanks originally. However, while on The Dan Patrick Show in 2017, the filmmaker revealed that, by the time he finished, the two-time Oscar winner was committed to his directorial debut, That Thing You Do!, which would prove to be a blessing in disguise when Cruise stepped in.
Jonathan Lipnicki Introduced His Famous Line To Cameron Crowe, According To The Director
Bonus fun fact: apparently Cameron Crowe was warned by some about Tom Cruise using his star power to try taking control of production if hired on Jerry Maguire, which he said could not have been further from the truth. In fact, it even worked in the film's favor to cast relatively unknown actors (at the time) around the A-lister, such as then five-year-old Jonathan Lipnicki who won the hearts of many with his debut role as Ray Boyd. The now 30-year-old actor has said that people still come up to him to ask if he knows that "the human brain weighs eight pounds," which, according to Yahoo!, Cameron Crowe claims the young actor would tell people on set, inspiring him to put it in the movie and, unwittingly, make history.
Renée Zellweger Thought Her Iconic Jerry Maguire Line Was A Typo
A more historical quote from Jerry Maguire, however, is said by Jonathan Lipnicki's on-screen mother Dorothy Boyd, played by Renée Zellweger. After Tom Cruise's character finally professes his genuine love for his estranged wife by saying she "completes" him, she shuts him up by replying, "You had me at 'Hello.'" It is one of the most romantic, oft-quoted movie lines ever, but, as the future two-time Oscar-winner revealed to Newsday, she was not sure what to make of it at first:
In defense of Renée Zellweger, if the line had turned out to be a typo, it would not be the only time that Jerry Maguire benefitted from a happy accident as we have already established.
Paula Abdul Choreographed Rod Tidwell's Post-Concussion Dance In Jerry Maguire
Another memorable moment from Jerry Maguire that was also not by accident was the elaborate dance that Rod Tidwell performs after miraculously waking up from a concussion (which is something that doctors would strongly advise against these days). However, it is still an exciting moment that was achieved with the choreography of Paula Abdul - the pop star and future American Idol judge also known for lending her dance talents to films like Coming to America in 1988. When commenting on the dance in Jerry Maguire for Entertainment Tonight in 1996, Abdul mentions she had previously met Cuba Gooding Jr. after casting him in an ad for Bugle Boy.
Cameron Crowe's Mom Makes A Cameo In Jerry Maguire
Someone who is frequently cast in Cameron Crowe's movies is his own mother, Alice Marie Crowe, who notably appears in the Almost Famous cast as a guidance counselor who convinces Elaine (Frances McDormand) to let William (Patrick Fugit) follow Stillwater on tour. Her claim to fame from Jerry Maguire, according to Slate, is playing a member of the divorced women support group hosted by Dorothy's sister, Laurel (Bonnie Hunt), who excitedly reveals to the other that she "finally got in touch with [her] anger."
Believe it or not, that line might have gotten a harder laugh out of me than any other line in the film. Of course, Jerry Maguire is the kind of movie where the script tends to become a part of your vocabulary even before you see it - especially for those of younger generations like myself who caught the full experience a bit later. Luckily, the romantic sports dramedy is also the kind of film that never fails to entertain and inspire no matter if you are seeing the first time of the one-hundredth time, which is why it remains a classic a quarter of a century later.
Jason has been writing since he was able to pick up a washable marker, with which he wrote his debut illustrated children's story, later transitioning to a short-lived comic book series and (very) amateur filmmaking before finally settling on pursuing a career in writing about movies in lieu of making them. Look for his name in just about any article related to Batman.
Your Daily Blend of Entertainment News
Thank you for signing up to CinemaBlend. You will receive a verification email shortly.
There was a problem. Please refresh the page and try again.