Coming To America: 9 Behind-The-Scenes Stories About The Eddie Murphy Classic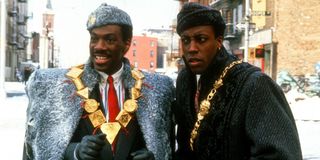 After more than 30 years, Eddie Murphy is returning to play a few of his most memorable characters in a sequel to one of his most beloved comedies. However, before you see Coming 2 America after it is made exclusively available to stream on Amazon Prime, there are some truly fascinating behind-the-scenes facts about Coming to America that you should hear about it, if you have not already.
Directed by John Landis, who had previously worked with Eddie Murphy five years earlier on Trading Places, the 1988 romantic comedy stars the Saturday Night Live veteran at the height of his popularity as Akeem, prince of the fictional African nation of Zamunda, who has actually grown weary of his ceaselessly pampered lifestyle. It reaches its peak on his 21st birthday when his parents present him with a bride of their own choosing who has been brainwashed into thinking, feeling, and acting only by his command. Wishing to find true love instead, Akeem, joined by his loyal servant and friend Semmi (Arsenio Hall), travels to the one place he believes he is most likely to find the perfect woman: the United States… more specifically in Queens, New York.
The high anticipation for its upcoming follow-up, from Dolemite Is My Name director Craig Brewer, is just one example of the lasting influence that Coming to America has had as, arguably, Eddie Murphy's finest cinematic achievement. However, much like Akeem's search for his destined bride, the quest to acquire that legacy was not without its unusual surprises and even a few mishaps. Hear all about that and more in the following nine lesser-known facts about what went down on the set and beyond, starting with one of the most essential aspects that make it a cultural touchstone.
Coming To America Was The First Movie In Which Eddie Murphy Played Multiple Characters
Every comedic superstar has one definable shtick that sets them apart from the rest in their generation and for Eddie Murphy that is his uncanny ability to disappear into more than one role on screen. Following in the footsteps of legends like Peter Sellers, Murphy would continue do display this talent in Wes Craven's Vampire in Brooklyn, the Academy Award-nominated Norbit (only for makeup), and, of course, The Nutty Professor films, but it was Coming to America that first saw this tradition in action. Other than Akeem, the actor played the Sexual Chocolate's vocalist Randy Watson, fast-talking barber Clarence, and, most impressively, Saul.
Eddie Murphy Fooled Crew Members While Made Up As Saul
If Eddie Murphy's performance as the elderly, Jewish man who spends his days at Clarence's barber shop arguing over boxing matches and telling bad jokes is a bewildering discovery for you, you are certainly not alone. Not only was the actor able to fool the millions who saw Coming to America and went back in disbelief just to witness him as Saul a second time, even people on set had no idea they were talking to the film's star while under Rick Baker's Oscar-nominated makeup, as director John Landis recalled on a making-of featurette from 2007. In addition to Arsenio Hall's many disguises (including fellow barber Morris, Reverend Brown, and a clubgoer with her eye on both Akeem and Semmi), the film's most impressive disappearing acts were not limited to people.
The McDowell's Was Actually A Wendy's Restaurant
In hopes of getting closer to his love interest Lisa (Shari Headly), Akeem, along with Semmi, gets himself hired at her father Cleo's (Good Times star John Amos) self-titled restaurant McDowell's, which is chock-full of trademark lawsuits waiting to happen. Ironically, despite its glaring similarities to McDonald's (from its "golden arcs" logo, signature "Big Mick" meal, and the name), Coming of America actually used the Queens location of a different popular fast food chain, Wendy's, as a stand-in for the burger joint. The real restaurant was considered a landmark to cast members (including Amos and Louie Anderson) and fans until, as reported by [CBS New York](https://newyork.cbslocal.com/2013/06/16/reports-fast-food-restaurant-from-coming-to-america-to-be-razed/#:~:text=NEW%20YORK%20(CBSNewYork), it was torn down to make room for a six-story apartment building in 2013.
Humorist Art Buchwald Sued Coming To America For Plagiarism
Speaking of copyright law, believe it or not, Coming to America was the center of legal dispute over the true origins of its plot with Paramount Pictures facing accusations of stealing from writer Art Buchwald. According to report ran by UPI in 1990, the Pulitzer Prize-winning humorist claimed that the studio bought the rights to his story "King for a Day" (about an African prince who falls in love with an American woman) in 1983 and adapted it into the Eddie Murphy-led box office hit without giving proper credit. Although Paramount's supposedly unmalicious breach of contract prevented him from entitlement to punitive damages, Buchwald won the case, which was actually not the only conflict the film was involved.
There Was Apparently Tension Between Director John Landis And Eddie Murphy On Set
As I mentioned earlier, Coming to America was the second collaboration between Eddie Murphy and director John Landis, who is also known for helming The Blues Brothers, 1981's comedic creature feature An American Werewolf in London, and the video for Michael Jackson's "Thriller." However, there was a time when it seemed that the 1988 film would be the last time that they would ever work together. In the following excerpt from a 2005 interview with Collider, John Landis dished on the difficulties of their relationship on set:
As John Landis would later point out in the same interview, Eddie Murphy and he would eventually reconcile when the actor hand-picked him to direct the third installment of his Beverly Hills Cop franchise in 1994. It is a relieving turn of events, especially when you consider that Landis also would have never gotten the job to helm Coming to America if not for Murphy.
Eddie Murphy Initially Fought To Get John Landis Hired On Coming To America
Despite their eventual falling out, Eddie Murphy is responsible for getting John Landis to make Coming to America - which was actually no easy task. Landis was at a bit of a career standstill due to a string of flops and, especially, after standing trial for the accidental deaths of three actors (two of which were children working without permit) while shooting his segment for Twilight Zone: The Movie in 1983. As the following quote by Murphy in a 1991 Playboy Magazine (opens in new tab) interview reveals, these circumstances actually inspired his decision:
In a contrast to John Landis' comments to Collider, the Playboy interview also sees Eddie Murphy describe the director as a "control freak" and even details a physical conflict they had on the set of Coming to America over money that supposedly began as a joke until it turned real. There is not really any way of knowing whose claims best reflect the truth, but, either way, they seemed to have put all of this behind them.
Akeem's Birthday Celebration Dance Was Choreographed By Paula Abdul
As for some trivia on the lighter side of things, the elaborate dancing routine performed during Akeem's 21st birthday (and before he meets his arranged fiancée) was the brainchild of one of the biggest stars of the '80s. Paula Abdul, known as one of the original judges on American Idol to most younger audiences, told Yahoo! in 2019 that working on that Coming to America sequence when she was still a Laker Girl and barely 18 was one of the proudest moments of her choreography career.
James Earl Jones And Madge Sinclair Would Play King And Queen Again In The Lion King
Speaking of unexpected pop culture connections, not many people realize the significant ties that Coming to America has to a certain classic animated Disney movie. Playing Akeem's parents, King Jaffe Joffer and Queen Aoleon were Academy Award nominee James Earl Jones and Emmy winner Madge Sinclair, both of whom would go on to play royalty once again in 1994's The Lion King as the voices of Simba's parents Mufasa and Sarabi.
CBS Aired A Pilot For A Coming To America Spin-Off Sitcom
Even the biggest fans of Coming to America may be surprised to learn that its long-awaited 2021 sequel is not officially the first follow-up to the 1988 movie. Eddie Murphy's own television production company greenlit an idea for a spin-off TV series of the same name that would follow the recently crowned Akeem's previously unmentioned younger brother, Tariq (future In Living Color and The Proud Family star Tommy Davidson) as he is sent away to New York with his assistant Oha (Paul Bates, reprising his role in the film). A pilot was shot, which CBS ended up airing in 1989 as part of its anthology of passed-on projects called Summer Playhouse.
The Coming to America sitcom spin-off would actually not be the last time a show based on an Eddie Murphy failed to get picked up. The pilot for a TV sequel to Beverly Hill Cop starring Brandon T. Jackson as Axel Foley's son, Aaron, was also shot also for CBS, who opted not to order it to series in 2013. Well, perhaps the existence of Coming 2 America means a fourth, feature-length installment of the comedic crime thriller franchise has good chances of escaping development hell.
Jason has been writing since he was able to pick up a washable marker, with which he wrote his debut illustrated children's story, later transitioning to a short-lived comic book series and (very) amateur filmmaking before finally settling on pursuing a career in writing about movies in lieu of making them. Look for his name in just about any article related to Batman.
Your Daily Blend of Entertainment News
Thank you for signing up to CinemaBlend. You will receive a verification email shortly.
There was a problem. Please refresh the page and try again.