The Mission: Impossible Movies In Order And How To Watch Them Streaming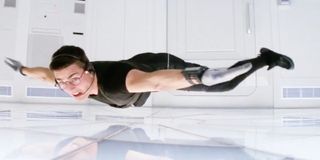 CinemaBlend participates in affiliate programs with various companies. We may earn a commission when you click on or make purchases via links.
In a perfect world, Mission: Impossible 7 would be released in summer 2021, but as fans of the franchise know, nothing ever goes according to plan. It's not all bad news because now we have time to watch Tom Cruise in all the Mission: Impossible movies in order on various streaming services, while we wait for MI7's May 2022 release.
Starting with the release of the first set of adventures featuring IMF agent Ethan Hunt and his ragtag group of expert hackers, operatives, and government officials back in 1996 all the way to the most recent entry to the saga, we've provided a quick rundown (if you choose to accept it) of how you can go about watching all of the Mission: Impossible movies streaming. From dropping into CIA headquarters in Langley to skydiving through a thunderstorm in Paris, there's a lot to go over here.
Mission: Impossible (1996)
When an operation in Prague leads to the death of nearly every member of an Impossible Mission Force team, the only surviving member, Ethan Hunt (Tom Cruise), becomes his agency's prime suspect. Brian De Palma's 1996 spy thriller Mission: Impossible follows as the disavowed agent puts together a team of outcasts to find the person, or persons, responsible for the framing him for a crime he did not commit while also trying to protect the identities of the spies on the compromised disk sought out by the mysterious arms dealer named Max (Vanessa Redgrave) that was at the center of the failed operationn.
Stream Mission: Impossible on Paramount+.
Rent Mission: Impossible on Amazon.
Mission: Impossible 2 (2000)
When a rogue IMF agent by the name of Sean Ambrose (Dougray Scott) steals a deadly virus with plans to unleash it into the world before selling the antidote to the highest bidder, Ethan Hunt puts together a team consisting of his old pal Luther Stickell (Ving Rhames) and notorious thief Nyah Nordoff-Hall (Thandiwe Newton) to stop a global pandemic in the making. Although not as tight of a movie as its predecessor, John Woo's Mission: Impossible 2 is an action spectacle with some of the most hard-to-believe stunts at the time of its release, and a sign of things to come for Tom Cruise and his desire to one-up himself with each subsequent film, even if the stress gets the best of him.
Stream Mission: Impossible 2 on Paramount+.
Rent Mission: Impossible 2 on Amazon.
Mission: Impossible 3 (2006)
Directed by J.J. Abrams, Mission: Impossible 3 (which celebrated its 15th anniversary in May 2021) follows Ethan Hunt as his retirement from field duty is cut short to track down an arms and information broker Owen Davian (Philip Seymour Hoffman) before he can sell "The Rabbit's Foot," a deadly and mysterious object that could potentially kill millions. To make matters worse for Hunt and his team, which includes a returning Luther Stickell and IMF newcomer Benji Dunn (Simon Pegg), the job becomes personal when Ethan's fiancée Julia Meade (Michelle Monaghan) becomes part of the maniacal Davian's plan.
Stream Mission: Impossible 3 on Paramount+.
Rent Mission: Impossible 3 on Amazon.
Mission: Impossible — Ghost Protocol (2011)
The Mission: Impossible franchise reached new heights with Brad Bird's 2011 effort Ghost Protocol. When Ethan Hunt and the rest of his IMF team are framed for a bombing at the Kremlin during one of their investigations, the group of top-notch spies are forced to work on their own (and avoid capture) while pursuing a mysterious figure named "Cobalt" (Michael Nyqvist) before he can use nuclear launch codes to bring chaos and destruction to the world. Filled with one insane stunt after another, the franchise's fourth installment once again shows just how far Tom Cruise is willing to push himself for the sake of a movie, especially when climbing the Burj Khalifa in Dubai.
Stream Mission: Impossible — Ghost Protocol on Amazon Prime Video.
Rent Mission: Impossible — Ghost Protocol on Amazon.
Mission: Impossible — Rogue Nation (2015)
Directed by franchise newcomer Christopher McQuarrie, the 2015 spy adventure film Mission: Impossible — Rogue Nation follows Ethan Hunt and his small team of returning IMF agents are tasked with the impossible: prove the existence of the mysterious organization known as the Syndicate while also stopping the group's leader before it's too late. The entire situation is made all the more complicated with the arrival of Ilsa Faust (Rebecca Ferguson), an MI6 agent working undercover in the terrorist organization who can't be entirely trusted by Hunt and his team. The start of the McQuarrie era of the series, Rogue Nation helps establish what's to come in subsequent films.
Rent Mission: Impossible — Rogue Nation on Amazon.
Mission: Impossible — Fallout (2018)
Mission: Impossible — Fallout, the most successful movie in the franchise to-date, sticks with most of Ethan Hunt's IMF team from its predecessor (besides the absence of Jeremy Renner's William Brandt) as well as concepts and storylines started several years later. Released in the summer of 2018 and once-again directed by Christopher McQuarrie, the sixth film in the series follows Hunt and his team as they attempt to uncover plutonium stolen by former members of the Syndicate hellbent on bringing utter and complete destruction to many of the world's cultural cornerstones. To make matters worse for Hunt and his team, the operative's past mistakes and past relationships are used against him as he sets out to complete a mission in one of the best action movies of all time.
Rent Mission: Impossible — Fallout on Amazon.
Over the course of the past 25 years, Tom Cruise and the rest of the players behind the Mission: Impossible franchise have continued to up the ante in terms of scope, story, and most of all, stunts. If you want to see the series in all its glory in the highest possible definition, there is always the Mission: Impossible 4K 6-movie collection available on Amazon. But if physical media isn't your thing, a digital collection of all six movies is available on Amazon as well.
And even though Mission: Impossible 7 won't be coming to theaters until May 22, 2022, there are still plenty of exciting 2021 movies, including another long-awaited sequel to one of Tom Cruise's most iconic movies, set to hit theaters and streaming services throughout the year.
Philip grew up in Louisiana (not New Orleans) before moving to St. Louis after graduating from Louisiana State University-Shreveport. When he's not writing about movies or television, Philip can be found being chased by his three kids, telling his dogs to stop yelling at the mailman, or yelling about professional wrestling to his wife. If the stars properly align, he will talk about For Love Of The Game being the best baseball movie of all time.
Your Daily Blend of Entertainment News
Thank you for signing up to CinemaBlend. You will receive a verification email shortly.
There was a problem. Please refresh the page and try again.