Reportedly, There Was More To John Boyega's Exit From Netflix Movie Rebel Ridge Than Initially Thought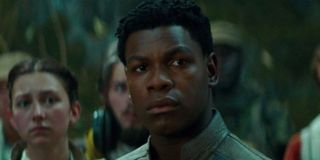 John Boyega made headlines when he dropped out of shooting the Netflix film Rebel Ridge earlier this month. According to Netflix's original statement, John Boyega had left due "for family reasons." Stuff happens and circumstances can always change, so no one thought too hard about it. However, new sources are saying there was more to the situation than Netflix let on.
According to The Hollywood Reporter, John Boyega's exit from Rebel Ridge reportedly happened with little to no advance notice. The movie had already gone into production when the star packed his bags. Sources say that John Boyega seemed to have left without cause or motivation. The sources were not specifically named, but THR claims that they were individuals closely associated with Rebel Ridge.
So what actually happened? It's difficult to say. John Boyega's production company UpperRoom is working with Netflix on Rebel Ridge, so it doesn't seem likely that he would up and leave with no reason. Sources close to the production have stated otherwise, but since they're anonymous, the claims can't be fully corroborated.
It's interesting to note that The Hollywood Reporter mentions John Boyega had previously raised some concerns about Rebel Ridge, "from the script to his accommodations." The star of the Star Wars Sequel Trilogy hasn't shied away from voicing his opinions in the past, so it's possible that he felt that his thoughts were being shunted to the side. And if John Boyega's own company was co-producing the film, it stands to reason that he would be a bit miffed.
Netflix had previously announced that it would continue to work with UpperRoom beyond Rebel Ridge, and so far no statements to the contrary have been released. In a notice regarding the new claims and UpperRoom, John Boyega's UK talent agent, Femi Oguns, said the following:
It seems that Netflix has not cut ties with UpperRoom, so there can't be that much bad blood. This is fortunate for John Boyega, since his departure effectively halted work on Rebel Ridge. The film, which will be directed by Green Room vet Jeremy Saulhier, had been delayed before due to COVID-19, and had only started up production again on May 3, 2021. Netflix said that the production would return from hiatus next year (presumably with a new lead).
Whatever the reason for John Boyega's departure, we can only hope that everyone involved is moving forward as best they can. John Boyega is a terrific actor, and I wish him the best of luck with whatever projects he chooses in the future. (The Attack the Block sequel, anyone?)
Your Daily Blend of Entertainment News
Actor, singer, and occasional dancer. Likes: fashion, books, old buildings. Dislikes: cilantro, the NJ Turnpike, sneaker wedges.