F9 End Credits Scene: What Happens, And What It Means For The Future Of The Fast & Furious Franchise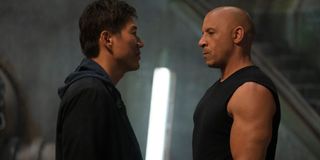 SPOILER WARNING: The following article contains spoilers for F9. If you have not yet seen the film, proceed at your own risk!
Back in 2013, the Fast & Furious series unleashed an exciting and sad end credits scene attached to Fast & Furious 6. Following up its story featuring the franchise's central family going head-to-head against mercenary Owen Shaw (Luke Evans), the movie unveiled an extra coda scene that not only saw Sung Kang's Han travel to Japan to meet his fate previously witnessed in Fast & Furious: Tokyo Drift, but also revealed his killer: Owen Shaw's brother, Deckard Shaw (Jason Statham).
Now, a little over eight years later, the Fast & Furious core series has brought Han back from the dead, his resurrection featured as part of the plot in F9 – so it definitely feels appropriate that the blockbuster also features its very own new end credits scene to surprise fans.
So exactly what is it that transpires in this bonus moment in F9? And what exactly could it mean for the future of the Fast & Furious franchise? That's what we're here to break down, so without further ado, let's dig into the special extra scene…
What Happens In The F9 End Credits Scene
Starting up in the middle of F9's end credits, the scene begins with what seems to be a shot of a man doing a bit of exercise/fight training with the help of a heavy bag suspended from the ceiling – punching and kicking it with some heavy impact. As we get closer, we see that said man is none other than Jason Statham's Deckard Shaw… and it doesn't take much longer after that to learn that he's not just keeping fit and working on his form. Instead, he is evidently working a job.
It turns out that said heavy bag is not filled with the typical sand/grains/fabric, but instead seems to be a custom build as a kind of torture device. Deckard zips open the equipment to reveal that there is a mysterious man inside that the former MI6 agent/assassin has been beating as a means of trying to extract information. He is on the hunt for some kind of drive that contains some kind of plans, and he is willing to keep punching and kicking until he gets the details that he's after.
As Deckard plans to continue his dirty work, he hears a rapping on the room's door. Not really thinking twice about it, he walks over to see who it is – and is surprised as all hell to find the recently resurrected Han Lue staring back at him. Jason Statham's reaction by itself delivers the "You're supposed to be dead" line, as he looks beyond shocked to see his former target alive… but the scene cuts to black before either of the two men can say a single word to one another.
What F9's End Credits Scene Could Mean For The Future Of The Fast & Furious Franchise
It should go without saying that Deckard Shaw's shock at seeing Han Lue alive and well in F9 is a moment that is earned, as the former is very clearly under the impression that his mission to kill the latter was very successful. Not only was there a funeral and a mourning period following Han's death, but the "assassination" was also the first executed as part of a whole revenge plan that played out in Furious 7 (albeit one that ended with Shaw in a prison cell deep beneath the Earth). Now he has to come to grips with the fact that Han and Mr. Nobody (Kurt Russell) teamed up to help fake Han's murder in order to protect a dangerous secret.
Based on what we know about the franchise, it feels unlikely that we will get to see a future installment that winds up showing audiences exactly what happens when Han and Shaw get to talking, but they certainly have a lot to converse about – especially since Shaw is now working with the good guys. Because of this, all signs seem to point towards them being forced to work together on the same side in the near future… but what we don't precisely know is exactly when we might see that happen.
The safest bet, of course, is that we'll once again get to see the characters back in action together in the untitled Fast & Furious 10, which is being developed as the first half of a two-part conclusion – with Fast & Furious 11 being planned as the final installment of the long-running series. Given that they are now playing for the same team, we can probably expect that their relationship will be described as "begrudging colleagues" – though we definitely do wonder if Han will wind up being a bit angry at Dominic Toretto (Vin Diesel) and company for working side-by-side with his killer during the events of The Fate Of The Furious. That was something that certainly pissed fans off – hence the whole "#JusticeForHan" thing, but we'll have to wait and see if that actually makes it into the canon of the franchise.
The other possibility here (and the odds definitely seem slimmer), is that the F9 end credits scene isn't a tease for Fast & Furious 10 and 11, but instead is actually a set-up for the developing sequel to Fast & Furious Presents: Hobbs And Shaw. For all of the reasons stated above, there is a lot of baggage that exists in the relationship between Han and Shaw, and it's possible that the franchise won't want to bury all of that rich interpersonal conflict in a massive two-part franchise capper that is already going to be juggling a lot of other plot material. If Hobbs & Shaw 2 were to become Hobbs & Han & Shaw, however, that film could dig deep into the issues, and also have Dwayne Johnson's Luke Hobbs as a third party playing the fun dual role of mediator and instigator.
No official plans to specifically follow-up the events of the F9 end credits scene have been announced yet, but it should go without saying that it's a detail of the new film that fans are excited to learn more about.
F9, directed by Justin Lin, is now playing in theaters – and be sure to stay tuned here on CinemaBlend for more of our coverage of the film in the coming days and weeks. And to learn about what's ahead in the coming years for the franchise, be sure to check out our Upcoming Fast & Furious movies guide.
NJ native who calls LA home; lives in a Dreamatorium. A decade-plus CinemaBlend veteran; endlessly enthusiastic about the career he's dreamt of since seventh grade.
Your Daily Blend of Entertainment News
Thank you for signing up to CinemaBlend. You will receive a verification email shortly.
There was a problem. Please refresh the page and try again.